---
The fourth and last of four articles, outlines from an upcoming book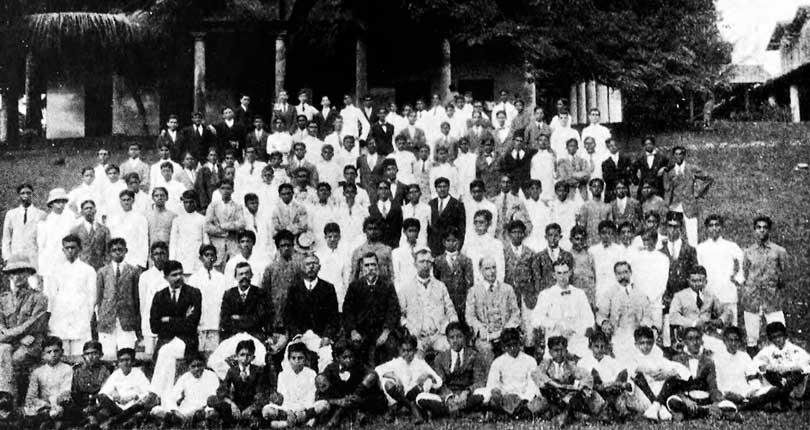 Staff and Students at the Royal College
The bourgeoisie had left those elite institutions: they were either abroad or in the new English medium schools
The privileges enjoyed were exorbitant: shielded from State policies, they benefitted from State funding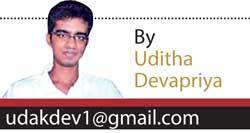 The extent of State involvement in private schools cannot be understated: In the late 1860s, records and statistics tell us, the government was contributing as much as 35% of the income of these schools in the form of grants.
The Education Ordinance of 1947 (which abolished fees in government and government-aided schools) and Act No. 5 of 1951 (which made it mandatory for unaided schools to register with the State) absorbed leading private schools, including those run by the Theosophical Society; P. de S. Kularatne's (Ananda) misgivings about the Free Education Scheme thus show it wasn't just the Church which dithered over the takeovers.

In any case, the privileges enjoyed by these schools were exorbitant: Shielded from State policies, they benefitted from State funding. Aubrey Collette's unflattering depictions of students from lowly backgrounds as apes or deformed human beings underscored the very point which served as a justification for nationalisation: that without it, the gulf, between the 5% who operated in English and the 95% who could not, would have thrived.

Between 1946 and 1959, the number of private fee-levying schools rose from 33 to 99.

The number peaked at 185 in 1951, unprecedented considering that in 1950 it had been 62 and in 1952 it would drastically fall to 39; the reason, in part at least, was that schools waiting for the deadline to enter the Scheme grouped together.
Disregarding this abnormal hike, what we see in the period is a gradual decline in the importance of private fee levying schools; while attendance figures did not fall, mushroom schools built "to cater to a temporary need" were shut down.

In other words, the license with which they had operated in the colonial era was being slowly checked and revoked; in 1961, an outright ban on private education stifled private sector involvement in education until the setting up of international schools a cool two decades later during the J. R. Jayewardene years.

In terms of curriculum, syllabus, exam content, textbooks, customs and traditions, and even hours of commencement and closure, the education imparted in elite schools was "'English' in many senses of the word."

The day began at 10 in the morning and continued until 3 in the evening, with "five hours for lessons, including half-an-hour for recreation and play." The leading schools borrowed from British practices:"... The system of classification and mutual instruction on which English national schools are conducted should be introduced so far as circumstances allow", read a set of "Rules and Suggestions" drafted by the first headmaster of the Colombo Academy, Joseph Marsh. Much of the traditions and customs adopted by these institutions were copied from afar and abroad. Not surprisingly, the emerging middle class clamoured to send their children to them: Martin Wickramasinghe, sensing the prestige that these schools had accorded to this milieu, had Alan, the son of the protagonists of Gamperaliya Nanda and Piyal, sent to Royal College in Kaliyugaya, where he befriends the son of an enterprising trader; the son, Simon Kabilana, becomes the industrialist-antagonist of the sequel, Yuganthaya, where his own son, Malin, who at the time of the story returns from England schooled as a radical, is also a student there.
Thus entry to elite schools was rigidly supervised, and the sons of headmen and planters could easily gain admission. However, at the same time, there were occasional intrusions by less privileged families

It wouldn't be nitpicking to note that the first radicals were also bred in these institutions, which, to be fair, did not take kindly to them: Students wearing sooriya flowers in the midst of the Sooriya Mal movement, for instance, were called to the principal's office and suspended, while not even his excellent record in academics and sports and "emigration" to Cambridge could stop A. E. Buultjens's school from erasing his name from its roll of honour, for his renouncing Christianity and embracing atheism.

In 1862, confirming the pre-eminent position of these schools, the Central School Commission instituted an eighth grade scholarship exam which students from government, central, and mixed schools could write and through it gain admission to the Colombo Academy; its differentiated nature, a far cry from the scholarship exam today, can be gleaned from the fact that only English medium students could qualify for it.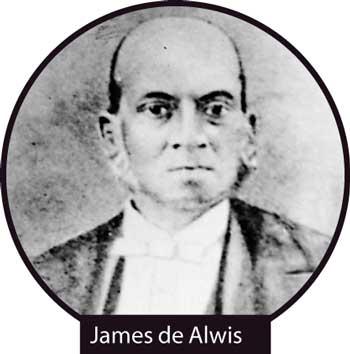 Thus entry to elite schools was rigidly supervised, and the sons of headmen and planters could easily gain admission. However, at the same time, there were occasional intrusions by less privileged families.

In that regard, the story of James de Alwis offers a study in contrast. Though his proficiency in English later made him a pre-eminent scholar, it wasn't attained easily: he and his friends were compelled "to resort to means other than those usually employed by the Englishmen or English-speaking Burghers."
At 15 he was studying, at the Academy, "English grammar, Arithmetic, Algebra, and Drawing", having "just begun to learn Latin and Geometry." A certificate he received from the headmaster two years later, in 1840, shows that the strenuous means he had resorted to had finally paid off: "Master de Alwis has a very good acquaintance with the English language... He writes a very good hand." If one doesn't come to infer a similar line of tension between academic proficiency and social milieu and aspiration (Alwis did not come from an elite family, though he was more middle class than most) with, say, Ananda Coomaraswamy, Ponnambalam Ramanathan, or A. E. Buultjens.
It's this phenomenon that is largely seen with Sinhalese (Buddhist as well as Christian) families.

In leading colleges, "the Sinhalese boy who is bent on studying English [was] never taught beyond that which was enough for the English boy to read."
Among the shortcuts frequently made use of by "the Sinhalese boy" were making combined speeches (with two boys, in this case, Alwis and his classmate James Dunuwille, alternatively reciting sentence after sentence from a speech), reading up every possible book to make up for "the lack of a wide vocabulary", and going "to all public meetings... hearing eminent advocates speak at the bar or learned divines in the pulpit." Ironically, while Alwis grew out of his obsession with English later on, Dunuwille stoked it: like Jeronis Peiris before him, he would correct the English in the letters of his son, whom he had sent to a private school in Cheltenham, England "to imbibe in situ the culture he [James] so admired" and who had to return due to James's death, only to "be satisfied with a job as a journalist, having no affluent relatives, nor a scholarship, to enable him to continue his studies abroad." The line of tension between aspiration and reality was strongest with the Sinhalese. Hence hard yards were made, and these, as Alwis and, later, Devar Surya Sena (Jacob Peiris) learnt, came at the cost of alienation from the world around them: Referred to as "black Englishmen" by Piyadasa Sirisena and M. C. F. Perera, they found that when they engaged in the vernacular their "tongue was tied" and their "head was in a whirl" – Alwis himself was one of the first to achieve this self-realisation. The means by which they sought to overcome this deficiency was uniquely different: Alwis studied Sinhala, Pali, and Sanskrit, while Devar Surya Sena, having given up "a brilliant career in law", took to and led a cultural movement the mantle of which passed over, decades later, to Sunil Shantha and Amaradeva. Naturally and not surprisingly, they did not have their schools to thank for it.

To say that these schools were divorced from the current of ordinary life and centred on the newly emerging bourgeoisie would be to understate the reality. Indeed, in Sri Lanka, unlike in England, education was administered from the centre: Missionary bodies, as Wanasinghe and Jayaweera have noted, did not favour local bodies managing schools since that would have deprived them of a monopoly. That had the effect of sustaining their elitist hold over them, and for a long time, the monopoly of the middle class continued. Interestingly enough not until the enactment of the 13th Amendment in 1987 was education devolved at the provincial level.
Until then most if not all schools were patterned on leading elite public colleges, a trend which continued into and survived Sirimavo Bandaranaike's two terms. Not that this was ignored: In the early 70s, calls were made by leftist politicians for a radical restructuring of primary and secondary education.

In 1970 alone, five or six proposals were made in the State Council for, inter alia, the nationalisation of private Anglican schools, the "renaming" of Royal College as the "People's College", and reforms in commencement and closure hours, the reason for the latter being that those hours benefited the urban middle class at the expense of engaging in agriculture.
If such calls are conspicuous by their absence at present, it is not because the issues underlying them have disappeared; it is because of the experience of the 80s, which shifted policy from the equalisation of schools to the enrichment and politicisation of the elite "Jathika Pasal."

By that time, of course, the bourgeoisie had left those elite institutions: They were either abroad or in the new English medium schools: The international schools. This, however, is for an entirely new chapter.

The writings of Kamalika Pieris, Ralph Pieris, Kumari Jayawardena, Goolbai Gunasekara, Sydney Wanasinghe, Swarna Jayaweera, Sarathchandra Wickramasuriya, Eric J. de Silva, and the "boys in school" at Royal College were used for this article.