---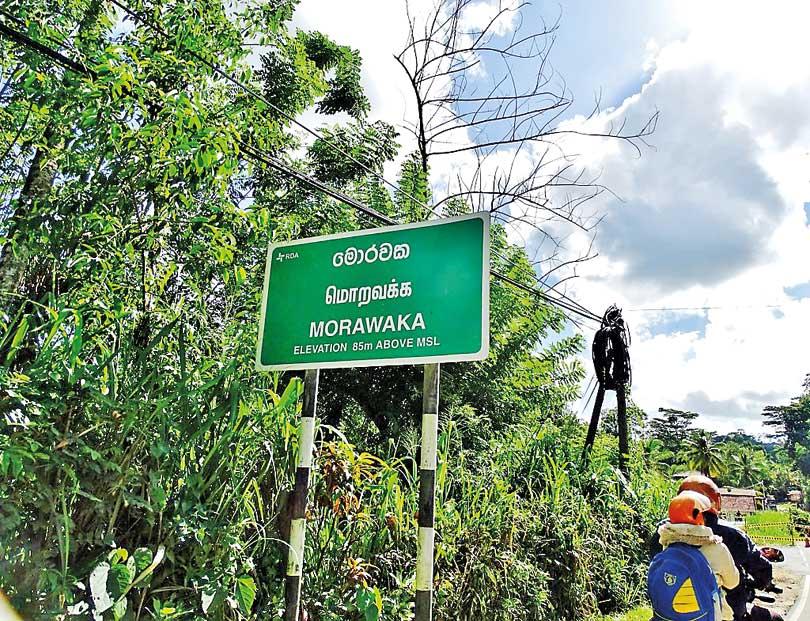 Surrounded by the Morawak Kanda mountain range, amid lush greeneries, elegantly landscaped tea estates and rich paddy fields is Morawaka, the hometown I grew up in. With a population thriving on tea and farming, Morawaka is another one of those untouched rural areas in Sri Lanka. Today it is frequented with visitors including foreigners who take some time off to dip their feet in the Nilwala River or capture some breathtaking clicks before heading towards Deniyaya or for a hike in the Sinharaja Forest Reserve. But hidden beneath its beauty are looming socio-economic issues, one of them being poverty. Isolated from the hustle and bustle of commercialization, the people of Morawaka have faced serious challenges to make ends meet. It is in this backdrop that the University of Rajarata introduced their Health Promotion approach. During a recently concluded community health symposium, it was heartwarming to listen to success stories of many mothers and fathers employed in the small tea estate sector in the area and neighbouring villages.
---
The programme has also made an impact on alcohol and tobacco consumption among males
Therefore, the mothers have taken an extra effort to create innovative ideas
---
According to statistics, 22% of babies born in Matara District were categorized as underweight in 2016. One of the biggest issues identified at national level is poor nutrition. Bearing this in mind, Save the Children Sri Lanka, a non-profit charity in existence since 1974, launched Good Nutrition on Tea Estates as a project in July 2018 to promote awareness and encourage optimal nutrition practices. Together with the Ministry of Health (MOH) and University of Rajarata, the Charity was able to initiate the programme in Kotapola, Pasgoda and Morawaka MOH areas. For this programme, families employed in the small tea estate sector were selected and the project aimed to uplift maternal health and nutritional status among young children.
Health Promotion gives power to the people : Dr. Guruge

The progress among child and maternal health in Sri Lanka is remarkable. But much more needs to be done in terms of early childhood development
It was inspiring to see mothers and even one or two fathers presenting how they contributed to bring about a change in their communities. One of them is the baby room concept which is identified as a fundamental tool in early childhood development. Therefore, the mothers have taken an extra effort to create innovative ideas to setup baby rooms, stitch macrames for their newborns and even make toys from recyclable materials. By setting up informative and eye-catching baby rooms, many mothers were of the view that it helped their children to pick up words and speak well. On the other hand, some children who have had speech difficulties too were able to improve. Many had a sparkle in their eyes when they said how proud they were to bring about a change in a community they have lived in for so long. On the other hand, they were proud that they were being accepted in their society for taking lead in this initiative. According to them, Health Promotion and it's impact on changes in their lifestyles, has now become the talk of the town.
A welcoming change in communities
Apart from that, through the training they received they were able to identify the risks imposed on their health by consuming high levels of milk powder, sugar, oil and salt. After learning that these items directly contribute to non-communicable diseases such as diabetes and cholesterol, many villages have now limited their usage. Through this they have also been able to save up on their money and allocate it for their children's education. On the other hand, the programme has also made an impact on alcohol and tobacco consumption among males.
Participants were from areas including Alapaladeniya, Siyambalagoda, Viharahena, Pothgoda, Mologgamuwa, Pasgoda, Kalubowitiyana, Dampahala, Banagala, Thanipita, Kirilipana, Beralapanathara and Kiriwaldola.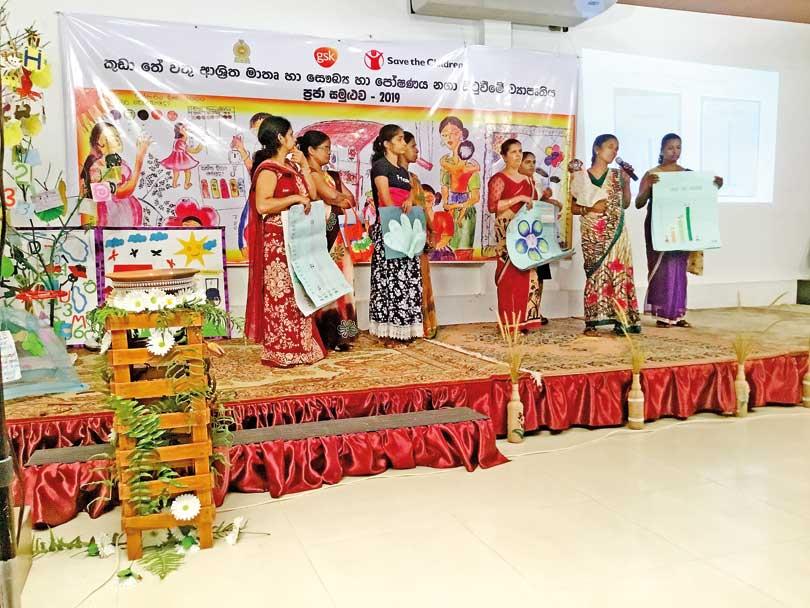 Presentations by community groups
"Improving health is a process," said Dr. Duminda Guruge, Head of the Health Promotion Department at Rajarata University. "The progress among child and maternal health in Sri Lanka is remarkable. But much more needs to be done in terms of early childhood development and this is why the University of Rajarata has introduced South Asia's first Health Promotion degree under the purview of the Faculty of Applied Sciences. Through this Degree, we have been able to make use of tools used in other parts of the world to spread awareness on health promotion. With health promotion, we give power to the people. Thereafter, they take the lead in making a change in their own community and that is the beauty of it."
Speaking further he placed emphasis on how Save the Children organization approached them to conduct this programme in the area. "We were able to create a Supportive Mothers Group and for that we selected mothers with children under five years of age. As such, 240 of them got a chance to undergo a training done by the University. Usually it's a rare opportunity for someone to sit through a training done by a university but at Rajarata University we provide that opportunity for people. In that way they can get a practical approach to this health promotion programme. After the introduction of this Programme we have seen a lot of changes among people. In fact, when we talk about development we look at developing infrastructure but through this programme we developed 240 people, who in turn will help improve attitudes and skills among others. Through this symposium we hope to listen to success stories, learn from one another and inspire more individuals to be a part of this change-making process."
Relationship between estates, village strengthened: Dr. Dilantha

Although we have had many achievements in the health sector, maternal mortality rates, child mortality rates and life expectancy is similar to that in developed countries
In his comments, Dr. Dilantha Dharmagunawardana, Deputy Regional Director of Health Services (Matara) said that for the past 18 years, nutrition, alcohol consumption and maternal mortality rates have been consistent in the area. "Although we have had many achievements in the health sector, maternal mortality rates, child mortality rates and life expectancy is similar to that in developed countries. On the other hand, we haven't been able to fully exercise our strengths and knowledge in improving nutrition and preventing non-communicable diseases. The tendency for these rates to be consistent over a long period of time itself is a challenge that we face. When we do something repeatedly expecting the same outcome, we call it insanity. But Dr. Duminda Guruge and his team at the Health Promotion Department at Rajarata University has looked at it differently. It is important to address the root causes of these issues."
Having received free education, most mothers in rural areas have studied up to the eighth grade while some have sat for O/Ls and passed. According to Dr. Dilantha, education among mothers is an important factor when it comes to promoting community health apart from receiving support from health sector officials. "Through this approach the relationship between the estate and the village was strengthened. Apart from that alcohol and tobacco consumption levels decreased while awareness on non-communicable diseases improved. All these were possible by empowering mothers to take lead, thereby forming a Supportive Mothers Group (Mawu Haula). In order to sustain this approach there has to be a feedback process and provide continuous assistance to improve their knowledge as well as attitudes and skills. Therefore if this project could be continued for another year in order to enrich their skills it would pave the way to take this initiative to the National Level."