---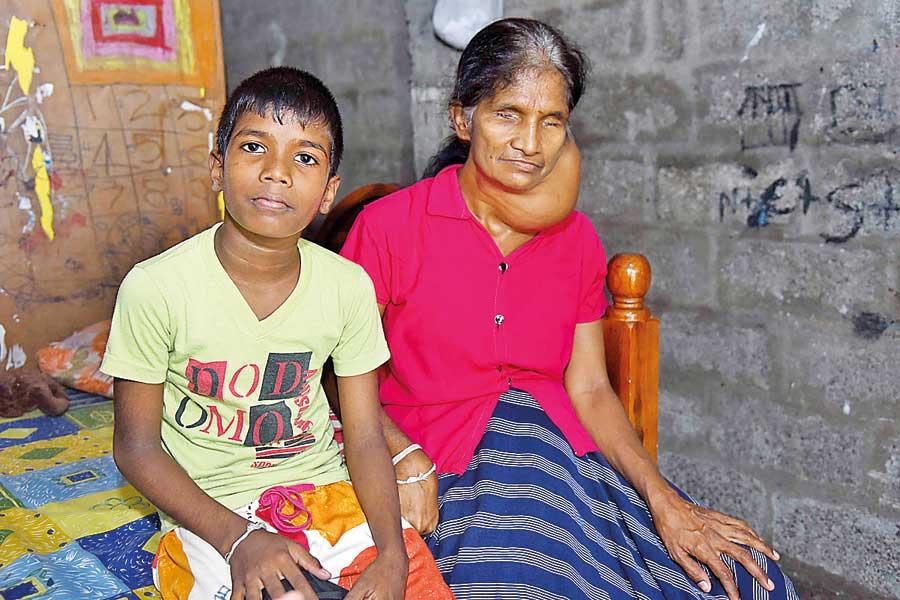 Malkanthi with her 10- year-old son Thushara Sandakelum
The 47-year-old Malkanthi is visually handicapped and makes a living by selling incense sticks in the outskirts of Colombo
An aggravated Thyroxine condition has resulted in a goitre-a thyroid gland swelling that causes a lump in the front of the neck
"We were almost in the grave when we thought we would die of hunger during the prolonged lock down imposed early last year due to the COVID-19 pandemic. It was only some military

personnel who came to our rescue and afterwards a few passers-by who helped us out of sympathy. Had they not helped us with some dry food rations we would have died," said Sujeewa Malkanthi from Sinharamulla in Kelaniya.

The 47-year-old Malkanthi is visually handicapped and makes a living by selling incense sticks in the outskirts of Colombo with her partially sighted husband. Besides, she has been suffering from Thyroxine since 2008. But she had not been able to obtain proper medical treatment due to financial constraints. This has aggravated her Thyroxine condition and has resulted in a goitre--a thyroid gland swelling that causes a lump in the front of the neck. Despite all the struggles, she navigates through hardships to raise her 10- year-old son Thushara Sandakelum and to educate him. She also has two married daughters who are not in a position to help her because they are in the low income groups. But Malkanthi has not given up hope. She does not keep her son hungry despite her hardships. Even skipping her meal, she would feed her son. She said she had to skip meals since she had to settle debts. She has borrowed money from money lenders who charge high interest.

Malkanthi moved from her hometown which is Horana to Sinharamulla in Kelaniya in 1994. Since then she has sold lotteries and incense sticks in Colombo's suburbs and could only earn a limited income which was insufficient to sustain the family. She lost her sight when she was 14. According to Malkanthi the eye ailment could have been cured if she had been able to afford the medicine.

"It was tough for everyone during the lock down, but for a blind woman like me, it added more misery to the plight I have been already experiencing. My husband is also visually handicapped. It was a tough struggle to raise our children." he said. Malkanthi's words reflect the plight of many poverty-stricken families, especially what women in Sri Lanka are experiencing on a day-to-day basis.

Malkanthi said that she had borrowed money to build a small house at Uswatte in Sinharamulla. "We are still struggling to pay interest for our loans though the house is not completed. With so many difficulties we started to build this house. My son is sitting for the Grade 5 scholarship exam this year and I had to send him for tuition classes. But I had to stop the classes as we could not afford the fees. Tuition costs around Rs.1500 a month. With the small income we raise from selling incense sticks it was not possible to pay this fee. There are days when I just eat a few biscuits as my meals, but I offer a proper meal to my son," she said showing her selfless nature and spirit.
Malkanthi is seeking assistance from those who could help her financially. Those who wish to help her can do so by calling 0764321601 or by visitting her at 31/18C, Uswatte, Sinharamulla, Kelaniya. Financial contribution can be made to K.L.S.Malkanthi
Bank of Ceylon
Bank Account Number – 472177
Peliyagoda branch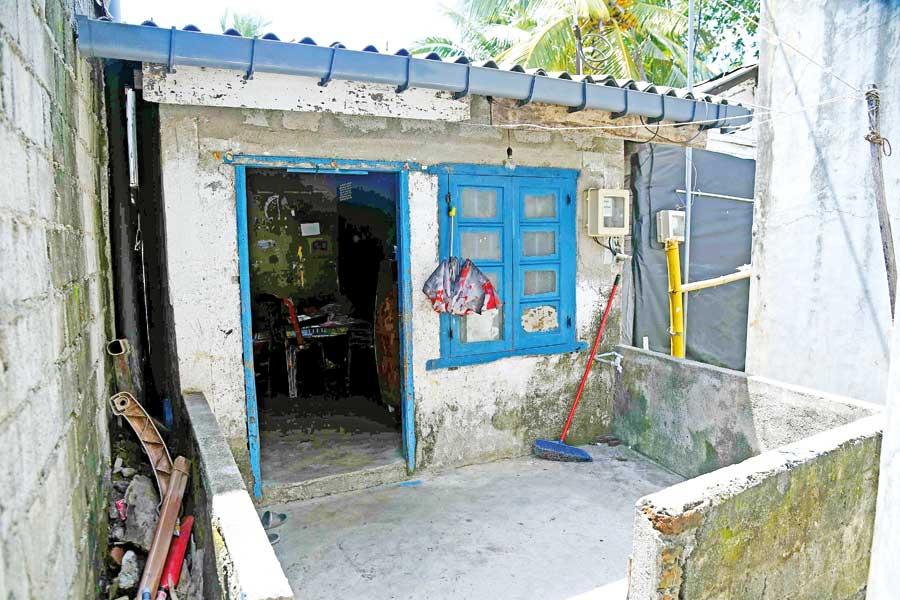 Malkanthi's house at Uswatte in Kelaniya
(Pix by- Samantha Perera)