---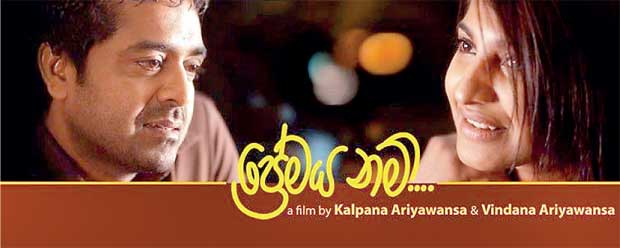 FILM REVIEW: 'Premaya nam' (Dirty, yellow, darkness)
"Premaya Nam" is a quiet, unobtrusive movie with a strong message for our audiences weaned on sugary recipes for romance – love is more complicated and painful than silver screen melodramas would have us believe. This medicine might be too strong for many, as this debut film by brothers Kalpana and Vindana Ariyawansa has not turned out to be a crowd-puller despite it being marketed as a love story, with matching posters.
It is a ground-breaking film but unobtrusive and without histrionics, and progresses with an almost documentary clarity despite its dubious title in English (Dirty, yellow, darkness). The villain is a pathological condition called OCD (Obsessive-Compulsive-Disorder), not a man with a grudge. There are no song-dance sequences, not even as a fantasy. The abiding fantasy here is mental health, and it's elusive. Vishwa, the young advertising executive who's an OCD victim, is desperate to get back his estranged wife. Even his in-laws, initially hostile, are now sympathetic. But he cannot find the inner resources necessary to overcome this disorder, more menacing than any villain with guns or knives.

Vishwa is ably played by Shyam Fernando, a reputed stage actor known for his complex roles in the plays of Rajitha Dissanayake. His estranged wife is played by Samanalee Fonseka, who in a short time has emerged as a versatile character actress and the first dark-complexioned screen star to emerge after Sandhya Kumari. About half the story unfolds at the Mulleriyawa mental hospital, and the subsidiary roles, such as nurse Inoka, are handled excellently.
The whole idea of mental ill-health is culturally still a no-go zone in Sri Lanka, the butt of jokes, horror and contempt. In the film, nurse Inoka tells Vishwa that, unless the transfer she has asked for comes

through, she may not be able to marry, as her boyfriend's parents don't want people to know that their future daughter-in-law works at 'Angoda' (the name of the town associated with this hospital, hence synonymous with madness).
Madness, mental disturbance, mental disorder – all these are lumped together under the generic term 'pissu.' OCD isn't madness. But, as far as the outside world is concerned, it amounts to the same thing. When Samadhi agrees to marry Vishwa, she knows about his condition. What she doesn't know yet is what it's like to live with an OCD sufferer. This story unravels through flashbacks as Vishwa's world falls apart. After losing his job, he voluntarily decides to spend time in hospital in a bid to find a cure and save his marriage.

It is a moving love story, but unlike any other of that genre told in the film medium in Sri Lanka. Whether we take Golu Hadawatha, Parasathu Mal, Hanthane Kathawa or Duhulu Malak at one end, or films like Thushara or Sangeetha at the other, audiences are used to conventional narrative lines of unrequited love, love triangles, or melodramatic plots with villains. All that's fine, but today's audiences inhabit a more complex world; or rather, one where hitherto unacknowledged or hushed up conditions, including mental ill-health and madness, deserve sympathy and treatment rather than confinement, and mental patients too, need love and deserve to be loved.
The film makers have carefully steered the story away from 'Angoda' jokes. While some of the patients' actions produce laughter at the start, they quickly focus on the harsher realities of mental illness and treatment. That there is a love story meshing with this documentary-like narration may have been lost on some, simply because the conventional ploys of a cinematic romance are not there. This is a film which needs a more sophisticated type of film viewer.

Nor does it help when critics attack for the wrong reasons. One reviewer writing in a Sunday Sinhala newspaper carped about 'luxury love,' visibly annoyed that this isn't a rich-girl poor-boy scenario. While my sympathies are with the down trodden, one should acknowledge that love is one only exalted human emotion that knows no class barriers. Even religious faith comes second to it because people of opposing faiths marry, facing risk of social ostracism and even death.
We are always happy to know that rich girls dream of, and occasionally even get to marry, socially immobile or downwardly mobile lovers. But there is no need to carp when two upper middle class people who drive shiny new hybrid cars love each other. It takes all that to make the world go around. Neither the rich nor the poor have a monopoly when it comes to love.
Rohana Weerasinghe's musical score, minus soul-searching highs and lows, complements the gentle mood of the film while Jaan Shenberger's cinematography avoids romantic lighting and looks real world, making us aware it's the hearts that need to be lit here more than the faces.