---
Most people only dream of meeting angels to solve their problems. I was lucky enough to have lived in the presence of one, for many years. Lois Goonesekera, my grandaunt, was one of the most generous, selfless and empathetic people I have ever known. She was the culmination of boundless patience, independence and love. I was so attached to her as she was to me. I well remember at one point of time she decided to travel overseas on a long holiday. On the day she was leaving, she tiptoed downstairs hoping I would not hear her and therefore not know she was leaving and wouldn't be upset, but of course I knew!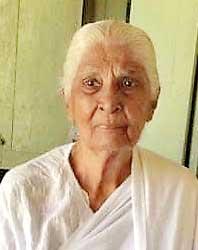 From the time I was young, she and I had a special connection. She took my hand and led me out of the darkness so that a ray of light shone through me. Being vision-impaired, what I could not see, she made up for by giving me other experiences. This she thought was her role in life. It was she who first taught me different textures, experiences and rhythms through sound and touch. One of the first songs she taught me was "tikiri liya" and I well remember as an infant giggling to the actions she made up.

Through her I learnt the wonderful concept of meditation. One of the most important lessons "Aachi" taught me was to extend love and compassion extensively, no matter whether young or old, rich or poor. Also, the fact that nothing in life is permanent and every second change takes place for the good or bad, to learn to accept this in a calm manner despite the many trying circumstances life throws at us.
She took my hand and led me out of the darkness so that a ray of light shone through me. Being vision-impaired, what I could not see, she made up for by giving me other experiences
Life was by no means a bed of roses for Aachi, but despite challenge after challenge thrown her way, Aachi's sweet personality was unalterable. Even in her 90s, she could be seen in a trishaw trudging to buy her medicine or going to her meditation centre because she didn't want her problems to be anyone else's. She was loved and admired by people of all ages. Aachi, you will always be in our hearts. May you attain the supreme bliss of Nirvana!
From your loving grandniece,
Hiranya Fernando