---
Members of the International Council of Reflexologists (ICR) are bringing the community together through healthy soles. The ICR is working together with its members and other reflexology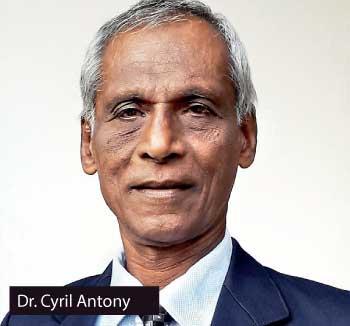 organizations to coordinate events worldwide to celebrate World Reflexology Week and bring awareness for a healthier world.
In Sri Lanka, World Reflexology Week is celebrated from Sept 23 to 29 and programmes initiated by Deshamanya Dr Cyril Antony are held from September 23 to 26.
Free Reflexology sessions will be offered at the Taekwon-Do Headquarters, No. 2, Devala Road, Hendala, Wattala on September 23, 24, 25 and 26 from 3.00 p.m. to 6.00 p.m.

Along with this programme, registrations will be open for upcoming Reflexology training courses.
In line with the World Reflexology Week, the 5th National Conference and Award Presentation ceremony will be held on Sunday, September 29, in Bengaluru, India.
Dr Cyril Antony, internationally renowned reflexologist and director of the International Council of Reflexologists (ICR) and chair person-Education Committee is to deliver the keynote address at the National Conference in India.

Leading experts on acupressure, acupuncture, sujpk, reflexology, Jain reflexology, cupping therapy, Magnet therapy and all non-medicine user therapists are to participate at this conference. Among the other speakers are acupuncture maestro- Prof. P. B. Lohiya, President, Indian Institute of Holistic Medicines, Aurangabad, acupressure maestri, Dr. Sarvdeo Prasad Gupta, President- Bihar Acupressure Yog College, Patna, Su-Jok Maestro- SJT Ashok Kpthari, Vice President, International Sujok Association India, Jaipur and Dr. H. Bhojraj, President, Academy for acupressure and acupuncture, Bengaluru.

ICR established in 1990 in Toronto, Canada determined to establish Reflexology as a self-regulating profession to Reflexologists, resolved to combine their efforts to ensure public safety and to promote the study and exchange of knowledge and art of reflexology within the profession. There are many member nations and through Deshamanya Dr Cyril Antony, Sri Lanka also became a member of the ICR. The needs of the profession are met by providing a forum for the exchange of ideas and information; via quarterly newsletters and international conferences. The Organization and its Members, in pursuit of meeting these needs, are determined to be an example of inclusiveness, respectful consideration, and tolerance for any reflexology theory, technique, and practitioner. Every year the last week of September is regarded as the World Reflexology Week, where many programmes are conducted across the globe by ICR members. The International Council of Reflexologists conducts its affairs through a General Council to which all members belong and an Executive Board to which members are elected. Deshamanya Dr Cyril Antony has been elected in the year 2017 as a Director on the ICR Board of Directors for a term of four years.