---
Labourers can cultivate and maintain the lands and the companies should be allowed to own the factories
There were about one million estate workers in the old days. But there are only 140,000 now
I can get more votes as a member of any government
Samagi Jana Balawegaya (SJB) Member of Parliament and National Union of Workers Leader Palani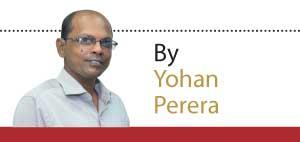 Digambaram, who voiced his opinion on current politics pertaining to the estate worker community and national politics, in an interview with the Daily Mirror came out with a proposal for a system change. Digambaram therefore called for a system where lands on which tea is cultivated should be handed over to the estate labourers while the companies retain the factories. "The labourers can cultivate tea and sell the harvest to the companies. They can earn around Rs 1500 a day with such an arrangement. This would create a win -win situation for both the companies and the labourers," he opined. He also claimed that he has managed to change the political fabric in the estate sector by bringing to an end in 2015 the domination of the Ceylon Workers Congress (CWC). He also spoke about the situation with regard to the Eastern Terminal of the Colombo Port. He stressed that the Government should sort out matters diplomatically without antagonising India.
Following are excerpts of the interview done with Digambaram.

Q There seems to be an issue brewing up with regard to the estate workers' salaries. Do you think it can be sorted out?
There are discussions taking place in this regard. I have heard that the matter has been referred to the Wages Board. It is likely that the estate workers would get a total daily wage of more than Rs 1000. However the companies might impose conditions such as setting targets on daily basis. This would mean the workers will have to pluck a certain amount of leaves for a day. Many workers might not get the desired Rs 1000 daily wage that way.
Q What do you think is the best solution to the issue?
A new arrangement can be put into practice. Lands where tea is cultivated can be handed over to the labourers. They can do the cultivation and maintaining and sell the day's plucking to the companies. The companies should be allowed to own the factories. Labourers can earn more than Rs 1500 a day that way. Also the companies will be benefited as their costs would be less. The amount they spend to maintain the estates which is usually high could be saved in such an arrangement. This is something similar to giving over lands to people in the south to cultivate.
Q Some are of the opinion that tea estates that are administrated by the companies should be taken over by the government and then handed over to new companies; even if they are foreign organisations from countries like India and Malaysia. What do you think of this suggestion?
I don't think it is a good idea. All these years tea estates were run by companies and some of them were foreign ones. Any company will focus on profits and the maintenance will be high any way.
Q There is an allegation that politicians who represent the estate workers want them to remain as labourers so that they ( politicians) could benefit from it?
This is far from the truth. More estate youth are becoming professionals such as doctors, lawyers and teachers at present. Besides there were about one million estate workers in the old days. However there are only 140,000 estate workers now. Their lifestyles have somewhat improved as of now.
"The Government should try to maintain a diplomatic relationship with all countries. Also India shouldn't be antagonised. Some who are against selling state assets to India are silent when assets are sold to other countries. One has to be consistent with his policies"
Q How do you see your political future as a politician who represents the estate sector?
The late Minister Saumyamurthi Thondaman was dominating the estate sector followed by his grandson Arumugam Thondaman. No other estate sector leader was allowed to come up for many years. Many tried, but failed. However I managed to change that situation and became a minister in the Yahapalana Government. Besides the Thondamans always functioned as ministers in almost all governments that ruled in Sri Lanka. However I changed the scenario and made the late Arumugam Thondaman remain in the opposition for four years.
Q However didn't Jeewan Thondaman and the CWC obtain more votes than you did at last year's General Elections ?
They were more or less sympathy votes. People were sympathetic towards him naturally after his father had passed away. Besides I got 83,000 votes at that election. This is because I contested as an opposition candidate. I can get more votes as a member of any government.
Q You are part of the Samagi Jana Balawegaya led by Sajith Premadasa. Do you think you have a future with him?
Some say Sajith Premadasa is heading the wrong way. However he obtained more than five million votes at the Presidential Elections and got more than two million votes at the General Elections. However he has improved lately. We believe that he would be a powerful and charismatic leader by 2024.
Q What is your opinion of former Prime Minister Ranil Wickremesinghe ?
He is an able leader. I was able to do much work for the estate sector people during the former regime under his leadership. I was able to give out land deeds and provide housing for the estate sector people. Mr. Wickremesinghe supported me in these endeavours. I will always try to maintain a good rapport with him but I may not become his political ally in the future.
Q What do you think of the situation which Sri Lanka is facing with regard to Eastern Terminal of the Colombo Port?
The Government should try to maintain a diplomatic relationship with all countries. Also India shouldn't be antagonised. Some who are against selling state assets to India are silent when assets are sold to other countries. One has to be consistent with his policies.
Q Is selling the country's assets to another country wrong?
I think it is wrong for one country to sell its assets to another no matter what country you are selling your assets to.