---
A state-of-the-art knowledge centre for students of Isipathana College will soon be a reality. Isipathana College Knowledge Centre (ICKC), a fully-equipped classroom with 45 iPads, will be handed over to the school on October 1 to coincide with World Children's Day.

Chief Guest for the opening will be distinguished old boy Lakshman Wickramasinghe, President of Isipathana College OBA – North America branch and Aruna de Silva, Chairman/Managing Director of Evergreen Plantations (Pvt) Ltd., another distinguished old boy as Special Guest
of Honour.

In order to meet future challenges, it is vital that our students "step in to e-culture" which is associated with latest methods of education. Isipathana College OBA 1970/73 Group has undertaken this challenge to provide much-needed and up-to-date facilities to students.

What is e-culture?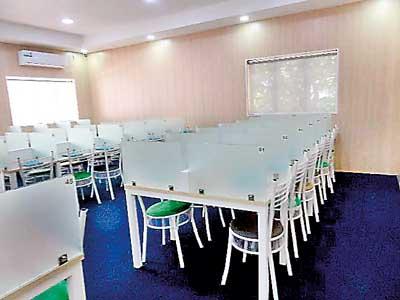 E-culture based on education is to expose students to meet the future with confidence through in-depth learning thus giving access for students to e-educational content.

How will ICKC facilitate?
Students could obtain deliveries utilising the ICKC classroom or via computers, tabs, mobile phones from any other location where WiFi is available.

What will students gain?
Students will be exposed to learn even without teacher-guidelines. Further, teachers can deliver educational content and share academic material with students through a platform. The ultimate goal will be to reduce the burden on students carrying heavy material to school, reduce the load of homework and to enjoy learning. Such methods are already in practise in many developed countries.

ICKC capability
ICKC will be a typical learning environment to similar facilities offered in developed countries and is first of its kind in a Sri Lankan school. The technical team envisages this knowledge centre to be equipped with high-speed internet ensuring global connectivity, customised software developed incorporating elements of learning management systems (LMS) consisting of smart content, self-learning methods, material creation, guided learning, analytics and peer learning.

The project team believes the knowledge centre will foster the development of student self-learning ability, critical thinking, peer learning and thereby develop a college e-culture of modern learning where education will take the boundaries not limited only to examination success but knowledge and capacity-building for life-long learning. The team believes this will be the first step of enhancing the achievements in the much-needed academic sphere of the college where teachers and senior students can also contribute and evolve the concept with time in an effective manner ensuring its sustainability for the benefit of our students in the long-term.

Cost
The facility consists of ICKC classroom (already completed) and ICKC Studio (to be completed in the second phase which is an integral part of the project). The estimated cost of the 'iPad Knowledge Centre' project is over Rs. 6 million excluding the cost of 45 iPads donated by old boy Naresh Liyanage who is domiciled in Australia. The project becomes a reality with substantial funding from generous old boys based in Sri Lanka and overseas.

The project team includes Premasiri Epa – Patron, Principal and President of Isipathana College OBA; Anura Serasingha – Facilitator, Senior Vice-President 1970/73 Yearly Group; Prof. Rahula Attalage; Project Chairman and Technical Support, Vice-President 1970/73 Yearly Group; Current Professor/Dean - Faculty of Graduate Studies and Research, Sri Lanka Institute of Information Technology (SLIIT) and former Deputy Vice-Chancellor, Moratuwa University; Mervin Preena – Facilitator, former Senior Vice-President and Jt. Secretary 1970/73 Yearly Group; Palitha Wickramasekara - Technical Support- Software Developer for ICKC facility; N.M.S. (Mervyn) Perera - Technical Support; Raja Sirisena – Facilitator; Former Senior Vice-President 1970/73 Yearly Group and Mohomed Jiffry – Facilitator, Treasurer 1970/73 Yearly Group.