---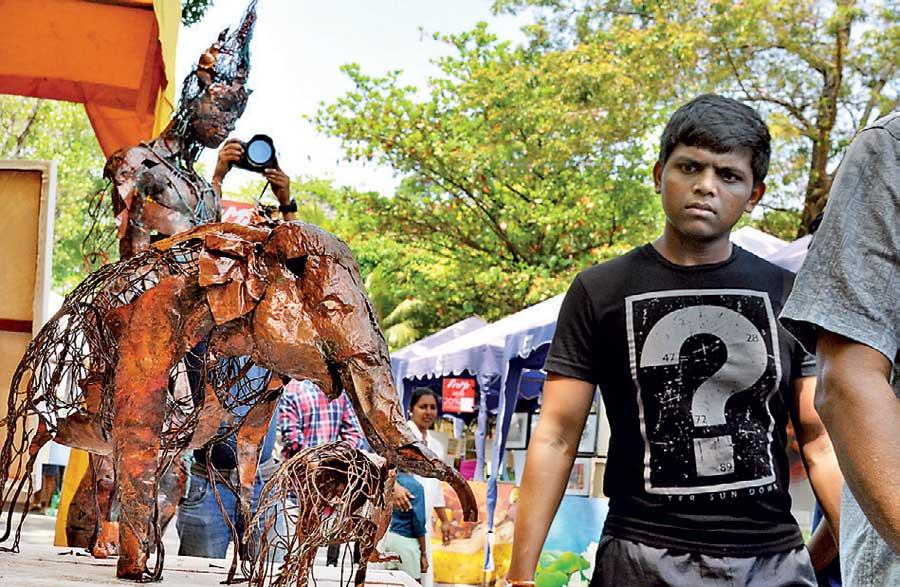 Kalapola, the largest open-air art fair and the most anticipated art event in Sri Lanka, was held recently in Colombo. Thousands of people attended the fair which was held for the 26th year.
Kalapola has become a specific cultural event and it showcases various forms of art ranging from oil paintings, acrylic, watercolour to wood carvings, drawings, live portraits, and assembled art to name a few. Art curators, collectors, artists, art material suppliers, buyers, art critiques, visitors, foreigners, art enthusiasts, Art gallery owners, art students and undergraduates were among the participants at Kalapola.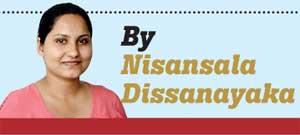 Artists reached the venue early in the morning to set up their paintings and got ready for the big day. This happened while big collectors arrived as early as possible to snatch away valuable pieces of art. With hundreds of stalls and colourful paintings competing to attract the wandering eye, the event produced a unique charisma, fun and excitement.
The event offered a cultural platform for professionals, amateurs and art enthusiasts to meet, share and discuss art. Many undergraduates joined and displayed their artwork here, expanding their contacts and building on their future customer base.

Stall by schoolchildren
This year too, there was much excitement and the stall run by the students of Al Azhar Central College, Thihariya was unique. Their's was the only stall which was organised by a school. The stall displayed many pieces of art that were created with paper, cardboard, recyclable materials and vehicle spare parts.
The school's art teacher N. Hizwanuz Zaman said that he had accompanied students to observe and learn art and culture at Kalapola, and they were not solely focused on selling their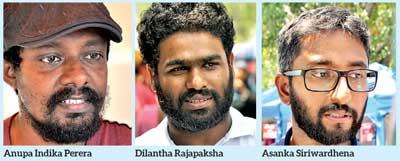 products.
"Muslim students are not enthusiastic in studying aesthetic subjects, but art is more convenient when compared to studying other subjects. Therefore I encourage them to study art and made them participate at this event," he noted.
Zaman had participated at Kalapola on previous years too while being an undergraduate at the Eastern University. He had thought of accompanying his students so as to share this experience with them.

Dilantha Rajapaksha, an academic and a former visiting lecturer at the University of Visual and Performing Arts, said that Kalapola is the best and only opportunity for artists to build their careers. The event affords an opportunity to all artists to take part regardless at what level their professional skills are, he noted.
Brothers Asanka and Malaka, Siriwardhena who are assemble artists, said that they were glad to mark their tenth appearance at Kalapola. They were of the opinion that kalapola provided strong support for emerging and young artists.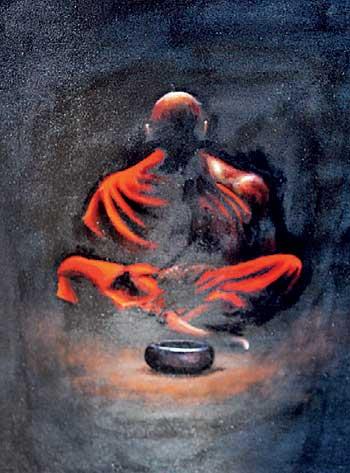 Mayura Hasanga, an oil and acrylic artist, who was participating at Kalapola for the second consecutive year, said that the event was a great opportunity for talented artists. He and his teacher Anupa Indika Perera were sharing a stall.
"This is a platform for artists, whether they are amateurs or professionals, to meet, discuss and share their experiences. There should be more opportunities like Kalapola to encourage artists," Anupa elaborated.

Muditha Dissanayaka, an artist, who has participated at Kalapola for more than 19 years, said that he has followed the same theme for many years since there is a never-ending demand for his pieces of art. The theme of his acrylic paintings was Gautama Buddha in meditation.
A few professional artists at Kalapola during a discussion said that standards had gradually dropped as a result of mushrooming artists who suddenly appear on the day of Kalapola and vanish, only to appear at the event the next year. They underscored the importance of equal opportunity to all, but were concerned whether participants were genuine artists. They also said that many artists did not show up at the event since there was a huge demand for the stalls.

Sanjeewee Senevirathna, a professional watercolour artist, opined that the catalogue printed for Kalapola did not provide information of artists except for their names and their paintings. Senevirathna added that it would be more transparent if such details were provided.
Nadija Thambiah, Head of the John Keels Foundation, said that both emerging and professional artists were important to Kalapola. She commented on the demand for the stalls, saying that many artists had shared stalls due to lack of available space.
Kalapola, stood tall with the iconic Ananda Coomaraswamy Mawatha (Green Path), in Colombo 07 as its backdrop. The event was presented by the George Keyt Foundation in association with John Keels Foundation and John Keels Group.