---
Kingsley Ireton De Silva, Senior Attorney at Law of Negombo and popularly known as "K. I." glided away calmly and serenely in his sleep in the evening of March 23, 2020, just a few days prior to his land mark 90th Birthday which fell on 04th April 2020. His death was peaceful.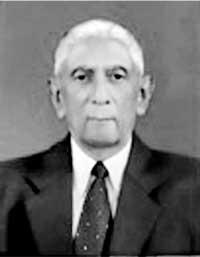 My reminiscences of K. I. whom I called "Uncle Kingsley" goes back to over five decades. He was a close friend of my granduncle Dr. Linus Dissanayake of Negombo. He was a frequent visitor to Dr. Dissanayake's home. He was a close friend of my late father as well. He was a pleasing personality, always very neatly dressed and with a cheerful smile.

K.I. hailed from a family of eminent professionals and was the eldest son of late Dr. Sam De Silva, a Medical Practitioner of Seeduwa and of late Mrs. De Silva. Of his two siblings, his brother Dr. Earle De Silva, a highly respected professional in the field of Agriculture, predeceased him. His sister Irani Kannangara is an Economics Graduate.

A distinguished product of S. Thomas' College Mount Lavinia, K. I. Entered Ceylon Law College and passed out as an Advocate on October 11, 1958.

Thereafter, he joined the Department of Inland Revenue as a Senior Assessor. He reverted to the legal profession and commenced a practice at the District and Magistrate's Court of Negombo. He later confined himself to the field of Income Tax Law.

After about two years of my having entered the legal profession I received a letter from the Department of Inland Revenue requesting me to submit certain details. I was naturally worried. However, on the advice of my late father I went and sought Uncle Kingsley's assistance. After he attended to my matter I casually asked him what his fee was. The response was immediate and honoured the great tradition of legal professionals; "I do not charge fees from the learned friends of my profession," said he. From that day on wards I became his client with frequent visits to him on matters related to my Tax File. That friendship continued until his demise.

K. I. was appointed as the Competent Authority of the BCC Lanka Limited (formerly known as British Ceylon Corporation).

He took a great interest in matters related to the Legal Profession and served as the President of the Negombo Law Society. At the time of his demise K.I. had completed over Sixty Years at the Bar, a rare privilege for a lawyer
to achieve.

Amidst his busy schedule he found time to offer his dedicated service to the Board of Management of the Wester Seaton Cheshire Home, Negombo, which had been established to take care of differently abled persons.

K.I. had been an outstanding sportsman and had played Hockey and Tennis at school. He was also an ardent fan of Cricket and never missed a single annual Royal – Thomian Cricket encounter. K. I. also enjoyed playing "Bridge" and "Poker" very frequently with a close circle of friends.

He was a voracious reader and possessed a large number of books on different subjects. He was a much sought after speaker to propose the toast to the couple at weddings.
K.I. was a devoted Methodist.

It is said that the greatness of an individual can never be measured by birth, wealth, fame, or the worth of one's material possessions. The number of people in whose hearts you continue to live in, long after you are gone, is undeniably the true measure. Moreover, a gentleman can be defined as one who never causes pain to another. K.I. was not only a gentleman, but also a great individual and a truly great human being.

Time will take away the edge of grief but memory turns back every page, every leaf, and I thank God that he was a part of my life for such a long time. He has left me with many fond memories that I will cherish, for he has enriched my life
beyond measure.

Deep in our hearts he will always stay, loved and remembered forever. May his gentle soul rest in peace with the Lord.
Varuna Senadhira