---

t has been 10 years since the demise of Mr. K.C.Kamalsabayson PC. A decade is definitely not what it feels like - the final memory of him seems not so long ago, when I desperately yearned for his life. And nothing has changed.

Looking back ten years ago, I lost my father when I was a law student. I remember when my first year results were released in August 2006, we were in Chennai for his first course of treatment. He was extremely anxious all day until we got the call that I had got through. At that moment I saw in him a very excited child, jumping around the hospital room and announcing to the medical staff 'my daughter is now a diplomate!'. I remember sitting at the edge of his hospital bed while he was walking around the room informing family and friends of the first of my achievements. It was a very happy and fulfilling sight for me. Not once did it occur to me that this could possibly be the only achievement he was to witness in person. In May 2007 I had my second year final exams and I remember how he used to walk me to the entrance of the exam hall for each paper. I remember turning around before the doors of the hall closed behind me only to see my dad standing there waving to me and giving me a thumbs up. He left a week later for his stem-cell transplant in Chennai and just three months later, he left me with the challenge of wading through society by myself. One of the last things he said to me in hospital was 'please make sure you study. Being qualified is very important. Never ever give up'. I can only take solace in the fact that I lived up to his wishes.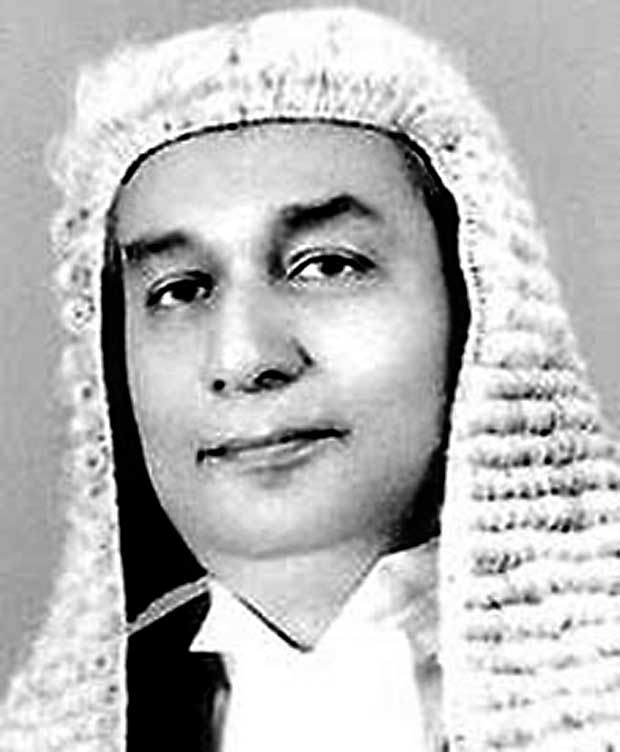 My father was a simple man with a fabulous sense of humor. He loved playing pranks on people; ranging from me to his private secretary. He used to change his voice over the phone and trick me so frequently. On one occasion, when the then President actually called home to speak to him when he was away at a function, I thought it was him pulling my leg as usual! When he got home and I told him I had spoken to the President thinking it was him. I was slightly panicking that the then President might have thought my tone had been obnoxious. He was doubled over laughing.
Another memory is one of Santa Clause. I was a believer, as are many children. I used to write letters of request to the 'man in red' and my father very graciously undertook the task of posting them. When I was around 9 years old (embarrassingly, still a believer at the time) I had asked for a scrabble board for Christmas. One fine day my father returned from work holding a bag looking rather dubious. I noticed him hiding this bag (he was totally oblivious to the fact that I was peeking) and later found out that it was the very scrabble board which I had asked Santa to deliver. I was heartbroken - mainly because I was upset that I had ruined my father's age old secret - that he was the household man in red! So I decided to play along and I did so for another couple of years. We were both pretending so that we could give each other this simple joy. Such was our relationship - innocent and beautiful. He was truly my friend, and I absolutely adored him...I still do and I always will.
"One of the last things he said to me in hospital was 'please make sure you study. Being qualified is very important. Never ever give up'. I can only take solace in the fact that I lived up to his wishes"

He always encouraged me and my mother to pursue our interests. My mother is an artist whose talent she herself had shadowed out for the sake of the family commitments. He encouraged her to paint again. I remember how he would return from work everyday and the first thing he would do would be to check on the progress of the on-going piece of art. The visual of him looking at the canvass with his signature grin and his hands on his waist is still vivid in my mind. He was my biggest fan when it came to my venture in Bharatha Natyam. All I needed was to see him in the audience with a proud look of approval on his face. We were extremely lucky to have had a hands-on and encouraging husband and father. We are strong and independent women mainly because of his role in our lives.
I had the most wonderful relationship with my father. He may have held high office, but he never compromised on family time. It was never about him making an effort to 'make time' - it was his priority and his 'work-life balance' came most naturally to him. This is a quality which is exceedingly rare in today's context, with the hustle and bustle in the rat race to succeed at the workplace. My father left behind a very prudent lesson - this is not impossible, neither is it a Himalayan task.

Ten years ago when I lost my father I was very young, distraught and confused, unsure of what was to come, with my mother taking upon herself the arduous task of running the house and educating me. These ten years have taught me many lessons by way of struggles, disappointments, success and hard work. It has taught me the strength of a mother single-handedly molding her daughter into a person fit to survive in society, while grieving the loss of a great man. Ten years later I have earned myself a small place in the legal world, I am a mother, a wife and I stand by my own mother as her companion and daughter. It would have been perfect, if not for the biggest and most painful vacuum – the absence of my father. Yet I do believe that he continues to guide me and I will forever exist in his shadow.
There was a saying which my father used frequently in his speeches and life in general - 'Rising to eminence by merit, we may live respected and die regretted'.
His life and demise have most certainly been testament to this. We miss you Appa. And we love you more with each passing day.

(Vidhya Kandeban )