---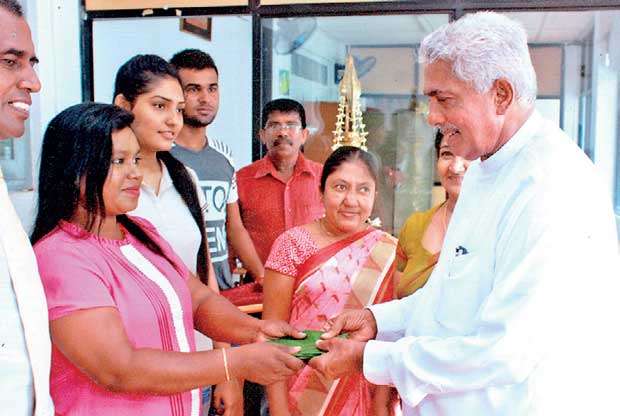 Jayanatha De Silva being welcomed at the opening ceremony of the Digitalization Library of the National Youth Services Council Training Institute at Borella
Ours is a country that conducts diploma courses to educate children on hospitality. "We are not conscious of where are we heading for," said Jayanatha De Silva, a Member of the Western Provincial Council.

De Silva said that it is a matter of serious concern that traditional social values that led the nation along the right path through several millenniums have faded into oblivion and that the things happening in the country are ominous of a bleak future.

He made these comments while addressing a large gathering of young men and women at the opening ceremony of the Digitalization Library of the National Youth Services Council Training Institute at Borella Ruhunu Kala Mawatha. He added that it is sad to note that Sri Lanka is a country that holds diploma courses to teach hospitality when this nation, during the past two millennia, held the reputation for being a hospitable nation.

"Our ancestors took a keen interest on social values, social etiquette, customs and discipline regarding children. When we were at a meal, they paid particular attention to our manners. They would not allow us to sit on a higher or equal seat with them. Chewing betel was a taboo for us. However it is sad that this long history of social etiquette and discipline has been sent into oblivion. Our parents never allowed falsehood or stealing. They encouraged in giving and helping others in need. Our kings built temples, tanks and reservoirs for the future generations. King Dutugemunu did not live to see the completion of the construction work of Ruwanweliseya Cheithiya, but he paid homage to it after the framework of the Cheithiya was covered with a white cloth to show how it would look like when completed. King Parakramabahu the Great built many a tank and reservoir including Parakrama Samudraya which is an unparallel gigantic irrigation work in the country. This legacy handed down to the present generation by our ancestors is the great pride of the nation. It is the duty of the present generation to follow suit and at least to plant a tree for the welfare of the future generation or else they would die as sinners. Many individuals, motivated by personal gain, resort to stealing the nation's properties. One must think about the well-being of one's fellow men, just as one does with his own family. However much food we have, we can enjoy only three meals a day, and if we have money, we can have any number of vehicles, but we can travel only in one of them at any given time. The people, who amass wealth and means, as if they are immortals, often fail in their duty towards the country. Thousands of temples and remote villages are facing hardship for the want of basic facilities. As we know, there are villages without access roads, bridges, and even drinking water. One must use a part of one's affluence to help them. Our ancestors followed the 'give and take policy'. They never failed in their duty to help their fellowmen."

The Provincial Council Member affirmed.

He expressed concern about the private sector institutions that employ workers for poor wages and stressed that it was not possible to develop the country if the wrongs were not corrected. He was of opinion that the National Youth Services Council should be stronger and lead young men and women along the right path.