---
Prime Minister Narendra Modi announced that from October 2, 2019, India is taking the first step towards banning single-use plastics

The world is being overrun with plastic waste. It's in the oceans, on the land and microplastics poison our food and drinking water.

Studies show that up to as much as 50% of all plastic ends up in the sea and for the marine life who ingest it or become tangled in it, can have deadly consequences. Who can forget the viral video of a turtle having a plastic straw pulled out its nose?

If not in the ocean, plastic waste is dumped in landfills. Common household items such as bottles and disposable nappies can take up to 450 years to biodegrade and as landfills also include organic waste, it attracts animals in search of food. Whether it be cows in India, polar bears in Russia or elephants in Sri Lanka, these animals inadvertently end up with stomachs full of plastic, which can kill them.

Countries such as Sweden have sophisticated incinerating facilities that burn waste to generate electricity, but this process isn't as energy efficient as recycling would be. Many households in Asia still burn their plastic waste in their yards, unaware the smoke is poisonous.

India's ambitious plan
In his Independence Day speech, India's Prime Minister Narendra Modi announced that from October 2, 2019, India is taking the first step towards banning single-use plastics. Reuters reported the ban is to start with six items - bags, straws, small bottles, plates, cups and certain types of sachets.

The ban will be comprehensive and will cover the manufacturing, usage and import of such items. The official estimates the ban on the first six items of single-use plastics will clip 5% to 10% from India's annual consumption of about 14 million tonnes of plastic. Penalties for violations of the ban will most likely take effect after an initial six-month period to allow people time to adopt alternatives, officials said.

In addition, e-commerce websites such as Amazon, are being asked to cut back on plastic packaging as online shopping currently makes up nearly 40% of India's annual plastic consumption, officials say.
Quick to implement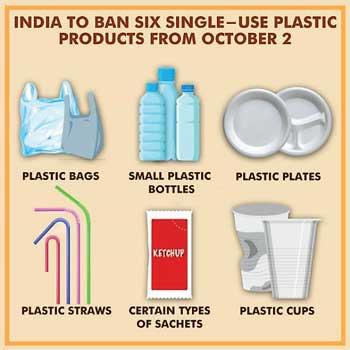 The Food and Consumer Affairs Ministry has already banned single-use plastics across all departments as well as the public sector units under its administration from September 15. In a bid to stop using polythene bags at the supermarket, they have distributed cloth bags to employees that were sourced by a rural women's group, with the added benefit it provided them with additional income.

Delhi International Airport is working to be free of single-use plastic items such as water bottles, packaged food, juice and cold drink bottles by the end of 2019 with other airports expected to follow suit.

In a statement, Air India has advised it will ban the usage of single-use plastic aboard its flights from October 2, 2019. In the first phase, the ban will come into effect on all flights of Air India Express and Alliance Air flights. In the second phase, the ban will be implemented in all Air India flights. The planned changes include switching from plastic teacups and tumblers to sturdy paper cups. Crew meal cutlery will be changed to be of lightweight steel. Banana chips and sandwiches currently wrapped in paper will be replaced with a butter paper pouch.
What about recycling?
India (like Sri Lanka) lacks an organised waste management system. There just simply isn't enough infrastructure to cope with the amount of plastic waste that needs to be recycled.
While Prime Minister Modi hasn't commented on how India is to manage the plastic waste that already exists, an official advised Reuters that the federal government also plans tougher environmental standards for plastic products and will insist on the use of recyclable plastic only.

Arvind K Singhal, the chairman of Technopak, a leading management consulting firm focusing on retail, has spoken about the plastic ban to Business Today. He stressed the fact that along with any move to impose a ban, there should also be equal emphasis on recycling and waste management. "Given the size and scale of India, we are talking of a need for a very comprehensive waste collection, segregation and waste management eco-system to be in place, which could take multi-billion-dollar investment".
In 2017, Sri Lanka passed a series of laws in an attempt to curb plastic waste but due to pushback from local businesses to use alternatives, black-market producers, no proper enforcement and lack of will on the part of the consumer, has prevented Sri Lanka from seeing any meaningful change.

If India can commit to this pledge and successfully enforce the ban, it will set a precedent that can show the rest of the world that fighting the plastic menace is possible.