---
Ignatius Canagaretnam (Retd DIG) was called to rest with the Creator on January10 this year. Many friends have written of his love for Batticaloa and for his College St. Michael's. Others have mentioned his rise in the Police force due to his hard work and efficiency. A granddaughter of his has said, "Appachchi – you are my idol, my role model, my strength, my inspiration, my teacher, my guardian angel, and my everything"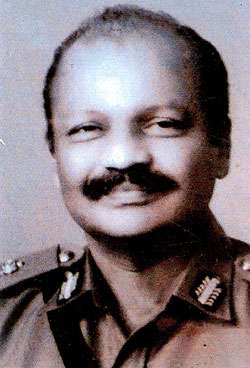 I shall restrict my comments to my association with a Police officer namely Canags (who was then an ASP), when I assumed duties as Additional GA Hambantota in 1976. On my way there, I casually met Ernest Perera, who told me to meet the ASP there, one Mr. Canagaretnam, who would assist me to settle down in my new job without difficulty. I met Canags that evening, and from then onwards we developed a great friendship that lasted until January 2018 when Canags had to answer the final call from his Creator.

My first assignment in Hambantota was to assist in conducting the elections in 1977. We met regularly and saw to it that everything was in order. Canags had already rounded up the mischief makers and warned them severely they should behave or face the consequences. The election went off smoothly without any serious incidents. One candidate who had lost was finding it difficult to get out from the Kachcheri; he was a very unpopular politician. Canags ensured he was safely escorted to our district boundary taking a different route.

The cyclone that followed later that year caused a lot of damage to our Kachcheri buildings. The most affected district was Amparai. Canags took the initiative and with the assistance of his staff organised a lorry load of bread and dry rations to Amparai.

My wife was the MOH of the district. Very often, she had to seek the assistance of Canags as her official vehicle was either in the garage for repairs or not in working condition. Canags always obliged. Later on, both of us were transferred out of H'tota. I assumed duties as DG, SLBC and Canags as DIG. Ernest was the IGP at the time. Rebels from the South were very active during this period and I had the difficult task of looking after our transmitting stations located all over the country – Weeraketiya, Puttalam, Maho etc. Canags and Ernest gave very valuable advice and assistance in securing these places: the rebels only succeeded in setting fire to our Matara station.

So that was Canags. I am writing this from my sick bed (I am 85 now). He was a rare human being, generous with a heart full of love for all humanity. He was a great friend to all of us. His greatest strength was his wife – Rita. He served his country with utmost dedication, integrity and honesty – a very rare phenomenon these days.

Canags, my wife joins me in wishing you once again, peace and happiness where ever you are.
Karu Weeraman
SLAS (Retd)