---
Less than a third of young people express any interest in politics, according to an official survey. BBC reported that the survey has found 31% of 16 to 24-year-olds were fairly or very interested in the subject, compared with about half of those aged 55 and over. The analysis was based on research conducted by the Institute for Social and Economic Research at the University of Essex for its UK-wide Understanding Society survey. When it comes to Sri Lanka, maybe the figures are different, yet the situation remains the same.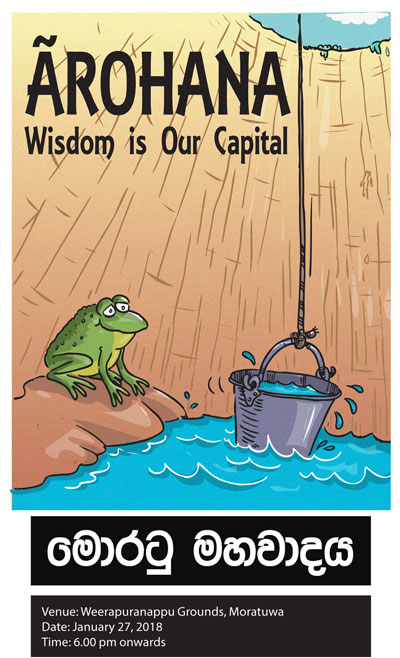 It is not surprising that the Sri Lankan youth and Sri Lankan politics are a heady mixture. Although the common saying goes 'today's youth are tomorrow's leaders', it is a disastrous situation that majority of Sri Lankan youth are not interested in politics, Former Head of the Department of Sociology at the University of Colombo Prof. Siri Hettige said. He pointed to a faulty political system and lack of trust towards politicians as being among the main reasons for such apathy towards politics of the youth.

A youth independent organization named 'Árohana' that was founded in Moratuwa is organizing a public debate featuring mayoral candidates from the main political parties contesting for the Moratuwa Municipal Council at the forthcoming local government elections. The event 'Moratu Maha Wádhaya' is scheduled to be held on January 27, 2018 at the Weerapuranappu Grounds in Moratuwa.

The event is expected to be a landmark event for the people of Moratuwa as this is the very first public political debate where they would be able to watch live debates featuring promising mayoral candidates and even to hypothetically select a candidate in advance.

As a step towards diminishing the ignorance about the most essential and necessary administrative knowledge, Árohana will distribute a 'hand book' comprising of fundamental information regarding a Local Authority to the public on how to get their rights fulfilled and demand services from a Local Authority.

"This is a very timely event. A majority of Sri Lankan youth just float around with their eyes focussed solely on their mobile phones without showing any interest in politics. They are not aware of the massive environmental destruction happening in the country right now. They are not aware that the economy of this country is down. They should be brought down to earth. Organizers of this event are doing an impressive job to organise what could be a pilot project that others could make use of in the future," he said. The Árohana' organization leads with the quote by the 35th U.S. President John F. Kennedy 'If not now, when? If not us, who?'.