---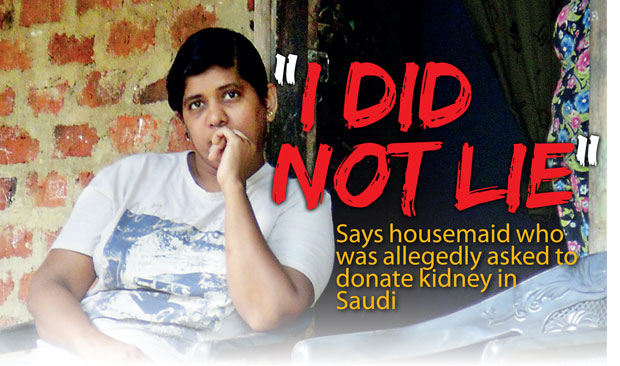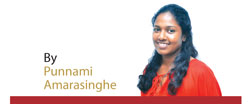 Every year, thousands of Sri Lankan women brave the desert, leaving behind almost everything, just so they could send their hard-earned money to their loved ones back here. Most of them toil as maids in the Middle East. While many of them are, if not happy, satisfied, with their employment, their earnings take shape of a major source of foreign income to the island. Often tabled are reports of maids being held in an unknown territory against their will; many of them return home with physical and mental bruisers as a result of ill-treatment and torture.
W.W. Indrakanthi belongs to the unfortunate faction. It was only last month she returned home with severe governmental intervention, after a video clip in which she claims she was held against her will and her employer demanded her kidney went viral. Now, she has been accused of making a bogus claim by more than one source. We at Daily mirror interviewed Indra Kanthi to inquire her side of the story.

The following is Indra Kanthi's account of what she endured whilst employed abroad.
Two years ago, Withanagoda Wattage Indra Kanthi (36), a single mother of three girls aged eighteen, eleven and seven, considered foreign employment as her last resort. After her husband deserted his wife and the children for another woman, Indra Kanthi was burdened with loans and the future of her children. With an education only up to Grade ten, Indra Kanthi decided to go abroad as a house maid in search of greener pastures -- to overcome the severe financial constraints and secure a bright future for her children.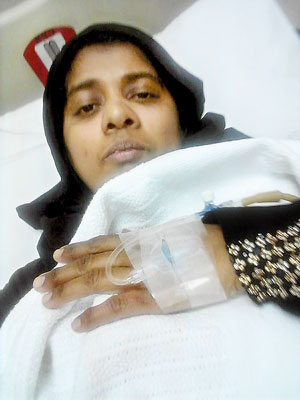 As such, she boarded her flight on March 14, 2015, leaving behind her family in the care of her mother, to do the chores of an unknown family. She was however not worried about herself as she had once worked as a house maid in the same country, and the experience turned out to be better than she anticipated. She contacted the same agency for the same reason and she was piloted to her destination through a private visa sponsored by the employer. According to her, things had been very difficult at her new workplace from day one.

"Even though they said I had to work for one family only, I had to do the work of several families related to my employer. I didn't have allocated working hours as such. From the moment I woke up, which was before 7 a.m., to the moment I went back to sleep, which was around 2 a.m., I worked continuously; cooking, cleaning and washing for ten or more people. I was not given proper food and even though I am ashamed to reveal, there were many occasions where I took empty utensils and scraped off the remaining rice (dankuda) to satisfy my hunger. I was hospitalised more than once and was given saline because I was physically weak. They didn't give me my salary on date. I had to beg for my salary which I had to send home, to my mother and children who depended solely on my meager earnings. Once, I had a severe chest pain and even found it difficult to talk to my employer. Although it is the employer's responsibility to look into the medical needs of a maid, I was never taken to a doctor until the agency called them from Sri Lanka and told them to.

Complaints of physical abuse are not uncommon in returnees from the Middle East. Did she have to go through that particular challenge?
"The first time a woman of the household hit me, I called the agency. They called my sponsors and advised them not to do so in future. They didn't hit me again until towards the end, when a son of my employer slapped me for asking to let me go home," she confessed.

Speaking about her employer's demand for her kidney, she said her employer offered money for her kidney.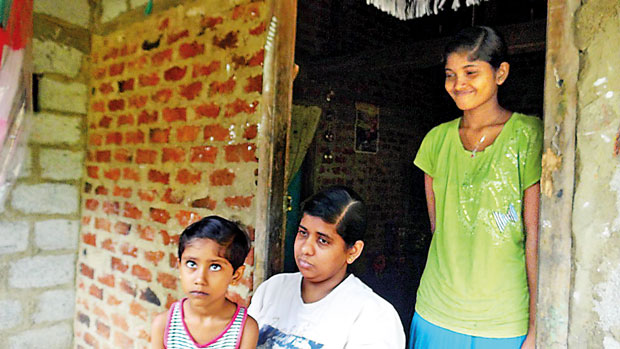 Indra Kanthi with two of her daughters

"There was an old lady in the house. She was feeble and suffered from diabetes. About two months before my contract expired, they discovered her need for a kidney transplant.

They started looking for donors everywhere. They asked me to donate a kidney and offered 50,000 Riyals (approximately LKR 2 million). When I refused, they asked me to reconsider.

They kept nagging me, asking if I changed my decision. I always said "no."

"During the last couple of months, they approached me again and said they would give me a thumping amount of money. My answer was still "no." When I explained to them that it would be difficult for me to work and take care of my family after the surgery, they told I did not have to return to Sri Lanka but could settle down in Saudi with a man they would find for me with my money. I vehemently refused."

When we asked if she were told that she was held because she refused to donate the kidney, she said: "No. They never put it like that. Even though I was being forced to stay in the house after my contract period expired, with them having asked for the kidney and with the day of the surgery approaching, I felt really scared," said Indrakanthi.

When asked if she underwent any tests for kidney donation, she said: "No, I didn't. They asked me my blood group and even though I knew it, I told them I didn't, for the fear of being forced to donate my kidney if it were the correct type. More than once they attempted to take me for tests, saying it will only consume a little time, but I refused."

She speaks about the difficult times she had after her contract expired: "Even though my contract was for two years, they did not allow me to leave once it was over. In the last three months of my stay, they did not pay me my salary, preventing me from going home. I had to borrow money from a Sri Lankan friend who worked in another house to recharge my phone to call home. This is when I tried contacting the Sri Lankan Embassy in Saudi Arabia for the first time. To my dismay, I found that none of the embassy numbers given to us by the SLFEB before departure could be contacted.
So I contacted an embassy officer through a number the agency person had given me. She told me that in order for them to help, I had to first make a complaint at a Sri Lankan branch of the foreign employment bureau. Even after doing that through my mother, the officer kept making excuses to not come and get me. For three weeks, each time I called the officer on the day she promised to come for me, she made various excuses not to come. She was quite impatient with me when I called, and yelled saying I was not the only woman they have to look into, and to be patient until they arrive. Later, she stopped answering my calls.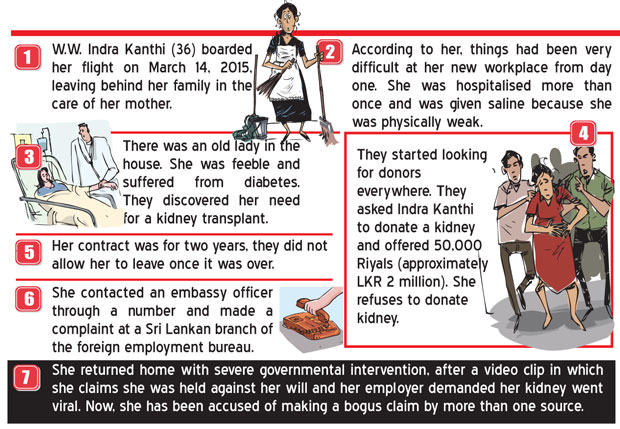 Meanwhile, the family of the old lady was saying the day of the surgery was quite close and that they haven't found a donor yet. With them not allowing me to leave and the embassy not responding, I was frightened and became desperate. That was when I decided to involve the media. My final message in the form of a video."

When asked if the foreign employment bureau was involved in her rescue, Indra Kanthi responded negatively.

"I was contacted by a person working at a Sri Lankan media institution and he gave me the number of the Sri Lankan Ambassador in Saudi. He was quite nice to me when I contacted him over the phone and promised to get me out within two days. He kept his word."

Indra Kanthi's account of what happened at the police station is however somewhat different to that of Sri Lanka Foreign Employment Bureau (SLFEB), whose source, according to them was the Sri Lankan Embassy of Saudi Arabia.

"The police confiscated my phone and after going through the video I sent home, they said keeping something like that in the phone was wrong, and deleted it then and there. Then, the people from the household said they would only be able to give me one month's salary because 'Baaba' (sponsor) had gone abroad. They urged me to remain at the police station for at least a week until his return to settle the dues. Confused, I grilled them about this new name, 'Baaba.' The name they said was the name of my 'Mama' (mistress) who had not gone anywhere but was at home.
When I mentioned it to them, they ignored me. I didn't want to stay another week at the police so I agreed to get only one month's salary and the return ticket. Even though they have to pay for my return ticket, they paid only 600 Riyals and the rest I had to bear. Before being released, I had to sign a letter the police gave me, which was in Arabic language," Indra Kanthi narrated.

In addition to having signed a letter in a language that she doesn't even comprehend, Indra Kanthi had been asked for another letter by the people of her own country too, according to her confession.
"At the embassy, I was asked to write a letter saying I was rescued by two personnel from the ambassador's office and that I'm withdrawing my claim about not receiving two months salaries. After reading this, the embassy officer asked me to add that I will withdraw my accusation about my employer's demand for my kidney. So I appended that sentence to the already signed letter."

Were the Saudi Police going to take any action on her for defaming the country as the SLFEB has suggested? "I don't know anything like that. No one mentioned about taking legal action against me at that time," was her reply.

The approached SLFEB Deputy General Manager Madhawa Deshapriya to inquire his stance on the incident

"Actually, this is not a recent development but has happened when our embassy officers have gone to the police to rescue her. In addition to the video that was released to the media, she has sent home some other clips too. The police have said by sending videos carrying the message that the Saudi employer have threatened to take her kidney by force, she has insulted the government and that the police is taking legal action against her. Our officers have settled the matter with the police, talking on her behalf saying that she had only made that claim to go home, and by apologising for her," he said.

Meanwhile, we asked Indra Kanthi about the accusation that she had gone abroad illegally.

"I used the same agency located in Armour Street that I used the previous time, trusting the madam there. When my family had contacted the relevant government authority, they have sent a foreign employment officer from the divisional secretariat office and she called me saying I have gone abroad through illegal means. That was the first time I heard about it. They said I have been registered under an agency I have never heard about. The madam in the agency, who helped me by giving the number of the embassy, avoided me later. She didn't answer my calls. I don't have any relevant papers with me, since I have been recruited through a private visa and I didn't directly sign an employment contract with my employers." Daily Mirror's efforts to contact the said agent were not successful.

We asked her about the allegations by the SLFEB saying she had made a false claim about her employer demanding her kidney.

"All I have to say is that I'm telling the truth. The embassy and SLFEB are accusing me to prevent shedding light on the fact that they did not intervene on my behalf. Had they responded aptly the first time I complained to the embassy, I wouldn't have undergone so much trauma," she said.

She ended her conversation with a plea to the government on behalf of the Sri Lankan women travelling to Saudi Arabia among many hardships: "Women should not be sent to Saudi Arabia in the first place because it is not a good country for a woman to work. Even though there are some employers who treat them really well, some others treat our women like animals."

Speaking for the women who are already employed in Saudi Arabia, she stresses the importance of government intervention with regard to women in distress. "We are alone with no one to turn to. In a foreign country, the embassy is the only place we can lodge our complaints. Therefore, at the first complaint itself, take necessary action to address the situation," she appealed.

When we contacted the SLFEB Deputy General Manager to inquire the injustice meted out by forcibly detaining Indra Kanthi for two months after her contract expired, the Deputy General Manager said according to what they knew, she had been 'asked' by the employer to remain until a replacement was made. When inquired about the legality of offering money to donate her kidney, his reply was that he didn't know the legal background of the organ donation procedure in that country.

Our readers should note that according to Indra Kanthi's account, in addition to being offered money for a body organ, which equals to organ trade (a punishable offence in Sri Lanka), the employer has done it when she was under their authority. Looking back at the SLFEB official's statement, it is unfortunate that the embassy and the SLFEB that were quick to point fingers at the Sri Lankan maid saying she had made false accusations, being ignorant about the legal background of a situation where her employers may have done something illegal and unethical with their offer for an organ.

There also lies the question of the agency she used to go abroad. Indra Kanthi says the SLFEB had said she was sent abroad via illegal means. If so, has any action been taken against the agency? The government should look into her complaint over the inability to contact the embassy via the channels that were provided to her and every other woman who goes to Saudi Arabia; there may be many women who are in dire situations and whose only means of escape may be a call to the embassy. Indra Kanthi had been informed that she couldn't contact the embassy through landlines as the officials were always busy. Even if it were a matter as simple as that, it may decide the life of another woman out there.

Finally, even after contacting the embassy, their inability to improve her situation until Indra Kanthi approached the ambassador directly, highlights her story. If the ambassador was able to take her out within two days as promised, why have the other embassy officials been unable to achieve the same feat the numerous times Indra Kanthi contacted them?

Indra Kanthi is reunited with her family and in a few more days, her confession will become just another story amongst the many horrors of Sri Lankan maids who have suffered at the hands of their employers in faraway lands. Whether we should use this information to prevent the occurrence of another incident with worse outcomes is in our hands.