---
Today, 1 May 2021, we celebrate Labour Day or May Day and the 130th birth anniversary of Alexander Ekanayake Goonesinha who is considered to be the father of the Labour Movement in Sri Lanka.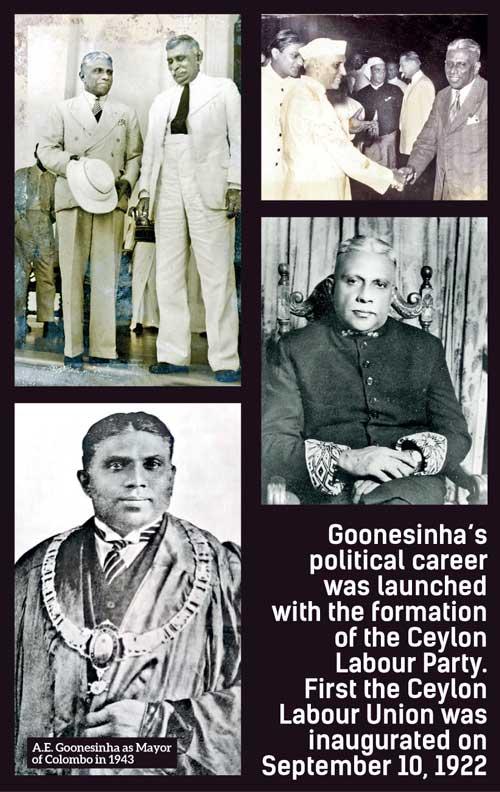 Goonesinha's career was initiated by forming the 'Young Lanka League' on March 2, 1915 which was directed towards fighting colonialism. He also formed the 'Gandhi Association' inspired by the Indian National Movement fighting for freedom from colonial rule. The 'Lanka Workers' Association' was also his brainchild. It was the forerunner to the formation of labour organisations and trade unions later on in Ceylon. On August 15,1915, Goonesinha started the Journal 'The Nation' to support the national cause.

The colonial government introduced in 1891 a Poll Tax of 2 Rupees per year per male adult. Those who did not pay had to work on the roads for one day in lieu of the tax. Goonesinha campaigned against the tax levied by the Municipal Council and got the members of his Young Lanka League not to pay the tax and to work on the road instead. His determination in breaking metal himself for 8 hours with people joining him in greater numbers and showing their support, resulted in the tax being finally withdrawn in 1923.

Goonesinha was responsible for abolishing the Poll Tax. He was proclaimed a National Hero in July 1928 when he represented Ceylon at the British Empire Labour Conference, London, and he also obtained for Ceylon the Universal Adult Suffrage from the Donoughmore Commission in 1928.

Goonesinha's political career was launched with the formation of the Ceylon Labour Party. First the Ceylon Labour Union was inaugurated on September 10, 1922. On October 15, 1928 the Ceylon Labour Party was formed with Goonesinha as President after having had contacts with the Labour Party of Great Britain. In fact when Ramsay McDonald, the British Labour Party Leader and Prime Minister visited Ceylon in 1926, Goonesinha received him on behalf of the Ceylonese labour movement.

As mentioned before, Goonesinha appeared on behalf of the labour movement at the Donoughmore Commission for Universal Franchise in 1928. Significantly Goonesinha and the Ceylon Labour Union were the only advocates of the grant of Universal Franchise which the Ceylon National Congress Party vehemently opposed. Many years later at a session of the State Council J.R. Jayewardene had the brazen effontery to claim that it was the National Congress Party which was responsible for the grant of universal franchise to Ceylon. Colvin R.de Silva immediately rose to his feet and pointing to Goonesinha said "not you - it was he".

At the State Council elections held in 1931 Goonesinha was elected on the Labour Party ticket as Member for Colombo Central Electoral District, and he repeated this feat in 1936. In 1940 he was elected to the Colombo Municipal Council and in 1943 became Mayor of Colombo. In the 1947 Parliamentary election, he was elected as the first Member for the Colombo Central Seat (three Member seat) in Parliament and was appointed Chief Government Whip in the UNP government, Minister without Portfolio and Minister of State of the First Parliament of Ceylon then known as the House of Representatives of Ceylon led by Prime Minister D.S. Senanayake. Goonesinha was later appointed as Ceylon's Ambassador to Burma and Indonesia.

Unfortunately there were (and are) many Communist leaders who merely took over the political path already laid out by Goonesinha and now claim to be great leaders of the Labour Union movement then and today. Goonesinha was neither "Left" nor "Right", he was a Democrat at heart, a Social Democrat championing the Labour cause. He created paths and thus made history.

Goonesinha held trade union and political meetings at Price Park where large crowds gathered to listen to his ardent speeches. One of Goonesinha's devoted followers and an eloquent speaker in the Ceylon Labour Movement himself, the late President Ranasinghe Premadasa, renamed Price Park and the area in Pettah "Goonesinhapura" as a tribute to this leader of the workers. It was Goonesinha who recognised Premadasa's potential to become a national leader when he first heard him speak at a political youth gathering. He saw in Premadasa as a person who could address the systemic inequality based on class and ethnicity in Sri Lanka. Premadasa went on to become President of this country.

54 years after his demise (August 1, 1967) worker's rights are still in a repressed state.

Goonesinha would be desolate to know that the workers struggle that he led so successfully in order to better their rights and save them from ridicule and slavery from the British is now in a worse state. The labour forces are still down-trodden and this by their own people. Still poor, discarded, disrespected and thereby forced to resort to unwarranted strikes and economic disruption. There is no proper leader to address their woes comprehensively.
They are being used as pawns in the continuing struggle between the political parties who shamelessly use them for their gain and then toss them aside. All the political parties coming down the years have ignored the workers who form the core of any healthy economy, the core of any healthy nation. Visit any European country and its labour force and lower middle class have a comfortable standard of living. More than 70 years on, our workers are still in a quagmire. They slog in the public and in the private sector and do not even end up with a decent pension.
Goonesinha fought for fairness, morals and ethics; he fought for a humane labour environment. And it was not to be party-based. He sought a balance which unfortunately has not seen the light of day in the past decades. Our labourers should not have to slave in the Middle East for better salaries and conditions. Our tea pluckers and Free Trade Zone workers should not still be earning measly salaries. Any factory or corporation is successful if the workers are well cared for, i.e. where there is dignity of labour and recognition of their efforts and commitment to the society.

Goonesinha, a freedom fighter and national hero, social worker, advocate of the poor, politician and trade union leader is remembered today as the father of Sri Lanka's Trade Union Movement. Labour Day or May Day was first held in Ceylon in 1927 under the leadership of Goonesinha and registered as the Worker's Day for the labourer in Ceylon at the British Empire Labour Conference in London in 1928.

As a mark of honour, his statue has been erected at the entrance to Goonesinhapura, showing him with a hammer in hand, breaking rock stones for civil disobedience in not paying the Poll Tax. This statue is garlanded every May Day. The people of Sri Lanka should not forget this great man.

(Facts and figures based on Visakha Kumari Jayawardena's book "The Rise of the Labour Movement in Ceylon", Duke University Press, Durham, 1972)
Y. Koch