---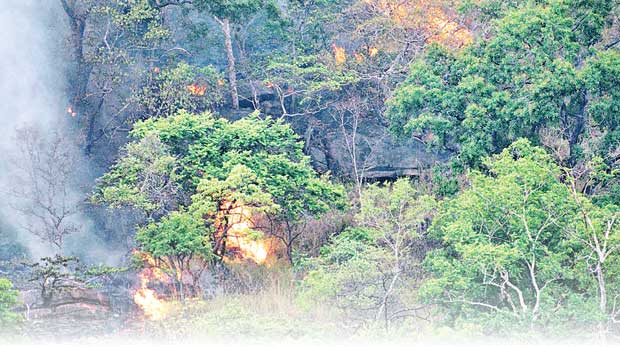 The country once called paradise is now better known for the destruction of its land, people and its natural resources. We faced an extreme drought in the recent past. The destruction of forests in the hill region is one of the direct causes for the natural disasters including landslides which have occurred. People tend to think that voicing concern for the forests and protecting them is a duty of environmentalists, and theirs only; this thinking has come due to widespread ignorance on the basic background of one's environment.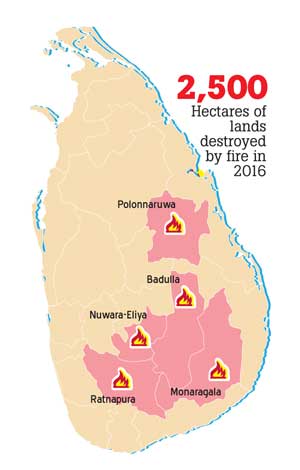 Fires in forests are the most important phases in the forest life cycle and those are not at all bad. By burning the forest under bush, dead trees and dried plant matter become nourishing fertilizer and animals could have greater food sources as a result. Natural forest fires are alien to Sri Lankan forests because we don't have dry thunderstorms or volcanic eruptions that lead to natural forest fires. Yet in the dry seasons, forests become fire friendly. Usually in February and March, forest fires occur due to the carelessness of people.
---
"Controlling fires should be coordinated between relevant institutions"

- Pradeep kodippili - Spokesperson of Disaster Management Centre
"Every year fires are recorded in Sri Lanka. Many fires are caused by people, not due to natural causes. Once a fire starts, limiting, stopping or reducing the damage is costly. It takes more than Rs.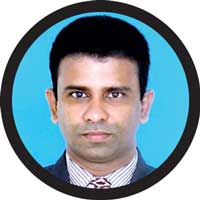 200,000 to use a helicopter and fire brigade in fire control situations. We make the public aware all the time about fires and fire precautions. Animals and plants are critically damaged by fires. There are more than 300 fires on average. Spreading of fires do the most damage to forests. In an emergency fire situation, police, forces and the fire brigade take actions as soon as possible.
According to my opinion, there should be a coordinated common goal between the relevant institutions in controlling fires, every stake holder should join together to stop forest fires in Sri Lanka."

According to a leading environmentalist in the country, frequent fires are taking place because of a grass species called "Gini grass" (Panicum maximum)in central highlands.

We heard that this specific grass was introduced to Sri Lanka's highlands by a certain politician who claimed that those grass species help to have an increased milk production from cattle. According to a report compiled by a responsible authority in 2003, 55% of up country fires were reported in pine plantations and 20% were in Eucalyptus plantations, proving that plantations and grasslands are the areas with the highest number of reported fires. Most of the fires have begun in small sized plantations.
---
Losing a treasure
Though a small country, Sri Lanka is blessed with abundant natural resources. The four principal rivers starting from the "Samanala Kanda" or Adams' Peak in the central highlands flow to all four sides.

The forests in the central highlands area are the heart of the ecosystems in the country, consisting of an incredible biodiversity. Deforestation and man made fires are the main causes for the loss of our forests in this vital zone. The deforestation in this area badly affects the water supply. Pine and Eucalyptus trees were planted in the hills in the 20th century. These and other foreign invasive species rooted in the area can spread fires fast and absorb nutrition in the soil, thereby making the lands barren. By cutting down trees in hilly areas, the soil and nutrition too, get washed down, hindering the growth of more desirable trees.
---
"All fires are man - made"

- A Reliable source from
the Department of Wildlife Conservation
who prefers to remain incognito
"Sri Lanka doesn't have any natural fires in the forests and all fires are started by people. For example, fires are started by poachers, to have new grass for cattle and even for pleasure. Victoria, Randenigala and Rantembe sanctuary, Thangamale sanctuary and Ravana Ella sanctuary have frequent fires. In an emergency forest fire, we take immediate action in coordination with DMC and other government offices. And we maintain fire belts in forests to control the spread. In the peak of the dry season, we set fire to sanctuaries like Vilpattu and Udawalawa, to reduce possible damage from large fires. By doing this, the dry undergrowth of the forest gets burned and when big fires come, these areas help to control the fire. The process is called "cool burning" and it is a process done only with experts. In habitat management the animals threatened by fires are evacuated, get treated by veterinarians if necessary and released into the forest."

This is a message for all Sri Lankans: please be aware that forests are not pleasure parks to start fireworks. If we keep destroying this valuable resource given to us by nature, more disasters such as droughts, floods and landslides will occur, the forests will be depleted and the whole country and everyone will have to suffer for the sins of a few.
---
"Forests set on fire to obtain sand in Badulla"

- W.A.C Weragoda - Conservator of forests – The Forest Department
"There are no natural forest fires in Sri Lanka. All the fires that have been reported are man-made. Chena cultivation, fires in gardens close to forests, campires, lighting fires to scare away animals for hunting purposes are some of the reasons behind this. Even cattle owners set fire to forests on purpose to have fresh grass for cattle. Another reason for forest fires has now been detected - the beedi industry. Farmers tend to set fire to forests to have a bigger harvest because the Diaspyros bellirica called as Kadumberiya leaves broaden when heated. There have been numerous fires reported Nilgala forest. Another recent damage was reported from the Badulla district, forests are fired to acquire accumulated sand, when the sand in hilly areas gets washed by rain. Some train passengers throw cigarette butts to forests and this too, is causing forest fires.

"Badulla, Nuwara Eliya, Moneragala, Polonnaruwa and Ratnapura districts have the highest recorded number of forest fires. 2500 hectares of land were destroyed by fire last year. Nearly all the districts have recorded such fires and the under-growth in forests is affected as a result."

"Fires spread easily in dry weather and the probability depends on the severity of the drought. Fires were expected in January but it is believed that the frequency of fires will be reduced due to sudden rainfall. Due to forest fires, biodiversity in the forest is badly affected, forest wildlife is affected, and forest degradation and deforestation worsens." he explained.

"To protect forests, awareness programmes for villagers and relevant government officials are going on. We have started community forest management societies. We could reduce the damage caused by fires last year with immediate action taken by village communities and put out the fires before they spread. Fire lines separating forests are one safety method used to control the spreading of fires. Fire fighting equipment such as water bowser and tractors are being distributed at district level. Support of the police, the armed forces and the Civil Protection Department is important to control fires immediately.
There are three main types of forests in Sri Lanka and the punishments for starting fires in them are as follows:
Conservation forest -
fine for starting fire - up to seven years imprisonment or Rs. 20,000--200,000 fine - according to the value of the forest.
Forest Reserves - fine for starting fire - up to five years imprisonment or Rs. 10.000--100,000 fine - and value of the damage.
Other forests - up to two years' imprisonment or
Rs. 5000-- 50,000 or both.