---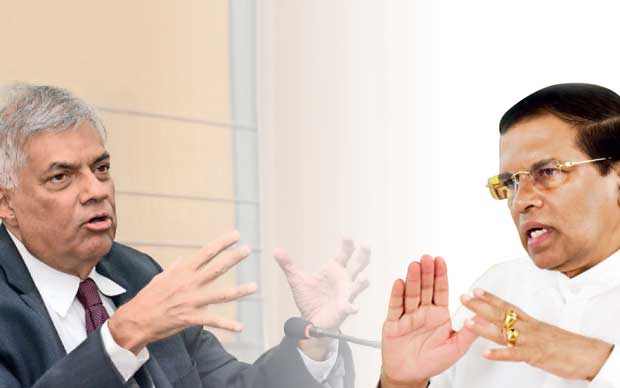 "When avarice takes the lead in a State, it is commonly the forerunner of its fall."
~ Alexander Hamilton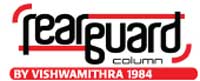 Mahinda Rajapaksa along with the national media, the so-called 'free media,' which was nowhere to be seen during Rajapaksa's regime, the media that was under siege time after time under the cruel determinations of the regime's virtual second-in-command, Secretary of Defence, has assumed dimensions disproportionate to the actual, now seems to be controlling the national conversation. Not the government.
The so-called 'joint opposition,' the dregs of the last regime, the group of opposition MPs, some of whose financial and social integrity have come under a barrage of accusations, allegations and investigations and whose integrity is very much under scrutiny and question have taken the fight to the government's front door. They have managed to set the government on the defensive and each and every time, in the parlance of sports, the ball has belonged to the opposition. It is certainly not a very pleasant situation for those who replaced the Rajapaksas.

On the other hand, the platform that the present government, Maithri/Ranil combo and party carried out the campaign on, seems to be crumbling down. The very charge of the then opposition, corruption and nepotism, has crept into the new personalities of the new government. It is time that the government of Maithripala Sirisena and Ranil Wickremesinghe strapped their boots and took the 'ball' into their own hands, so to speak.

Addressing the 'Progressive Congress Annual Strategy Summit' on Saturday, Massachusetts's Senator Elizabeth Warren began thus: "we are all gathered here in a moment of crisis; a crisis for progressives, a moment of crisis for Democrats and a moment of crisis for America." There is an eternal truth about politics and people. People like Mahinda Rajapaksa don't come to power when things are going right.

The voters, the victims, who put them in power must hold themselves accountable as much as the culprits. The voters simply cannot let themselves off the hook. The Sri Lanka Freedom Party (SLFP), the 'Common Man's Party,' which embraced bigotry and extremism, which embraced the uncommon rich man and his ugly avarice, was hijacked by the Rajapaksas and their loyal henchmen. The Bandaranaikes and Kobbekaduwas are forgotten. The Rajapaksas treated them like yesterday's trash. S.W.R.D. Bandaranaike, with all his political weaknesses and expedient tendencies, kept the party at least away from the political imposters and charlatans. What happened to the SLFP after S.W.R.D.'s demise is another story altogether, yet the Rajapaksas have to be taken into account for the destruction of the image of the 'Common Man's Party.' At least for the time being, Maithripala Sirisena appears to have wrested the party away from these political hooligans. But if President Sirisena continues to dilly-dally taking stern disciplinary action against those SLFPers who continue to disregard the party line and go astray, the dissolution of the 'Common Man's Party' is imminent.
This crisis in the SLFP has indeed slowed down Maithripala Sirisena. But he must not allow that predicament to be built up to the level of a national crisis by abdicating his obligations to his voters in particular and his country at large. Failure of the current government will be seen as a landmark failure of the current system of governance. Yahapalanaya or whatever one might call it, it should not be allowed to fail. Accountability and transparency on the part of those who are vested with governmental power cannot be sacrificed for political expediency and administrative convenience. The corrupt practices that have been entrenched in a system for the last three to four decades, particularly the last twenty years will take over the system and overwhelm the national character. It may have already happened and if not, it is on the threshold of happening.
History is our witness. Time after time it has been proven beyond a shadow of doubt that a lethargic, apathetic public is the first cause of national decay. In this regard, the responsibility of the United National Party (UNP), the main coalition partner of the current political administration, cannot be overstated. As a political party which has been maligned and disparaged by its opponents, especially the traditional SLFP, after coming to a historic partnership with the SLFP, today willy-nilly is feeding the urban gossipmongers with enough material to keep its own head above the water level. The ugly image that is being attributed to the UNP and the resulting ill-effects of a politically-explosive financial swindle, such as the so-called 'Bond-Scam' could be devastating both in the short and midterm runs.
Making tactical adjustments, changing talking points, while embracing the same old barren policies and stinking principles would not help the UNP.

Ranil and his cohorts must realise that when the gauntlet tightens, it does not differentiate between the UNPers and SLFPers. Racial extremism stirred up by the Rajapaksas was tolerated by the UNP because they feared the backlash from the Buddhist clergy. It tightens all and sundry - it includes anyone close to the current coalition. The voters will not show any mercy.
At the same time, the voters must be continuously reminded of what they are enjoying today and the negatives of the past regime that they would gladly miss.
The writer can be contacted at [email protected]
gmail.com
Following is a catalogue of such alleged misdeeds:
Computer purchases for Mahindodaya labs in excess of Rs. 5.87 billion.
Issue of 1,000 diplomatic passports during nine years of rule.
Three PSD officers: Brig. Capt. and Major in money laundering during the MR regime.
Transactions of Tourist Board officials: Rs. 5.7 million.
SL Insurance's re-involvement of a Doctor and ex-Minister.
State Engineering Corp.: Rs.4.7 million transaction.
Diary printing by an ex-Minister: Rs. 1.4 million.
D. A. Rajapaksa Museum construction: Rs. 110 million under Def. Secy. Signature, undertaken by the Navy.
Purchase of Gower Pvt. Ltd. by a Parliamentarian.
Forty luxury vehicles rented by State Eng. Corp. (Visit: http://www.lankaenews.com/news/1840/en).
Fraud of Rs. 91,635,591/- million in Fort Magistrate Case No. B/3088/216 with W. Weerawansa remanded. (Visit - http://www.thesundayleader.lk/2017/01/22/fcid-to-file-further-b-reports-in-courts-against-the-renegade-wimal/).
Rs. 3,117 million paid by a Chinese Engineering Co. into six banks A/cs.
Commonwealth Games Trip of 140 persons and exp. of Rs. 358 million thereof.
Rs. 12,500 million found dumped in Temple Trees during Dec. 2014/ Jan. 2015 (see 54 below)
Prof. S. Wijeyasooriya's allegation re the sale and distribution of 40 kg. Gold, also Siriliya A/c.
Air Force Commander's dealings in the hire of Helicopters to Crain Ltd.
J.C. Weliamuna Committee Rpt. on Lanka Airlines still in the hands of the PM of Sri Lanka.
An ex-CJ admitting corrupt (?) verdict on 'Helping Hambantota' Case! (Read - http://www.thesundayleader.lk/2016/08/28/helping-hambantota-appeal-to-a-fuller-bench/).
An MR Coordinating Secy. holding multiple jobs arrested with 10 Gold Biscuits (1106 gm.) by FCID.
CICT paid Rs.19.41 million to Pushpa Rajapaksa Foundation on 21-5-12 before Colombo South Terminal Contract commenced.
JVPs petition filed in Supreme Court re 193 charges against K.P. and his assets disposed during the MR regime.
Min. Rambukwella's Rs. 20 million ex-President's Fund plus insurance obtained over med. treatment in 2012.
Illegal renting of the Fishery Harbour by the then Fisheries Minister R. Senaratne, under previous govt.
One man Commission Report by ex- S.C Judge Nimal Dissanayake on Elephant Robbery.
Rs. 372 million fraud by Diplomat U. Weeratunga in 2006 in MIG purchases under the then Defence Secretary. (See latest - http://www.sundaytimes.lk/170108/columns/udayangas-16-bank-accounts-frozen-total-balance-rs-225-million-223301.htm).
White vanning by the past regime (Visit - https://www.youtube.com/watch?v=vgn0k-V31Q0&feature=youtu.be&noredirect=1).
Vithanage Rpt. Re Security Forces Hdqrts. Bldg. and overpayment of Rs.173 million by D. Secy.
11 Dept./Com./Board/State Secretaries for corruptions, as detailed hereunder - http://www.lankaenews.com/news/1423/en
Auditor Gen. Rpt. on SLBFE under Dilan Perera spending Rs.925,309/- on balloons ex-Mattegoda.
The real value of Suriyawewa Cricket Stadium estimated at Rs. 852 million by valuation officers though the previous government claimed to have spent a staggering Rs. 4,500 million on the project, says Ravi K.
Over-valued rice purchases by K. Attapattu of Sathosa and related malpractices.
FCID updates – No. 64/15 Basil R. Rs. 396 million in three property purchases.
FCID No.17/15 Yoshita R. in eight transactions totalling Rs. 707 million.
FCID 138/15 Namal R. in 16 transactions totalling Rs. 347 million.
FCID 82/15 Champika Karunarathna Rs. five million involving extortions.
Dr. P.B. Jayasundera questioned over an allegation of importing 100,000 metric tons of rice from an Indian company against the Cabinet decisions, incurring a loss of Rs. five billion.
Ministry of Agriculture building rent of Rs. 21 million a month and Rs. 402 million sought now for furniture and conversions, owned by Jayasinghe Tours & Transp. with an mishandled Agreement? (See details - http://www.ceylontoday.lk/print20160701CT20161030.php?id=3940).
Rs. 315 million of government funds spent on the Grand Hyatt Hotel construction in Hambantota, but with no construction!
• The Rajapaksa regime's two visits to Seychelles costing Rs. 100 million, using three charter flights with 97 members and hiring of 68 luxury vehicles etc. etc.
• Tiran Alles and others in approx. Rs. 650 million misappropriation of 2004 Tsunami (RADA) Housing Funds - Colombo H.C 5.No.8377/16. (Details here - http://www.lankaenews.com/news/1669/en by its Courts Correspondent and updated here - http://www.thesundayleader.lk/2016/11/27/investigators-helpless-over-alles-deal/)
• The COPE report on CB Rs. 1, 396 million for three foreign consultation firms, Rs. 6,100 million lent to failed financial institutions and Rs. 122 million building purchased in Brazil etc. during previous regime.
• Charges by COPE on Media Secy. Bopage involving Rs. 100 million of corrupt transactions at NHRDC in 2014.
• Sathosa rice imports worth Rs. 17 billion from India by the previous govt. and present govt. as reported here - http://lankanewsweb.net/news/item/4040-rishard-educates-with-a-technique-to-consume-an-enhanced-meal-from-rice
• Encashment of 18 cheques totalling Rs. 218 million by the Presidential staff during MR's rule (10/9/16 LankaTruth).
• Two CEB Deputy General Managers in-charge of Uthuru Wasanthaya under investigation in approx. Rs.40 million fraud.
• C. Ratwatte and four others in alleged financial frauds of Rs. 10,720 million under the Public Property Act, under arrest by the FCID. (Details - http://www.lankaenews.com/news/1630/en).
• Diyawadana Nilame FCID fileno. CR5/27/2015.M. C of Kandy Case No. E 34983/15 re selling of lands belonging to the Maligawa etc., (http://www.thesundayleader.lk/2016/09/26/fcid-hands-tied-on-allegations-against-dela/)
• Deputy Minister of Home Affairs Nimal Lanza is alleged to have accumulated a large sum of wealth during a short period and hence been accused under the money laundering Act.
• Daisy Forrest (94 yrs.) aunt of Shiranthi re purchase of lands for Rs. 49.52 million from nine others (See - http://www.thesundayleader.lk/2016/10/10/probe-on-how-yoshitha-grand-aunt-built-palaces-in-mt-lavinia/)
The Rajapaksas are not in power. This nasty 'minority mindset' must be done away with, you're in power. The character of this nation is not the character of the Rajapaksas. And that is the truth.