---
The demise of Anura Wickramasinghe last year was a great lost to his wife Renuka, her three daughters, Sachini, Sajini and Sanuji and his mother, siblings, in-laws and friends. But the memories of his love and affection are still fresh in our hearts. The constant telephone calls he gave from the workplace to check on our day and the jokes he cracked will forever be in our hearts.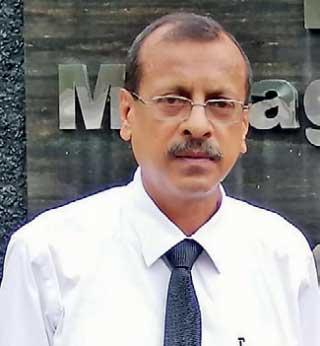 Born on January 31, 1960 at Matale to Don Herbart Wickramasinghe and Kamala Wickramasinghe, my father Anura Wickramasinghe was the eldest with five siblings. He had his primary education at Vijaya College and St. Thomas's College, Matale. In 1984 he was selected to the Faculty of Management of the University of Sri Jayewardenepura ranking 2nd in the Commerce stream from the Matale District and graduated from the university in 1989 with an Honours degree specialized in Public Administration.

He commenced his professional career as an Assistant Manager of a finance company and thereafter joined the Board of Investment of Sri Lanka in 1992 actively contributing for the development of the country. The 200-garment factory project was one such initiative. On a scholarship awarded to him from his workplace, he went to Thailand in 2005 and completed the MBA degree. His professional knowledge was immense and the number of calls we receive from people, who are not aware of his demise, testify to this. They all are of the opinion that he had solutions for any problem that they encountered. He was an honest and an efficient public servant who dearly completed his duties with great pride and love to his work. He always advised us to be of service to others and never to misuse public money. At the time of his retirement on January 30, 2020 after 28 years of service, he was a Deputy Director of Board of Investment in Sri Lanka

While residing in Korathota, Colombo with his relatives, he met my mother Renuka Palihena. He was a dear father to the three of us and we were brought up with great love and care. From the day we were born, every event such as the weaning ceremony, reading ceremony, first day at school and our achievements were special occasions to him. He was an enthusiastic photographer as well as an environmentalist. He did not forget to photograph every special event since we were born and we still cherish those photographs.

Even though we were permanently residing in Kaduwela, he was strongly bound to his hometown, Matale. He always visited Matale with us and took part in almost all activities. He was the eldest brother in the true sense of the word. He fulfilled his duties as the eldest son giving a mandatory call to grandmother every day and duly fulfilling her medical and other needs. My father cared for his family, relatives and friends to
the utmost.

April 15, 2021 completes one year since he left us, and we all miss him dearly. To mark his death a Dhamma Sermon was held at his residence on April 17 and an alms giving was given on April 18. With the blessings of this may he never succumb to an untimely death until he attains Nibbana.
Sajini Wickramasinghe.
Kaduwela