---
Sri Lanka lost a wonderful personality whose life was dedicated to helping and supporting as many as he could cutting across religious, racial, ethnic and cultural diversities. He left us on January 6, 2018 at the Mount Elizabeth Hospital in Singapore. He was committed to selfless service to others not with the hope of feeling good, fame or glory but driven by an unquenchable thirst and passion to serve humanity. A vast number of people gathered at the Kanatte crematorium on January 8, 2018 to pay their last respects and it was only on this occasion that the Eassuwaren family learned what he had done for so many when they opened up their grieved hearts to speak of the magnanimity and spirituality of the late Eassuwaren.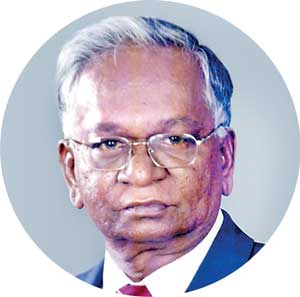 He was the eldest in a family of nine and completed his schooling career at St. Benedict's College in Kotahena and earned his Bachelor of Commerce degree at Pachaiyappa College, Chennai, University of Madras. Thereafter he joined his father Deshabandu, Visva Prasadini V.T.V Deivanayagam in their family business of import and wholesale distribution of commodities in Pettah. In 1964, he established Eswaran Brothers as a family partnership to venture into international trade. Eswaran Brothers Exports Pvt Ltd is the third largest tea bag manufacturer in Sri Lanka. Mr. Eassuwaran was the Chairman of Eswaran Brothers Exports, T-Print Ltd and Mayfair Lanka Ltd.

He was a much-respected businessman who was a personification of humility and integrity. He was the President of National Chamber of Commerce, Sri Lanka in 2009/2010. He was the Honorary Consul for the Republic of Mauritius in Sri Lanka from 1995 to 2012. He was also the Vice President of both Sri Lanka-India Community Council and of the People of Indian Origin (PIO). Mr. Eassuwaran was also a Council Member of the Uva Wellasa University in Badulla and a former President of the Duty-Free Association.

He was the Chairman of the Finance Committee in the construction of the 67.5 feet high Rambadagalle Samadhi Buddha statue in the precincts of Vidyasagara Pirivena Viharaya in Monaragala. This project was his dream and initiation. He brought down expert sculptors from India to complete this gigantic task. The Rambadagalle Samadhi Buddha statue was opened by President Maithripala Sirisena on April 30, 2015. There were several more Societies and Trusts that were set up and guided by him to support various religions and communities. In the Village of Vallanadu, India, the family has sponsored a school where 800 students are studying up to Pre-University level.
He was awarded the title of Deshabandu by the Government of Sri Lanka in 2017 for his services to the nation.

I have personally known Eassuwaran for more than 40 years and he has been a very genuine and sincere friend to me and sometimes plays the role of an elder brother. His humility and 'smile from the heart' is contagious. His patience and tolerance for human failure is unimaginably relaxing. I am so fortunate to have been one of those who had the opportunity to meet such a man and be
his friend.

His wife and four children became very close friends of my family. His wife Thilaka dedicated her whole life in taking care and supporting her husband all the way. In fact, she derived her dignity in following in the steps of her beloved husband. Both Eassuwaran and Thilaka set fine examples to humanity. It is little wonder then that their two sons Ganesh and Subramaniam and two daughters Lalli and Priya have turned out to be such nice persons respecting the environment and rejoicing diversity.

Sages have said that leaders are measured either by the values or legends they leave behind. He accomplished both. In his lifetime of 75 years, he has done so much to communities that cannot be easily matched. I will surely miss him significantly for the rest of my life.
May he attain the supreme bliss of Nirvana.
Dr. Nalin Jayasuriya