---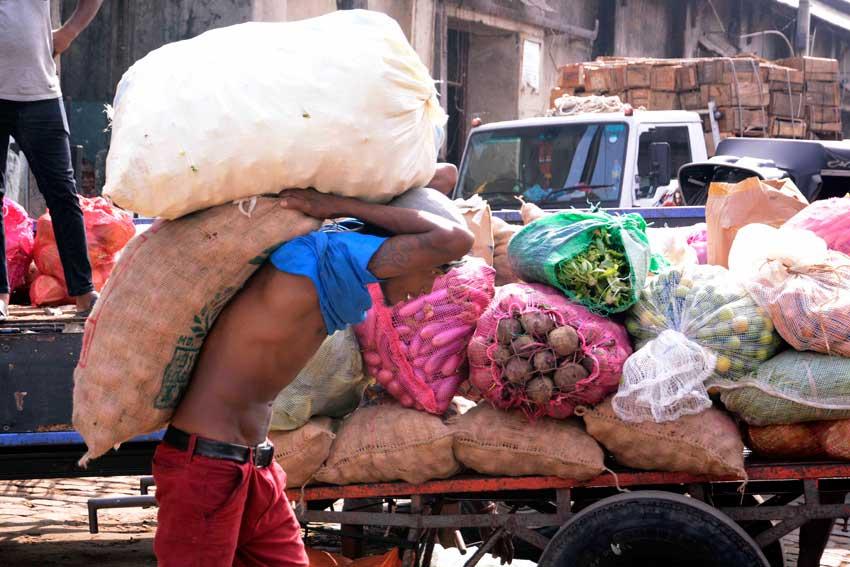 In order to encourage social and physical distancing practices, the government took steps to distribute essential food items to households with effect from March 25. For this, President Gotabaya Rajapaksa appointed a taskforce on continuous supply, operation and coordination of services. The distribution is done as a collaboration of cooperative societies and supermarket chains with the assistance of Divisional Secretaries (DS), Grama Niladharis (GN) and Agricultural Research and Samurdhi Development Officers. Distribution operations have also expanded into e-services via apps along with many private entities offering essential items at various rates. These are prominently advertised on social media platforms. While people in certain areas have received items as promised, many are yet to see the government's pledge being fulfilled.

Against this backdrop, Dailymirror gathered information on the distribution methods of various government and private entities, how opportunistic elements have attempted to make some extra bucks and newly-introduced price regulations.

Economic centres stretched
Preparations are in full swing at economic centres (EC) in Meegoda, Narahenpita, Ratmalana and various areas to distribute items once curfew is lifted. But this is a challenge as certain essential items are already out of stock. Operations are being coordinated between Narahenpita and Meegoda ECs under the purview of Narahenpita EC Manager Prashan Rajapaksa.
"I have already requested farmers from Dambulla, Nuwara Eliya and Thambuttegama to bring down stocks of vegetables. While we are giving away stocks to wholesale traders, we are also distributing relief packages in certain areas. This is done with the support of respective police stations and GN divisions. Once a lorry reaches a housing scheme, the area police will announce that a lorry had arrived with relief packs and those who wished to purchase these items could do so. Certain items are sold according to the needs of people. One person may need onions, but another may need other vegetables. We are facing a crisis situation. We need to provide essential items for the tri-forces, healthcare staff and so forth. 25 vegetable lorries have reached the Meegoda EC already. Each pack contains 11 varieties of vegetables and is sold at Rs.1,000. However, in low-income areas, we will sell them at Rs.500 per pack," Mr. Rajapaksa said.

In his comments, Ratmalana EC Manager B.D. Priyantha said wholesale traders needed to obtain a pass from the Divisional Secretariat or the Police. "Once traders buy these stocks, they will package and distribute them in respective areas. We sent three lorry loads of vegetables yesterday. Everything was sold out. Right now, we don't have salmon and dhal. Items like onions and potatoes have a tendency to be sold out soon," he said.

Middleman mafia
Recently, the mainstream media aired a video footage of vegetable farmers waiting in line at the Dambulla EC to sell their harvests. Many claimed there were no buyers and that some were not satisfied with the prices at which their harvests were sold. A similar situation arose at the Manning Market in Pettah. Apart from being unable to sell their harvests, certain vendors have attempted to sell vegetables at exorbitant rates.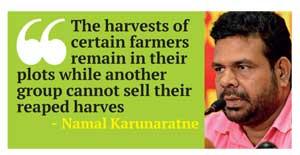 "We face a situation in which the harvests of certain farmers remain in their plots while another group cannot sell their reaped harvest," said Namal Karunaratne, National Organiser of All Ceylon Farmer Federation. "As a measure of reducing prices, the government intervened and slashed prices from Rs.80 and Rs.90 to Rs.30 and Rs.40. But now we see vegetable packs being sold at Rs.500 while farmers are paid a pittance. I personally calculated whether the packs were worth the price; they were not! So both the customer and the farmer get cheated while intermediaries make huge profits. There was a time when lorries that transported vegetables reached respective plots and got harvests from farmers themselves. This way, there's no place for intermediaries to intervene and farmers would directly claim their price. Then, lorries could go to households and distribute vegetables like how mobile bakeries and egg vendors operate. This will also keep people indoors and support the concept of 'social distancing.' However, right now, the government lifts the curfew for a few hours and people throng fairs and supermarkets like a swarm of bees. Hence, the objective of imposing curfew is lost then and there."
When asked about vegetables being sold at higher prices by unregistered vendors, Mr. Karunaratne said many self-employed people did not have work. "There were those who did daily-paid work and those who hired vehicles for various purposes. Those who have small trucks have now sought an opportunity to get some vegetables from somewhere and sell them at a higher price in the Dambulla EC. Hence, a price control needs to be in place," he said.

He suggested that while a vegetable pack could continue to be sold at Rs.500, a mechanism had to be in place where farmers would at least have a profit of Rs.150. "Right now, the farmer only gets Rs.75-100 which is not sufficient at all," he said.

CAA regulates vegetable prices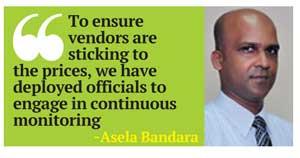 Over the past few days, officials attached to the Consumer Affairs Authority (CAA) have taken stringent measures to raid outlets that sell essential items at exorbitant rates. This was the same for vendors at the Manning Market.

"We came across vendors who were trying to sell vegetables at higher prices and after discussing with the trade union, we regulated the maximum retail price (MRP) per kilo. In order to ensure vendors are sticking to the price structure, we have deployed officials from the CAA as well as Sri Lanka Police to engage in a continuous monitoring operation," said Asela Bandara, Director of Consumer Affairs and Information.

Overpricing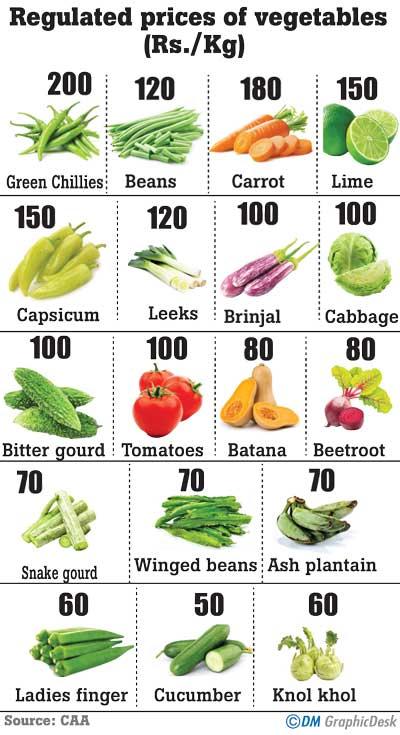 Following complaints on exorbitant rates, the CAA recently raided the office of popular retail website Kapruka.com. It found 500g of garlic priced at Rs.610 and other overpriced dry rations like onions and potatoes. Customers complained that though they ordered goods, once the payment was made, they received notifications that the items would be delivered only on March 29. In response to the situation, Kapruka Founder/Chairman Dulith Herath posted a statement on Facebook saying: "During this time of crisis, Kapruka was compelled to source additional items from the outside market at much higher prices. Our oversight here was not aligned on the pricing for items that were price-controlled by the government. Steps have been taken to immediately correct pricing where applicable. The images currently circulated on social media do not reflect the current situation or our current pricing but are fabricated with malicious intentions to damage our good name."
Logistical nightmare
Former minister and economist Dr. Harsha de Silva recommended the issuance of vouchers to daily wage earners and the self-employed. "There is a working population of 8 million people. Out of them, only 3 million get an end-of-the-month salary. A total of 1.7 million earn a daily wage, while 2.6 million are self-employed. This means 1.7 million and 2.6 million are in trouble since they don't have savings left. The government must think of emergency interventions. It should firstly identify people at the marginal level, then inform the 14,000 GN divisions and issue vouchers worth Rs.5000 per family per week. This way, nobody can say the cash was used to buy alcohol and drugs. And if needed, people can put in some extra money and buy what they want," he said.
Drawing examples from overseas, he said the government should consider keeping grocery stores open. "Packing essential items and distributing them are going to be a logistical nightmare. Apart from that, lifting curfew for a few hours for people to purchase goods isn't a good idea given the concept of social distancing. So once grocery stores are open, there has to be a staggered entrance to the store. This could be controlled by law enforcement authorities. The government earns Rs.8-20 billion a month. It should spend everything necessary to fight this issue. This is an extraordinary situation. The government must borrow as much as it requires and use the reserves to control the erratic movement of the currency," he said.
State and private retailers extend services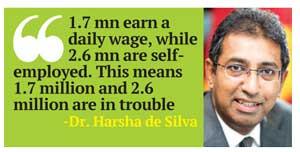 State-owned retailer Sathosa is currently distributing relief packages to households in areas under curfew. "We have collaborated with local taxi-hailing apps like PickMe and the tri-forces to ensure the smooth distribution of items," said Thushara Dissanayake, Deputy Chairman of Sathosa. "This service started as a pilot project in Colombo. We will expand it to Delkanda, Ratmalana and Kandana where we will open distribution centres. These items are distributed to households within a radius of 15-20 square kilometres from the distribution centre. Customers have to call 1331. But this has become a very busy line now. Apart from that, those with the PickMe app could utilise its services," he said.

When asked about how relief packages would be distributed, he said they would be handed over to respective Divisional Secretariats. "They will then distribute it to respective GN divisions. This is a coordinated effort by local Samurdhi officers, Grama Niladharis and Agricultural Research Officers. We operate on the basis that curfew periods will be extended indefinitely and encourage customers to stay at home as much as possible," he said.

He assured that customers would have access to essential items and operations would continue at 423 Sathosa outlets along with 13 large-scale distribution centres including the one in the Northern Province.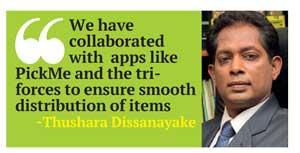 One of the largest private retailers, Keells Supermarkets, has continued to serve customers. "Whenever curfew is lifted, we have been able to serve our customers," said Charitha Subasinghe, President (Retail) of John Keells Holdings. "We have also been able to do online deliveries, but due to technical issues, our team is currently in the process of rectifying them.
However, online delivery is not our only delivery channel. We have several options from keeping outlets open in areas where curfew is lifted to delivering goods to households. We have got government approval to do deliveries and we are examining models to get the stocks delivered to customers. Customers too need to distinguish between needs and wants. They may not be able to find everything they want, but they should be able to fulfil their needs. We are working in different forms, especially to meet the needs of those who have a shortage of food. There are stocks available and we will get them delivered to the best of our ability," he said.

'PickMe Food' to expedite delivery operations
Joining Sathosa in its distribution operations, PickMe Food is not only delivering essential items but gas cylinders too, together with Litro Gas Lanka. "In terms of distributing gas, we have expanded to 11 areas including Nugegoda, Pelawatte, Kandy, Katugastota, Moratuwa, Mattakkuliya, Matale and so on," said Mevan Peiris, Head of Operations, PickMe Food. "As at March 26, we have distributed over 750-800 packs of essential items from one centre at Vauxhall Street. "We hope to expand it to Ratmalana, Narahenpita and other areas in the coming days, and our target is to distribute at least 1,000 packs. We also plan to collaborate with select bakeries to deliver items like bread. Also, have plans to find a reliable supplier of fresh produce. We are in the process of discussing with leading supermarket chains to enable this operation in the near future and extend services to Colombo, Kandy and Gampaha," he said.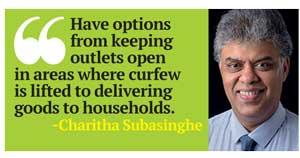 To order essential items, he said customers must first download the PickMe app and enter the 'food' section. "When a user enters the location, they will see a gas or groceries banner. If they don't see it, this means the service is not yet available in that area. We have a fleet of 25,000-30,000 vehicles. But for this operation, we are getting the services of PickMe trucks, three-wheelers and PickMe Food bikers. The three-wheel drivers have got police approval to distribute items, but they cannot accept hires. However, we wish to inform users that the opening and closing times of outlets depends on the availability of stocks at distribution outlets and PickMe's availability to deliver. Therefore, if the inventory is out, it will directly reject remaining requests," he said.

Mixed reactions from people
While some people had received food packs, others in areas like Thalawathugoda, Malabe, Battaramulla, Rajagiriya, Dehiwela, Mount Lavinia, Dalugama, Wellawatte, Piliyandala, Panadura, Gonapola and Hokandara complained they hadn't received such essential items as at March 26.
Pics by Pradeep Pathirana