---
'Sparkle 2018,' a dinner dance organized by the Colombo Branch of the Good Shepherd Convent Kandy PPA to mark its 40th anniversary will take place in grand style at the Shangri La Hotel Colombo on June 30, 2018. The guests will be entertained by Pearl and Black, and the event will be compered by Faizal Bongso.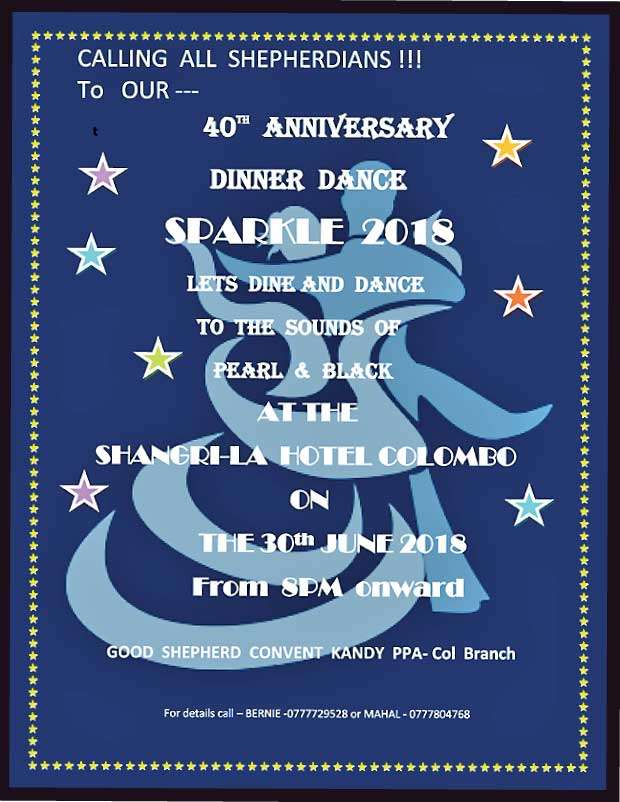 The Colombo Branch of the Kandy Good Shepherd Convent Past Pupils' Association was launched in 1978 by a few members and founded by the late Enid Perera (wife of the then IGP Earnest Perera).
The Association grew slowly, and in 1987 with the joining of Shamina Hameed (wife of the then Foreign Minister A.C.S. Hameed), it grew into full bloom and launched the very first fund- raising project "Sparkle '87".
Ever since then our projects have helped the school in various ways and our ongoing pet project - maintaining Ward 24 of the Mulleriyawa Mental Hospital - is a social work activity.
Therefore with "Sparkle 2018" we once more look forward to this charitable event, celebrating 40 years of work.
For details and tickets please contact Bernie on: 0777729528 or Mahal on: 0777804768.