---
D.V.A. (Victor) Senaratne passed away on July 10, 2019. At the time of death, he was 97 years old. He was born at Dehiwala, lived in Panapitiya, Kalutara during his young days and was educated initially at HolyCrossCollege, Kalutara and later at AnandaCollege, Colombo which gave him a balanced outlook.

He joined the Irrigation Department as a trainee and then as Technical Assistant in his early Forties. The best persons in the batch were selected and sent to the College of Engineering, Guindy, Madras, Indiaon a 4-year scholarship; as in the 1940s, such facilities did not exist in Ceylon.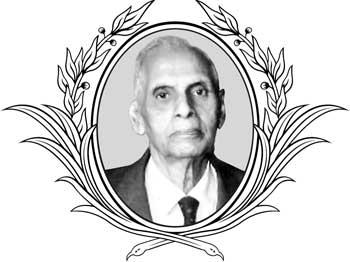 Mr. Senaratne returned with an engineering degree in the late forties and was appointed Irrigation Engineer, carrying out various tasks and holding responsibility. In the early Fifties, he was awarded a further scholarship for practical training at Snowy Mountains Electrical Authority and in Canberra, Australia.

In late 1958, he was appointed Irrigation Engineer in charge of construction leading to the restoration of Mahakanadarawa Reservoir with storage capacity to provide irrigation facilities to some 4,000 acres of hitherto abandoned land. He resided along with technical officers on semi-permanent housing, constructed in the midst of thick jungle three miles to the interior of Mihintale. He was entrusted with the tasks of planning, designing and the production of drawings and executing major construction work. There was no electricity except from 6:00 p.m.to 10:00 p.m. when the site power generator worked.

During daylight hours, there were neither lighting nor ceiling fans nor refrigerators in the office or residences. It was at Mahakanadarawa that Mr. Senaratne began to excel and exhibit his talents, under him there were seven young Technical Assistants and five others relatively experienced. These young persons performed the duties entrusted to them with minimum facilities and adhering to disciplinary measures enforced by Mr. Senaratne.

They had to go to worksites in groups, sharing a field vehicle and riding motorbikes or cycles on dirt roads. He set an example for everyone to follow, commanded respect and showed subordinates the value of education and pushed everyone to qualify and aspire to reach the heights he set. It is not surprising that six of the seven Technical Assistants qualified to become the British Chartered Engineers, the qualification recognised in Sri Lankathen (the writer was one of them). These men secured assignments later in the four corners of the world.

Upon completion of headwork in three years, he progressively rose up within the profession, including overlooking operations of the Laboratory of Irrigation Department and was eventually appointed Director of Works of the Northwestern Province at Territorial Civil Engineering Organisation (TCEO) – an entity formed by the Unity Government that came to power in 1970, which took over the work of the Highways and Irrigation Departments. He toiled to make this experiment a success, executing work through 12 executive engineers placed within the province for nearly four years.

In 1974, he was appointed Director and General Manager of the State Development and Construction Corporation (SD&CC) – of which he was later appointed chairman – with the main task of expediting the Bowatenne Diversion Dam in the Mahaweli system. With the support of a team of young engineers based at the site, the work was completed in time to harness and issue Mahaweli waters to part of the dry zone.

In 1976, he moved to the Irrigation and Highways Ministry and later to the newly-formed Mahaweli Development Ministry – a while later, he was appointed Additional Secretary to the ministry, an assignment only a handful of engineers secured. It was the period when an ambitious programme was launched by the government to construct five major reservoirs within five years under the Mahaweli scheme. It was an ideal opportunity for him to give to the country the benefits of the immense technical expertise he possessed. He attended many negotiations with the participants of donor countries and while construction was ongoing, he was hard on the engineers of foreign contractors who were cautious of his presence and utilised his all-round ability to get the best for the country.

Throughout his public career, he worked hard and demonstrated a great sense of integrity. The most striking factor about him was his vast knowledge which other engineers envied. He was a gifted writer who would make a draft of A4 size paper in a few minutes. The young engineers who watched his all-round ability and performance are reminded of what an English literary writer wrote of the village school master: "They wondered and the wonder grew how a small head could carry all he knew."

On his retirement from government service, he established his own firm Samitar Limited in 1979 which specialised in drilling work and foundation engineering, where his recommendations were not vague even in challenging circumstances.

He worked up to the age of 90 and there after engaged in meditation and listening to sermons during in-depth studies of Buddhism and ended up writing an abridged book on Buddhist Dhamma for free distribution which he presented eleven months ago on his last birthday to Buddhist monks and selected laymen. He seemed contented and felt it was time to seek eternal bliss.

He was married to Mrs. Esme Senaratne who despite her connections with comfort and urban living spent time with him amidst jungles where he served as a young engineer. She was a devoted partner. He leaves behind son Lalith and daughters Thusitha and Chandrika who are all professionally qualified accountants.

May he attain Nibbana!
Denzil Aponso,
Chartered Engineer