---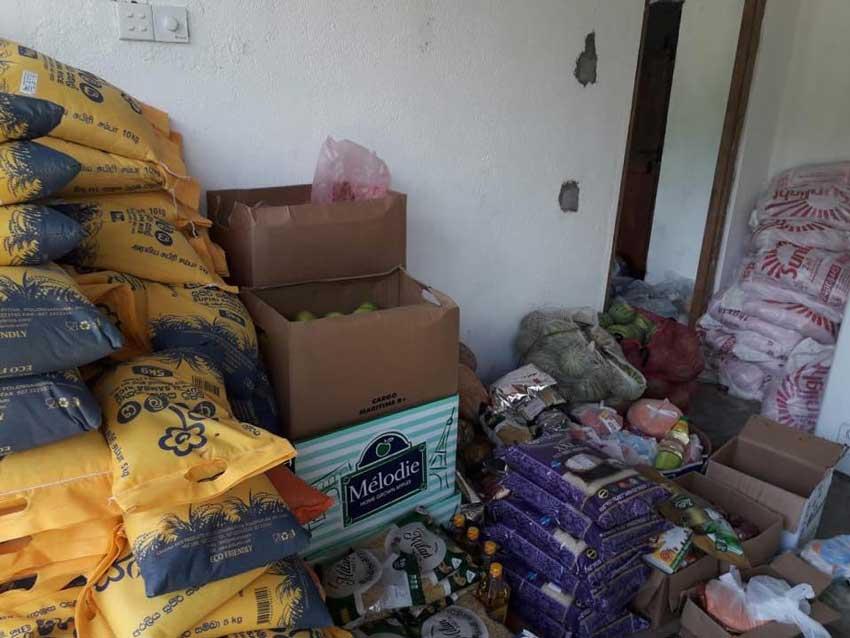 tems to be distributed. Pic courtesy - CAA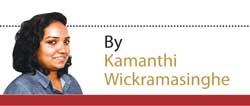 The indefinite curfew paved the way for a chaotic panic buying episode by Sri Lankans. Communication channels were jammed, websites didn't work and people were in frenzy. In no time, online vendors mushroomed, selling everything from essentials to non-essential items, promising to satisfy 'lock-down cravings'. While a majority of vendors deliver what they promise, a few are learning to handle the burden of overwhelming number of orders. From giving a particular time for customers to login to setting daily quotas, online vendors are trying to manage the situation. This situation also paved the way for scammers to have a field day. Days after a popular e-commerce website was exposed for selling overpriced items and charging customers in dollars another such fraudulent operation has been exposed recently.

Fraudulent operation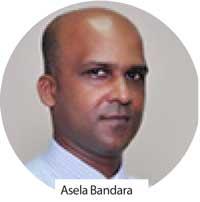 Although popular retail outlets started delivering essential items to the doorsteps, it paved the way for first timers in the business to also test the waters. The process is simple. All they need to do is add items on a website, establish a payment gateway and thereafter they are through. This is because there is no registration criteria in place for online vendors. However, many products continue to be sold at higher prices than the market value along with exorbitant delivery charges. Some vendors even add a service charge, packing charge and so forth. Freshcart.lk is a subsidiary operation under Kandy Cars Online Pvt. Ltd. (PV00210161). Since the payment gateway is established under this company, customers receive an invoice from Kandy Cars Pvt. Ltd and not Freshcart.lk.
The site has advertised the sale of everything from dry rations to fruits and vegetables, spices, baby products, clothes, cosmetics, medicine and hardware items as well. Those who have placed orders have waited for 15 days or more and haven't received anything as yet. After placing orders, they were given various excuses to coverup for the delays. This is after its owner Keerthi Sri Edirisinghe has assured on the freshcart.lk Facebook page that customers would get their products as promised. One message to a customer reads as follows: "It was my fault that I didn't involve on this personally other than funding and even my FB profile was handled by others. So I kindly request you two things; first give me one day to make the delivery. I will personally assist this now. If not within one day I will refund all your payments by tonight." Another message on the Facebook page sounds like a threat to customers asking them not to keep delivery boys waiting and that he accepts the fact that deliveries got delayed.
Several attempts to contact freshcart.lk owner Edirisinghe over the phone and via his Facebook profile proved futile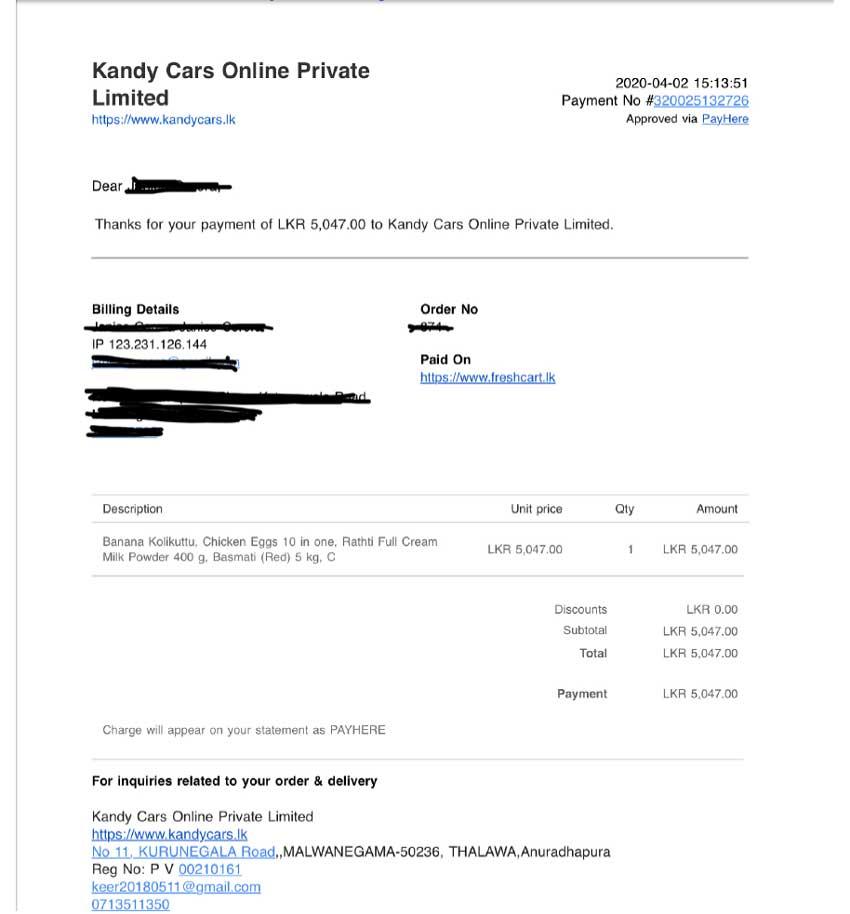 Customer experience
J. C (name withheld under conditions of anonymity) from Maharagama was one of the victims and this is her experience. "I came across freshcart.lk from a list of vendors recommended via an e-portal. So I ordered the goods on April 2 and the order value came to about Rs.5000. I paid with my credit card and received the invoice as well. Due to the ongoing curfew period I didn't expect them to do the delivery on the same day. But I started checking updates on their Facebook page. They have indicated a WhatsApp number and I dropped a text with my order number to check on its status. Then I got a reply saying that my order is due on April 5. But after the expected due date had passed they began to make excuses saying they couldn't deliver today but will do so tomorrow. I tried calling their numbers but they were always engaged. When I did get through they came up with a story saying three of their vehicles had broken down and that they couldn't get curfew passes. This is when I started feeling that something was not right. I even dropped an email on the email address indicated in the invoice but didn't receive any reply to that either."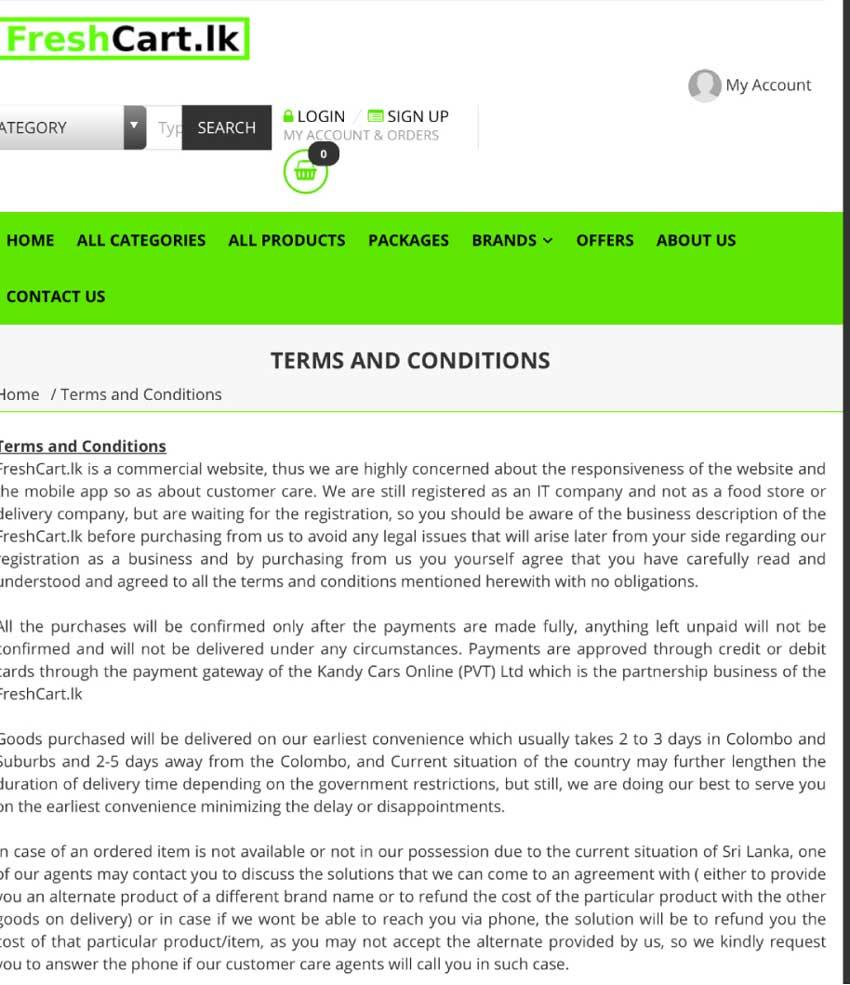 "I then posted a query on a Facebook group asking if anybody had ordered goods from this vendor," she continued. "Thereafter, four or five people started commenting and then when I went to the vendor's Facebook page there were many people complaining about their service and delays in deliveries. Once when I got through to someone they reassured me that this operation was not a fraud and to have some patience. When I went through their website I came across a Terms and Conditions which they had drafted to favour them more than the customer. It said that they would opt for a refund only if a particular item was not available and that they would not be responsible for any damage in any product. Then I came across a person by the name of Keerthi Sri Edirisinghe who appeared as its owner. He appeared to be calm and said that there had been a communication problem. But I thought this was enough drama and since my goods weren't delivered I asked for a refund. But there was no response."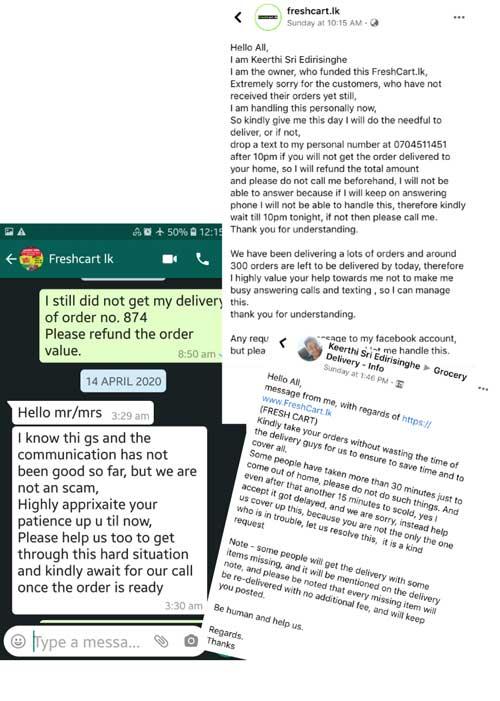 "But I feel he was getting pressured from all sides and then started writing statements on the freshcart.lk Facebook page. One of them asks customers to call him after 10.00 p.m. on a particular date while another statement asks customers not to keep delivery boys waiting. Everybody else was irritated and therefore lodged complaints at the Consumer Affairs Authority (CAA). I also noticed that someone was taking down the negative reviews on their Facebook page. This is not a time to cheat people because everybody is adjusting to this situation," she said.

Strict guidelines to be issued for online vendors
When CAA officials raided the freshcart.lk stores at Korathota, Kaduwela they not only found that most products were not fit for human consumption but that they were overpriced as well. On its social media page, the CAA further stated that most deliveries were intentionally delayed in an attempt to accept more requests. However, CAA officials are now working on arranging refunds for the customers. "It will take some time but we will make sure that the customers get their money back," CAA Information Director Asela Bandara said. "We will be taking necessary legal action against the owner. This is the second online vendor that attempted to mislead customers. Therefore now we are in the process of drafting strict guidelines to be issued to all online vendors as soon as possible."
Apart from that the CAA officials also revealed that the addresses given on the Facebook page and website were forged as well. Following the raid, operations were underway to refund nearly LKR1.4 million to more than 156 customers. So far 30% of the customers have received their refunds while another Rs.600,000 has to be refunded to some 102 customers in the list.