---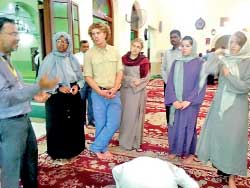 The First Ever Open Mosque Day in Kandy took place on September 20 at the historic Meera Makam Mosque. The event, organised by the Centre for Islamic Studies (CIS) in association with the trustees of Meera Makam Mosque was an immense success with over 300 persons of other faiths participating.
Asiff Hussein, Vice President, Outreach, CIS said that the Open Mosque event- the first of its kind in Kandy- had attracted clergy of different faiths, Government officials, police officers, teachers and students. Besides a tour of the historic Meera Makam Mosque and Islamic prayer demonstrations, visitors were taken around a walk-through of posters clearing misconceptions of Islam and presented with beautiful Arabic calligraphy of their names, traditional Muslim foods and gift packs containing literature and perfume. A special henna corner for the ladies was also a major draw.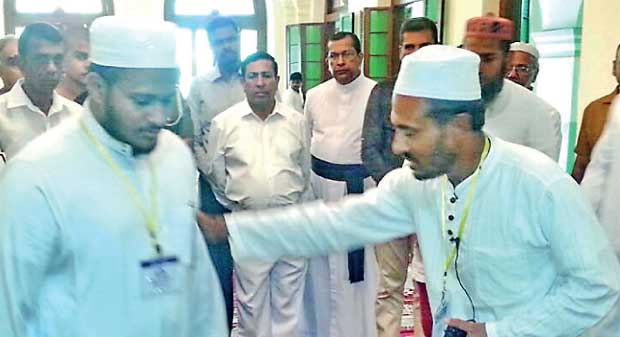 "We plan to have similar events in other mosques all over the country in the near future spearheaded by our outreach team mainly drawn from our Youth Wing" said Hussein. "We have had such events at Akbar Mosque on Kew Road in Colombo, which were also very popular. A noteworthy feature of the Kandy program was the active participation of Mosque Tour Guides from among the learned scholars of the All Ceylon Jamiyyathul Ulama, the country's apex Islamic body. This shows the wide acceptance of the concept of mosque tours as a means of building bridges with other communities" he added.