---
I believe that the Education Ministry should revisit the vision envisaged by Mr Kannangara and give more prominence to children in remote villages. Now it has come to a point where experts don't even consult public opinion when deciding on educational reforms. If children are deprived of education, they will be isolated in those remote villages. – Prof. Malani
Renowned scholar of history and the Secretary to the Mahavamsa Compilation Office, Emeritus Prof. Malani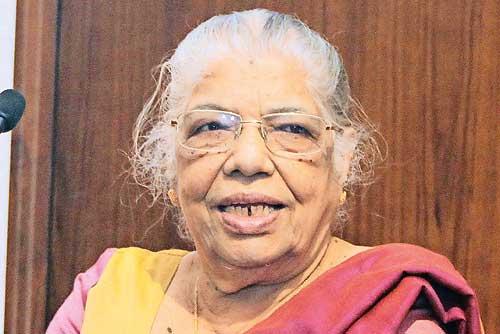 Adagama was recently felicitated for her contribution to education. The ceremony was organised by the Department of History and Archaeology at the University of Sri Jayewardenepura in the presence of University Vice-Chancellor Prof. Sudantha Liyanage, Head of Department Prof. Alexander Kapukotuwa and many other dignitaries.

In his keynote speech, Prof. Mahinda Somathilaka of the Peradeniya University said that her contribution towards the teaching of history in Sri Lanka has been phenomenal. The History Association of Sri Lanka was established by an Act of Parliament and the subject was later incorporated into school curricula. This happened under the leadership of Prof. Adagama and several other eminent historians in the country. Prof. Adagama also served as its President but towards the end of her tenure, history was considered as a subject that could be ignored.

However, with the introduction of STEM subjects, subjects such as history been taken for granted. But Prof. Adagama has convened meetings and has requested government authorities to revisit this decision. An assurance was later given that history would continue to remain as a subject in school curricula. As someone who has fought a long struggle to continue the dialogue on the history, Prof. Adagama is involved in the process of drafting the Mahavamsa. She is also making an effort to declare the oldest draft of the Mahavamsa as a World Heritage."
She has taught or held administrative positions in many universities in the country including the University of Peradeniya, Colombo, Ruhuna, Rajarata, Sri Jayawardenapura and Uva-Wellassa University when it was first established as an affiliated institute. She has also authored several books including the History of the Gam Sabha system in Sri Lanka.

"I come from a remote village and was the daughter of a farmer family," Prof. Adagama recalled while addressing the gathering. "There were no shoes at the time and we went to school on foot. However, I passed the Grade 5 scholarship. I bless C. W. W Kannangara for introducing it. The objective of this scholarship was to give a place for bright students in remote villages who cannot afford a good education. This is why the central school concept was introduced. Those who couldn't go back home had the hostel facility. There was a matron who taught us discipline and made us independent students. The education system provided a holistic approach to the making of a disciplined individual and we got placements in the University later on."
""I come from a remote village and was the daughter of a farmer family," Prof. Adagama recalled while addressing the gathering. "There were no shoes at the time and we went to school on foot."
"Our batch had 633 students who got selected to the University of Ceylon and only a few of them were bilingual. None of the teachers at the University was willing to teach us in Sinhalese medium. Somewhere down the line, we were able to understand both languages. Mr Kannangara said that the flowers that blossom in the jungles shouldn't be allowed to whither. However, the Grade 5 scholarship concept has now been distorted. During the 1980s it became a cut-off system to send children to 'popular schools'. Today even a student from a wealthy background can sit for it. Back in the day, a child couldn't get a placement in a central school if his family had an established level of income, irrespective of whether he passes the exam or not. When I was selected to a central school we had to produce an affidavit from the Government agent, proving the financial status of the family. Therefore bright students in remote villages don't have a chance to go to a better school."
Prof. Adagama said that this system needed to be fixed soon.

"I believe that the Education Ministry should revisit the vision envisaged by Mr Kannangara and give more prominence to children in remote villages. Now it has come to a point where experts don't even consult public opinion when deciding on educational reforms. If children are deprived of education, they will be isolated in those remote villages. They will be trapped."
A publication of scholarly articles too was launched at the ceremony. The publication was edited by Prof. Rohitha Dasanayaka, Prof. Padmasiri Kannangara. The first issue of the third volume of Vidarani magazine was also handed over to the Vice-Chancellor by its editor Prof. Gamini Ranasinghe.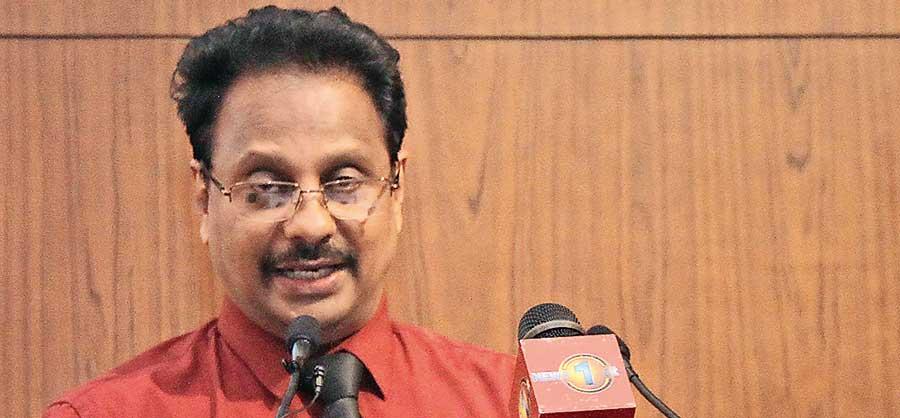 Prof. Mahinda Somathilaka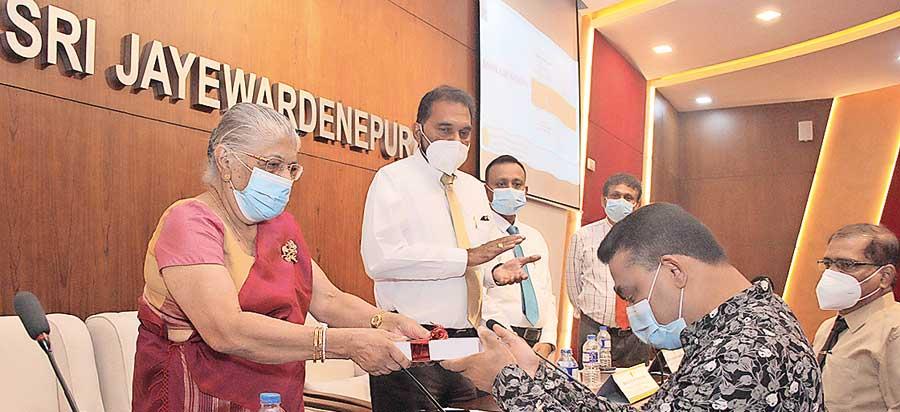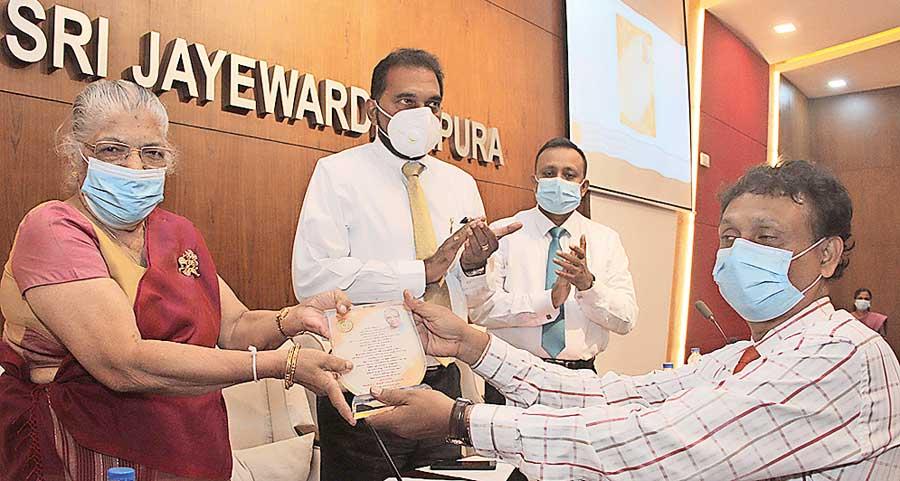 Pix by Pradeep Dilrukshana