---
Beware of low quality face masks and hand sanitisers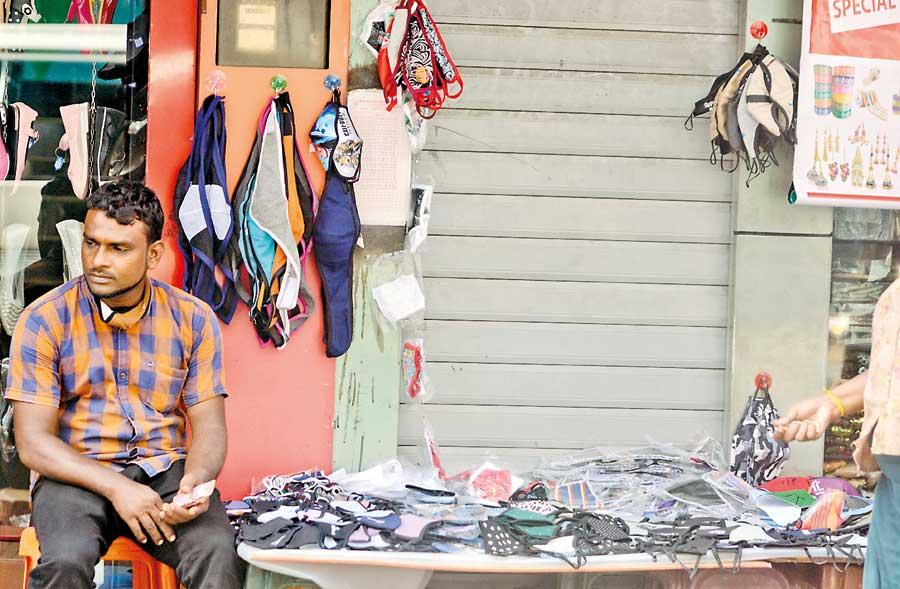 Face masks out in the open
Pics by Damith Wickramasinghe
When you wear a face mask you should be able to breathe and this value should be 60 Pascals per square centimetre
If you use a hand sanitiser with methanol which is an eye irritant and accidentally touch your eyes you are in trouble
Wearing face masks without proper protective covers will give rise to respiratory complications
Disposable face masks have started replacing single-use plastic waste, emerging as a key pollutant in sensitive ecosystems
The World Health Organisation (WHO) recently announced that the COVID-19 wave will prevail for another two years. This means that people will have to continue adhering to basic health guidelines, two of them being wearing face masks and using hand sanitisers. But as people saw monetary gains from both these products, many low quality face masks and hand sanitisers are now available in the market. Apart from that the fight against plastic pollution is being hit by the pandemic since most disposable face masks
have started polluting
sensitive ecosystems.
The DailyMirror therefore takes a look at standard procedures in manufacturing face masks and hand sanitisers while shedding light on proper disposal techniques recommended by the government.
Regulating quality
Face masks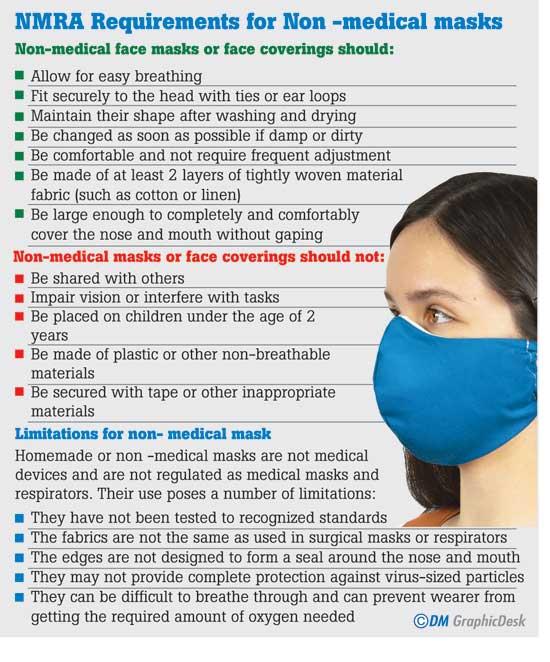 Guidelines have been issued by the National Medicines Regulatory Authority(NMRA) on both medical and non-medical face masks. "Standard procedures such as storage, materials and testing have to be conducted when manufacturing non-medical cloth face masks," said Nalin Hettiarachchi, Investigation Officer at Consumer Affairs Authority (CAA). The NMRA therefore laid out two basic parameters ; Bacterial Filtration Efficiency (BFE) and Breathability. Since COVID-19 is a virus particle medical masks are made of various filters. For example the N95 mask has a 95% filtration rate, hence the name. In other countries the parameter is particle filtration. As per the size of the COVID-19 particle, minimum two layers of material need to be included in a cloth face mask. The other parameter is breathability. "When you wear a face mask you should be able to breathe and this value should be 60 Pascals per square centimetre. So when the BFE value is high breathability value is low."
Hettiarachchi further said that initially they had suspended face masks made of materials such as calendula and cut pieces brought from garment factories. Some of these materials weren't washed properly and there were fungi growing as well. But eventually a cottage industry emerged and prices of masks manufactured according to standards increased. But today we see face masks being sold on the pavement and some of them don't even have proper coverings. In order to regulate the process the NMRA issued notification letters to manufacturers. They then included microbiological cleanliness of the cloth as another parameter. So the manufacturers can register themselves online, send sample materials to NMRA and only after they check, these materials are put into the market. Initially, pharmacies also took products that had NMRA approval but now they take any type of mask."
When asked about the price factor, he said that masks could range from Rs. 50-1,500, depending on the material and type. "Now there are fashionable masks which are being sold at high-end shopping outlets. However the CAA cannot put restrictions on such products. But in the final product, they have to mention how many times it could be washed, the price and other details."
Hand sanitisers
Another issue is that of poor quality hand sanitisers available in the market. "Sanitisers include isopropyl alcohol and they are made by diluting water, hydrogen peroxide and glycerol. But in most saturated samples the isopropyl content isn't there. They include methanol and if you use a hand sanitiser with methanol which is an eye irritant and accidentally touch your eyes you are in trouble. The alcohol is said to kill bacteria but most products come as diluted solutions."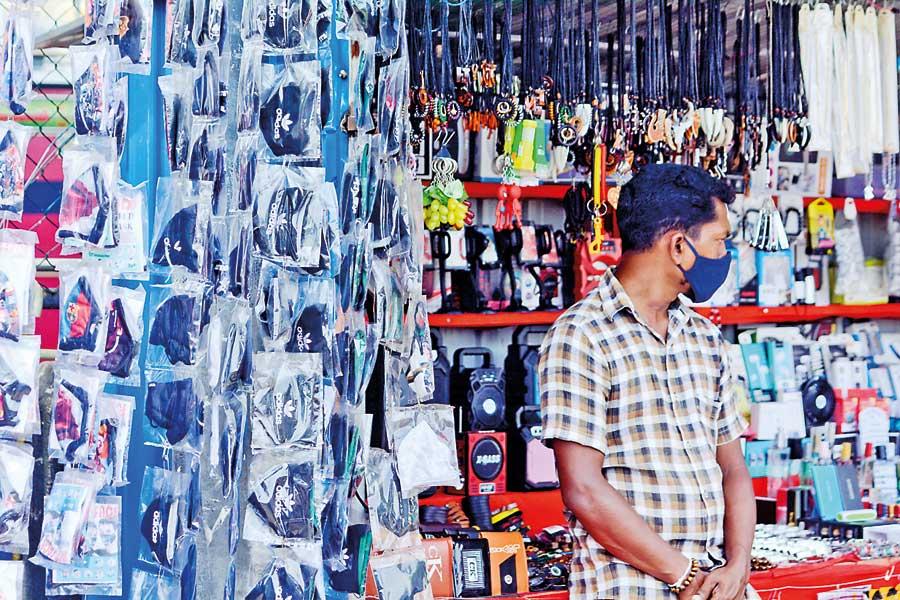 Sale of face masks emerged as a profitable business over the past few months
Calls to implement legal action
"Low-quality face masks will not prevent the spread of disease," opined Dr. Haritha Aluthge, Secretary, Government Medical Officers Association (GMOA). "But there are limited authorised officers to check on the quality of these products. Therefore the Health Ministry should focus on tightening regulations with regard to the standards of face masks. Legal action should be

Dr. Neranjan
sought on people who manufacture as well as sell poor quality masks. The WHO has said that COVID-19 will remain for another two years and one of the fundamental health guidelines is to wear face masks. Therefore the relevant authorities should constantly educate people on its importance."
He further said that wearing face masks without proper protective covers will give rise to respiratory complications. "They are already out in the open with dust particles and once people wear it close to their nose they will get allergies and respiratory illnesses. Therefore adequate monitoring is required."
Medical points to ponder
However, Dr. Neranjan Dissanayake, Consultant Pulmonologist at the Ratnapura Chest Hospital says that the quality of the material doesn't matter as long as the nose and mouth are fully covered. "They could be made by a simple fabric. But prior to purchasing a mask people should check if it fits them, whether they could breathe when wearing it and whether they are allergic to the material or not. If you are using a reusable mask you should wash it with soap, dry it in the sun and wear it the second time. After all, you should be comfortable with it."
When asked about diluted hand sanitisers in the market, he said that alcohol is known to disrupt the toxic wall surrounding the COVID-19 virus. "Therefore we have to follow WHO guidelines when preparing hand sanitisers. If it's too diluted then the main purpose will not be served. Therefore it will not give an adequate amount of viral clearance. On the other hand, the additives shouldn't be harmful to the skin. Therefore chemicals and various other substances need a degree of quality control before being given out for commercial use."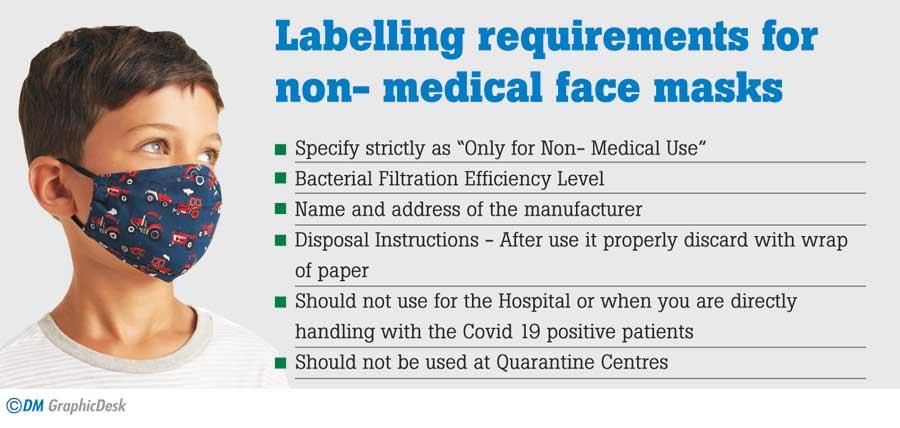 Emerging pollutant
However the Ministries of Environment and Health along with the Central Environmental Authority had laid out certain guidelines to dispose of waste in households where people are undergoing self-quarantine. According to the guidelines, materials such as face masks were categorised as 'special waste'.
This category includes waste and potentially contaminated items such as face masks, masks, gloves, handkerchiefs, tissues, sanitary pads, diapers and other materials contaminated by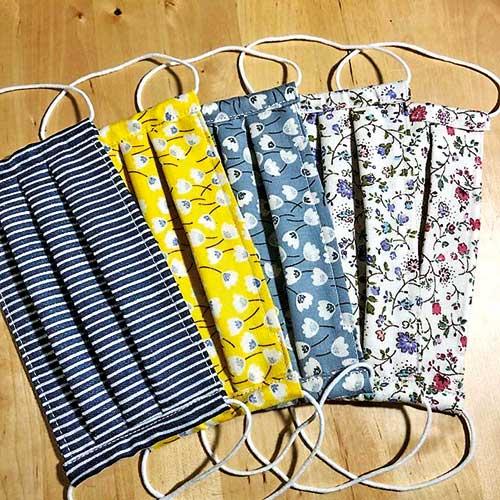 Face masks made by Simply Women - an organisation empowering women
body fluids of residents. Special waste should be collected in a leak-proof yellow colour, HDPE (minimum thickness of 25 microns or 100 gauge) or LDPE (minimum thickness of 55 microns or 250 gauge) polythene bags and be kept in a secure place outside the reach of children and animals until discharge or disposal.
In terms of disposal, special wastes should be collected in a separate vehicle. A disposal pit should be excavated on the soil to a minimum of two feet, secured with bunds around the pit. Collected waste bags shall be disposed in the pit without opening and shall have adequate amount of

Mahinda
disinfectant on bags. The recommended disinfectants are 1% Sodium Hypochlorite solution, Lime powder (100g/ 1kg of waste). After disinfection, a 6-inch-thick soil layer should be placed on waste bags. The guidelines further state that all special waste should be incinerated and that it is mandatory to use thermal treatment methods for these wastes. If not the waste should be handed over to accredited clinical waste disposers for safe disposal through combustion.
According to Mahinda Werahera, Assistant Director- Environment Pollution Control and Chemical Management at the Ministry of Mahaweli Development and Environment, in order to impose maximum fines on those who illegally dump clinical waste, the National Environment Act should be amended. "Right now its only Rs. 5,000 and it is not at all effective. Therefore we need to bring in mandatory regulations on Extended Producer Responsibility a strategy to add all environmental costs associated with a product throughout its lifecycle to the market price of that product. Therefore the manufacturer will be more responsible and it will change the dynamics in local waste management practices."
In no time, disposable face masks have started replacing single-use plastic waste, emerging as a key pollutant in sensitive ecosystems. According to the World Wildlife Fund (WWF), if one per cent of masks are disposed of incorrectly, it would result in 10 million masks per month dispersed in the environment. Considering the weight of each mask to be about four grams, this would entail the dispersion of over 40,000 kilograms of plastic in nature. However environmental experts claim that there's no safe way to dispose single-use face masks. Anything that's been specifically designed for one-time use will be thrown away to end up in a landfill or will escape into nature.
Encouraging local manufacturing
Therefore one of the solutions is to produce face masks from environmentally-friendly materials. Several homegrown manufacturers were therefore empowered by small scale and large scale apparel enterprises."I started manufacturing face masks from printed cloth at the onset of the lockdown," said Druvi Gunasekara, a hotelier by profession.
"When we cut cloth masks we didn't find appropriate filters. Unlike most cloth masks BISL uses an adjustable metal nose clip in our masks. BISL masks are now made with an antimicrobial treated fabric."
Haphazard disposal of face masks is a growing threat to the environment