---
Conservationists warn coastal filling harms marine life and hastens erosion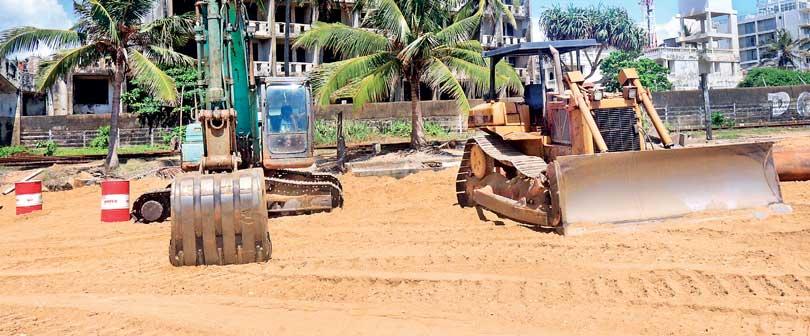 Heavy machinery in place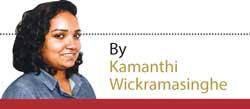 News that Cabinet had approved a beach filling project along 4 km of the coastal belt from Angulana to Mt Lavinia, and 2 km in the Calido Beach, Kalutara has alarmed environmentalists and the public. The project stemmed from the erosion of 2 km of sand dunes near the Kalu Ganga river mouth and Calido Beach. The project is estimated to cost approximately Rs. 890 million and the contract has been awarded to Rohde Nielsen A/S, a Denmark-based company. The company website claims dumping sand close to shore using 'state-of-the-art' split-hopper dredgers is an 'eco-friendly coastal protection method'.

Two projects

"There are two projects. One by the Megapolis Ministry, and the other by the Coastal Conservation Department (CCD)," said Dr. Terney Pradeep Kumara, General Manager, Marine Environmental Protection Agency (MEPA). "The Ministry project spans from Kollupitiya to Dehiwela, which expands the coastline by about 150 metres. Here they plan railway tracks, parks and commercial spaces. It's expected to finish by 2021. It's not a big expansion of the coastline, and the CCD has taken certain protective measures against sea erosion. This was done at Calido Beach up to Moratuwa. Initially when sand was being pumped, local fishermen protested against it.But now they want more of it. The sand is being pumped from ocean sand pits identified through an Environmental Impact Assessment (EIA) done many years back."

He added when sand is extracted from the sea, it causes deep-water coral reefs to absorb sediment, which in turn harms marine life. "This is unavoidable, and there'll be more sea erosion. When sediment settles on reefs, it harms small animals living in them. They shouldn't extract sand from shallow waters. Sea erosion is increasing due to climate change. Action must be taken to reduce the damage."
---

There are two projects. One by the Megapolis Ministry, and the other by the Coastal Conservation Department (CCD)

Dr. Terney Pradeep Kumara
---

Calido Beach saga

The Calido Beach project has three phases. Sand for the project is being dredged from the sea off Ratmalana. A total 300,000 cubic metres of sand will be used for the filling process. It was believed that one of the causes for the 2017 Kalutara floods was the erosion of sand bars near the Calido Beach estuary. But the story has another side. "When the Kalu Ganga meets the sea, it takes a 90 degree angle near the estuary," said Jayantha Wijesingha, Convener of Rainforest Protectors Sri Lanka, which has extensively studied the issue since the floods. "Large quantities of water were flowing into the river as the soil lacked water retention capacity. Commercial crops were being grown in catchment areas, and those areas too couldn't retain the water. Sand acts as a filter, and provides backward pressure against water. The beach was eroding, and there was no plant cover either. As a solution, the then government cut that area of the Calido Beach. So due to backward pressure, waves began flowing back into the river. Therefore, saltwater started flowing directly into the river. For this so-called solution, no EIAs or Initial Environmental Examinations(IEE) were done. On the other hand, due to excessive mining, there's no sand reaching the Calido Beach either. Therefore there has been no natural sand formation over the recorded time period. Since waves started hitting against the remaining part of Calido Beach, it started further degrading. We have observed over 50 illegal sand mining spots along the Kalu Ganga from Kalutara to Katukurunda," he said.
Wijesingha noted the construction of artificial breakwaters do more harm than good. "All the studies done so far warn that dredging sand within 5 km off the shoreline will have severe consequences. When you dredge the seabed, it releases toxic matter stabilised within the sand, and this could adversely impact marine life. Another concern is when you dredge from the seabed, sand gets re-deposited in another location. The question is, where will this sand get deposited? Sand currents always work upstream. Sand from the Kalu Ganga reaches up to Uswetakeiyawa. There is more sand in the eastern coast than in the western coast. This is why there's no coastal erosion in the East. But when there's no sand, a big vacuum is created. This can only be covered by sand from surrounding areas. Hypothetically, if one million cubic metres of sand was dredged off Calido Beach, the sand will be replaced 1 km from the location between the beach and dredged site. This will result in more coastal erosion. Thereafter there will be no natural coastline. Sand barriers will face huge dangers in future. To minimise erosion, hotels have put up artificial breakwaters. But they will not serve any purpose. If sand continues to be dredged in an ad hoc manner, we will have to prepare for more severe consequences than what we are facing already."
---
So far no EIA has been done. This is an extension of the beach nourishment project that began at the Calido Beach

HemanthaWithanage - Executive Director at the Centre for Environmental Justice (CEJ)
---

Legal action mooted

"So far no EIA has been done," charged HemanthaWithanage, Executive Director at the Centre for Environmental Justice (CEJ). "This is an extension of the beach nourishment project that began at the Calido Beach.It has been going on for two or three months. The CCD head has discretionary powers to conduct an EIA. If an EIA is done, they must have a public hearing and follow due procedures. But we have observed the CCD is abusing their discretionary power. After all, an EIA must consider where the sand is being pumped, the sand budget and so on. The sand budget is the amount of sand that reaches the beach from rivers, and the sand that rotates within the sea. Since sand didn't reach the sea from the Kelani River, it was sand from Ratmalana that reached Uswetakeiyawa. But if existing sand barriers slip due to excessive dredging, waves will hit the shore at a bigger force than at present. If sand is being dredged excessively, the coral reef will be damaged."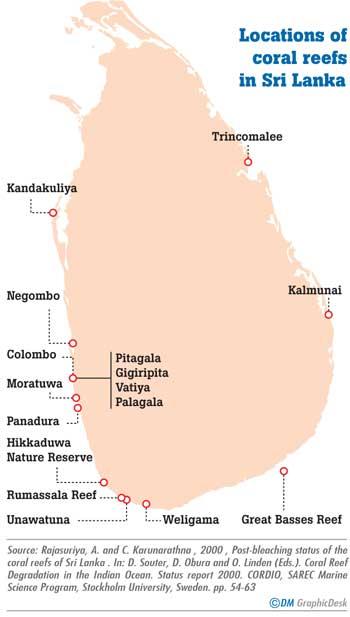 "The Ratmalana reef is rich in bio-diversity, but sometime ago there were plans to destroy it to allow fishing boats to reach the shore," Withanage added. "Up to Uswetakeiyawa and Negombo we have a rich fishing ground. There's enough sand in the rivers. But due to illegal sand mining and other activities, the sand doesn't reach the sea. Therefore we have to artificially nourish the coastlines. In another five years, this area will have to be refilled again. People will have wider beaches, but the environmental impact must be assessed first."

Subsequently, CEJ sent a letter to CCD Director General seeking answers to vital questions such as whether an EIA was conducted for this project and if not the reasons for not conducting an EIA, where the sand would be pumped from, whether comments were obtained from public, especially fishing communities in the area, whether approval was sought from Geological Survey and Mines Bureau (GSMB) and Department of Wildlife Conservation (DWC), how much sand would be used, whether the reef had been damaged and so forth. "Depending on the responses, we will consider whether to take legal action or not," he said.

CCD adamant

Responding to questions on the EIA, CCD Director General Prabath Chandrakeerthi said the ongoing beach nourishment projects did not require an EIA. "These are being done as preventive measures against coastal erosion. There was a need to fill the Calido Beach as about 35 acres had already eroded. This project extends from Calido Beach to Mt. Lavinia, Ratmalana and Angulana. But we have conducted an EIA on burrow pits, and the Central Environmental Authority (CEA) has issued an approval valid for three years. We have done dredging in Unawatuna, Uswetakeiyawa and Marawila to stop coastal erosion. The ongoing beach nourishment project commenced after a feasibility study approved by Cabinet."
---
These are being done as preventive measures against coastal erosion. There was a need to fill the Calido Beach as about 35 acres had already eroded

Prabath Chandrakeerthi - CCD Director General
---

Threats to coral reefs

Coral reefs, also known as the 'rainforests of the sea' are protected by the Flora and Fauna Protection Act of the Wildlife Department. According to Sri Lanka's Amazing Maritime (www.slam.lk), a website maintained by independent marine researcher Howard Martenstyn, coral reefs are also protected under the Coast Conservation Act, but are limited to waters within 2 km seaward of the mean low water line. Some of these reefs have been designated as National Parks and Sanctuaries. However, Martenstyn identifies coastal erosion and excessive sedimentation as one of the many threats to coral reefs. Others include inadequate enforcement in protecting coral reefs, coral damage by vessel strikes, anchoring and chains due to lack of mooring buoys, coastal destruction through mining, over-harvesting of marine species and destructive fishing practices like nets and dynamite. Climate change factors include coral bleaching that has happened since 1998, environmental pollution including fishing lines and nets and the infestation of crown-of-thorn starfish. These cases demonstrate that due to human-made threats to nature, humans themselves must find different approaches to mitigate environmental destruction.
---
When the Kalu Ganga meets the sea, it takes a 90 degree angle near the estuary. Large quantities of water were flowing into the river as the soil lacked water retention capacity

Jayantha Wijesingha - Convener of Rainforest Protectors Sri Lanka
---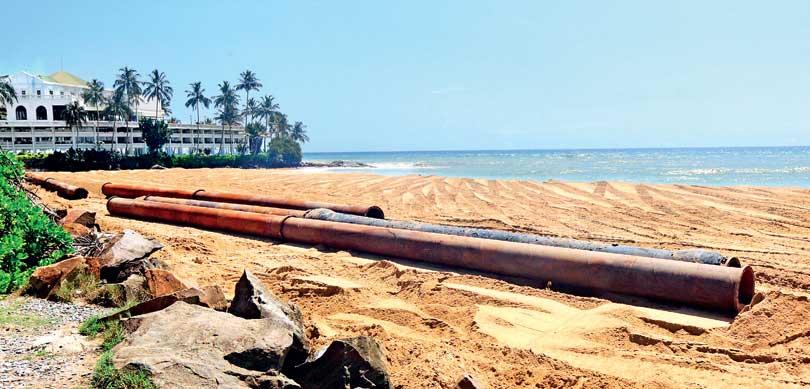 Sand being refilled at the Mt. Lavinia beach
Pix by Indika Sri Aravinda