---
The 4th Annual Research Symposium of the Faculty of Engineering – University of Ruhuna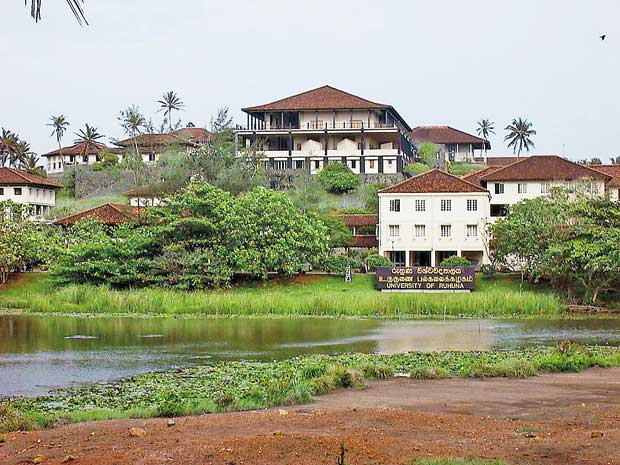 The symposium is organised as a national level event, showcasing in-house research outcomes of the Faculty of Engineering while providing a unique opportunity for the researchers in the field of engineering from institutions around the country.
The theme of this year's event is ''Research for Achieving Excellence in Engineering''. In addition to authors from various engineering organisations, more than 50 papers authored by the academics, postgraduate and final year undergraduate students of the Ruhuna Faculty of Engineering are to be presented at this conference.
These papers will cover wide disciplinary areas of engineering and technology covering sub-disciplines of civil and environmental engineering, electrical and information engineering and mechanical and manufacturing engineering.
The topics to be discussed include but not limited to the latest advancements in environmental engineering, concrete technology, food and bio-process technology, industrial automation, electronic and power engineering and renewable energy.
The Vice Chancellor of the University of Ruhuna Senior Prof. Gamini Senanayake will be the Chief Guest of the Symposium.
"The Annual Research Symposium (ARS - 2017) on Engineering will take place at the Faculty of Engineering, University of Ruhuna in Hapugala, Galle on January 05, 2017. "

The Deputy Vice Chancellor Dr. Nayana Alagiyawanna and the Dean of the Faculty Dr. Chandana Perera will be participating at the inauguration of ARS – 2017. The keynote speech will be delivered by Prof. Sunanda Degamboda at the Department of Industrial Management, Faculty of Science at University of Kelaniya.
By releasing a message to the symposium proceedings Prof. Gamini Senanayake, says:
"As one of the Sri Lanka's aspiring public universities, University of Ruhuna's main challenge is to remain competitive and relevant by offering high quality academic programmes and research activities. New knowledge and findings cannot be generated without research and development (R&D). Therefore, University of Ruhuna has taken many steps to provide a conducive environment for academics to engage in high quality research''. "A.R.S. provides a good opportunity for our academics to present their new discoveries and translate them into products and services for the marketplace. Translation of research findings done in a university laboratory into a practical application is only made possible by linking academics with industries in a forum like this''
According to the statement of Dr. A.M.N. Alagiyawanna, the Deputy Vice Chancellor,
''Each faculty of the university has stepped up its research activities significantly during last three to four years, especially with the availability of funds through the university. Annual Research Symposium of the Faculty of Engineering would continue to foster research in engineering and hence encourage innovative and sustainable solutions to relevant problems especially in Sri Lanka.''.
The Dean of the Faculty of Engineering, Dr. Chandana Perera says:
''I am very happy to state that there will be research presentations from other leading universities of the country as well. This will allow the dissemination of new knowledge across the institutions in the country. In addition to the faculty staff and students, we hope that many participants from the industry will attend and get benefit from this Symposium. I strongly believe that this annual event of our Faculty will serve as a platform and a catalyst to promote collaborative research between the industry and academia''. Mrs Mihirini Wagaarachchi of the Department of Interdisciplinary Studies will serve as the Symposium chair with the support from the committee members Dr. Indika Perera of Department of Mechanical and Manufacturing, Dr. Vidura Vithana of Department of Civil and Environmental Engineering and Ms. Suboda Ireshika of Department of Electrical and Information Engineering .