---
Reginald Lionel Perera, who was RL and Reggie to many, was a very distinguished personality in Deniyaya Planting district. His reputation extended beyond the Southern Province especially among the planting community as a versatile and proven Planter of exceptional knowledge in agriculture and management skill.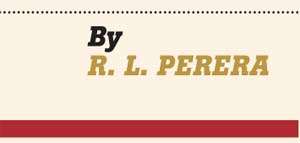 Having commenced his planting carrier in 1938, Mr. Perara ended up as a Superintendent of Deniyaya Estate in 1947 and transformed this Tea and Rubber property to be one of the best managed high-yielding tea estates in the Morawak Korale, with two large well equipped factories, when he retired in 1973, after a distinguished service of 26 years. Plantations and tea factories were many that obtained his services as a Visiting Agent and Agriculture or Manufacture consultant.
His expertise even extended as a competent agricultural property valuer, and a consultant on building plans and constructions, for his practical knowledge on the subject surpassed or equalled that of a well-qualified Architect or Civil Engineer. Many Tea Factories constructed by the Tea Small Holding Authority in the South received his guidance as Adviser during construction and thereafter, on the manufacturing process. Quite a few successful planters were trained by him and I, being a relative, had the privilege of being under his secure wing, for well over an year as a 'Creeper' and over two years as his 'S.D.' He was a role model to many a young planter.
His behavioural human resource management skill was admired by many and stands as a guide for the entire Planting Community, for anger never interfered in his working environment and his degree of patience new no limit when dealing with people of any standing. His repeated advice to everyone was that, if the privileged care for the down trodden, they need fear no backlash.
The success of his human resource management could be summed up with his behaviour in Deniyaya during the 1971 Insurrection, when he proved his strength of character by being a lone crusader as it were, for he had the courage and self-confidence to disregard all barricades placed by insurgents, to get about on the main roads, when circumstances demanded and travel by push cycle, when the streets in the area were devoid of any
vehicular movement.
In retrospect, he was a Giant in his chosen profession, who strode lightly with great expertise and kindness towards all.
A firm believer of managing estate units as Profit Centres; during the latter stages of his retired life, he strongly recommended the introduction of the Family Block Management system in estates to counter the ever spiraling cost of production up to harvest level, and convert the age old DAILY PAID WORKER system to OUT GROWER system to manage estates.
A devout Catholic and a willing helper in all Church activities where ever he served, especially in the management of agricultural properties belonging to diocese of Kandy and Galle. Kandy Bishop, the Rt. Rev. Dr. Vianney Fernando, who solomnized at the Holy Mass at his burial in the Kandy General Cemetery on February 11, 2009, summed up his inspiring homily referring to R.L. as a Perfect Human Being.
He was a loving husband to his understanding devoted wife Lilian, who pre-deceased him, and a caring father to four lovely children, Carmel, Shiranee, Anthony and Jacintha and more importantly a fatherly personality to many, passed away peacefully after spending an equally fruitful three decades of retired life at the age of 93 years, exactly ten years ago, in 2009.
May he rest in the Heavenly Home
Tony Samaranayake