---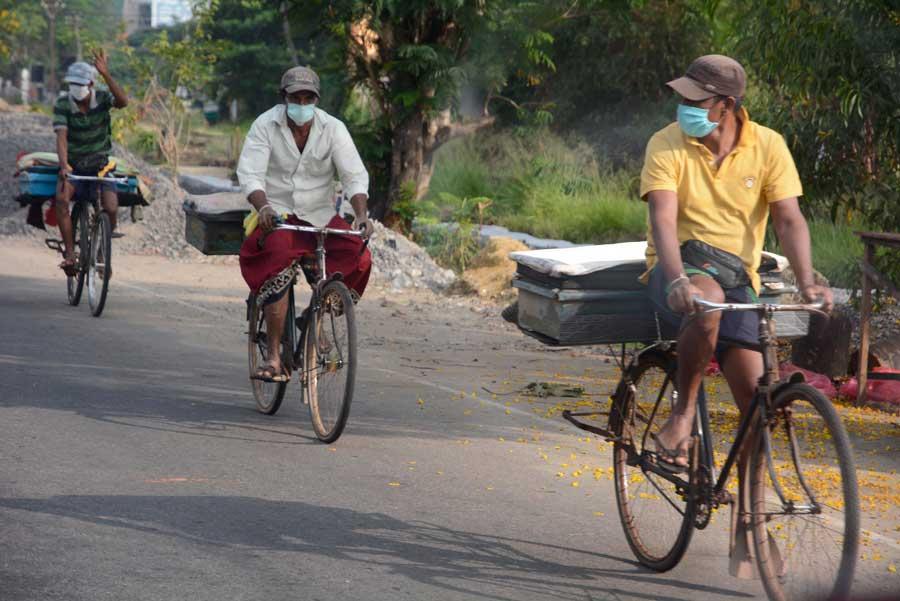 Struggling for day-to-day survival: A group of fish sellers on business during the 'lockdown' to Covid 19 in Sri Lanka - Pic by Kithsiri de mel
While the government's response to COVID-19 may have shielded Sri Lanka from a major loss of life, the imminent large-scale economic fallout will be harder to prevent. The country has been struggling with low economic growth in 2019/20, poor export growth, a decline in tourism and high currency depreciation.

With many economists predicting an oncoming global recession or depression similar to the 1930s Great Depression, it is evident that Sri Lankans will face many hardships ahead.
Pre-existing problems
According to experts, Sri Lanka's pre-existing economic problems will exacerbate the COVID-19 recession. According to Murtaza Jafferjee, CEO of JB Securities and a director at Colombo Stock Exchange (CSE), Sri Lanka has needed major structural reform for years.
"Sri Lanka's economic policy has been protectionist and nationalist since the beginning of the war. These policies were never altered. This has led to a domestic industry that has not been focused on increasing productivity," he opined. "The economy has relied on high tariffs on imports; for instance, furniture faces an import tax of up to 45%. This lack of competitiveness and increase in productivity have led to an ever-widening trade deficit. The trade deficit rose from $7.6 billion in 2013 to $10.3 billion in 2018. There has been little export-sector growth in the past decade. For instance, in 2019, agricultural exports declined by 4.6% and tea exports by 5.7%. The end result is a non-competitive economy in desperate need of reform and which will be hit especially hard by the decline in demand for Sri Lankan exports in the coming months."
Agreeing that the local economy had many structural constraints, Deshal de Mel, Research Director at Verité Research, pointed to debt overhang, weak export diversification, suboptimal labour force participation and lack of fiscal space as underlying problems.
"Many local businesses are struggling to adapt to the idea of working from home. Moreover, workers who cannot work from home have been severely impacted. This consists most of the workforce as Sri Lanka has a high focus on primary and secondary production sectors"

"Fiscal space is an important indicator of government financial well-being and is defined by the International Monetary Fund (IMF) as a government's ability to raise spending or lower taxes without endangering market access and putting debt sustainability at risk," he said. "When the starting budget deficit is an optimistic 7.5% of GDP compared to a global median deficit of 2%, it is clear that Sri Lanka has left itself with little fiscal space and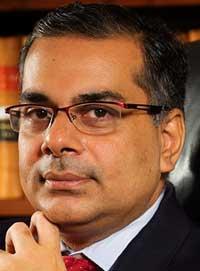 Murtaza Jafferjee
resilience to respond to a crisis of this nature."
However, Mr. Jafferjee blamed election-based government policy. For instance, lowering taxes to incentivise consumption had greatly increased national debt. Developing infrastructure, partly funded by foreign capital, has also worsened debt. "We lack the competitiveness from tradeable sectors to generate foreign exchange to repay this debt. It is a balance of payments crisis," he said.
Meanwhile, Prof. Sumanasiri Liyanage of the Peradeniya University said the economy had been in recession for the last five years. "The new government thought it could revive the economy. The Central Bank (CB) Governor envisioned a 4% economic growth in 2020. However, because of the coronavirus pandemic, I reckon the growth rate will not exceed 2%," Prof. Liyanage said while Mr. Jafferjee forecast negative growth in 2020, a phenomenon not seen since 2001.
Oncoming decline
Our economy depends heavily on tourism, tea and textile exports, but demand in these sectors is expected to decline. Prof. Sirimal Abeyratne of the Colombo University said exports would be greatly affected. "The oncoming recession will hit Sri Lanka harder than the Easter bombings," he said.
Prof. Liyanage agreed saying there would be widespread supply-side shortages, particularly in textiles. "One reason is because it is difficult to get workers to factories. The second is because many factories in China have closed and these are the main supplier of raw materials." Prof. Ricardo Hausmann of the Harvard Growth Lab noted in a video-conference recently that supply-side shortages would "percolate through the economy," leading to shortages of materials and eventual reduction in demand, causing an increase in layoffs and bankruptcies. He added that the impact on developing nations like Sri Lanka would be a "collapse in access to foreign income."
The crisis has been further heightened by Sri Lanka's dependence on the consumption of developed countries.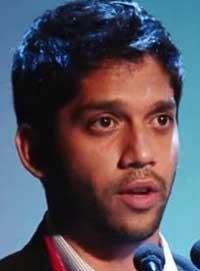 Deshal de Mel
Niluka Ekanayake of the CB Economic Research Department citing a 2016 study said the US accounted for 42% of garment exports while the EU share was 46%. "These developed nations will greatly reduce consumption of Sri Lankan garments," Mr. Jafferjee said. Sri Lankan textiles cater to luxury brands like Tommy Hilfiger and Victoria's Secret whose prices would be excessive during economic strife. "Why shop from there when you can purchase something basic from Amazon for a tenth of the price?" he asked.
Citizens from the west also dominate our tourism industry, which accounts for 20% of national GDP. So even if the government contained COVID-19, tourism demand would likely drop until the economies of these countries recover. With Goldman Sachs predicting a 24% fall in the US GDP in the second quarter of 2020, and Morgan Stanley predicting a 30% fall, rapid economic recovery in the west appears unlikely. And Jim Rogers, Chairman of Rogers Holdings Inc. and co-founder of Quantum Fund, has predicted the worst 'bear market' in his lifetime – A bear market is when negative investor sentiment causes widespread falls in share prices.
Furthermore, tea exports will decline due to high prices and dwindling markets. Recent data from the Tea Exporters Association show Ceylon tea sells for $3.35 per kg whereas Kenyan tea sells for $2.12 per kg. This would harm demand for Ceylon tea in a recession, Mr. Jafferjee said. "Most Sri Lankan tea is exported to oil-producing Middle Eastern nations. The economies of those nations have collapsed," he said. The falling price of oil, now at an 18-year low, has devastated the economies of countries like Kuwait. "If consumers from these nations get used to cheaper tea, they might not return to Sri Lankan tea after the downturn ends," Mr. Jafferjee said.
Mr. Jafferjee noted a fall in remittances from Sri Lankan workers abroad would cause an economic slowdown. In 2018, we received remittances of over $7 billion, accounting for 7.9% of GDP, well ahead of apparel ($5 billion), tourism ($4.4 billion) and agricultural exports ($2.7 billion).
"Many Sri Lankans work in badly-hit countries like South Korea, the Middle East and Italy. Many may not be able to send money home. It's probable that those in low-wage jobs, like domestic workers, will be laid-off in the coming months," he said. However, Prof. Abeyratne was optimistic about certain industries. "Agriculture will be less affected as it is based on local demand," he said, adding that the public sector would not suffer as much.
Government response
Many local businesses are struggling to adapt to the idea of working from home. Moreover, workers who cannot work from home have been severely impacted. This consists most of the workforce as Sri Lanka has a high focus on primary and secondary production sectors. Daily-wage earners who comprise over 60% of workers are also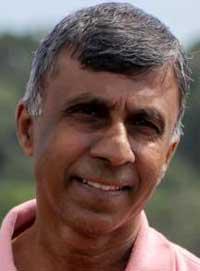 Prof. Sumanasiri Liyanage
severely impacted. Millions of rural farmers and the self-employed are among the hardest hit. Already, some 400 tonnes of fish have been thrown away, and this may increase as more fishing vessels return to port.
Mr. de Mel supported any government decision to aid vulnerable citizens. "The priority of government policy has to be to minimise human suffering. The government will have to find resources to provide cash transfers, more than on a one-off basis, to this vulnerable segment of the economy. Public finance resources will also need to be found to fund testing capacity, hospital bed capacity and other critical health resources," he said.
The Cabinet decision to impose import controls on non-essential items, except oil and pharmaceuticals, to prevent currency devaluation, has also been criticised. Analysts argue this could discourage investment when most needed. They fear such protectionism would discourage efficiency and productivity, especially as pre-1977 import-substitution harmed economic efficiency and dampened growth. Such policies have also led to a rapid depreciation of the currency, as in the mid-1970s. That crisis was exacerbated because Sri Lanka was running a budget deficit due to successive governments subsidising commodities and providing free entitlements to citizens, which further increased import demand and widened the trade deficit. Similar policies are being implemented today and Mr. Jafferjee described the nation as having a spending problem. "We have insufficient taxation and mispriced energy such as the cheapest diesel in South Asia and a ridiculously-low lifeline rate on electricity of Rs. 3 per unit for the first 30 units. Import controls were instruments used during the 1970s. I think the country has come a long way since then and the current situation with reserves at a healthy $7.5 billion does not warrant such actions," he said.
Contrarily, Mr. de Mel felt the decision, though undesirable, was essential to maintain those reserves. "More than currency defence, these measures would be required to protect reserves in the short-term. In 2020, Sri Lanka's external liability payments are around $ 6 billion while reserves as of February were $ 7.9 billion," he said. Some experts have urged the government to abandon its curfew policy due to it being economically unsustainable. Mr. de Mel opined the government would need to find some middle-ground, "possibly where the elderly and immune-compromised are sheltered, and the economy is gradually opened up in a limited manner for others, to allow people to earn some livelihood to enable survival."
Stimulus plan
Experts have urged the government to ramp up stimulus spending to help individuals and businesses survive. While many countries have launched stimulus packages of billions or even trillions of dollars, Sri Lanka has done very little, leaving its citizens, especially daily-wage earners, with few options. The President instructed the Export Development Board (EDB) to submit a proposal with a stimulus plan nearly three weeks after EDB head Prabhash Subasinghe sought a stimulus plan. Mr. Jafferjee supported a stimulus package and urged the government to provide at least Rs. 20,000 per household per month. "That is sufficient for basic sustenance," he said.
Shiran Fernando, Chief Economist at the Ceylon Chamber of Commerce, supported this view. "We have seen foreign governments announcing large stimulus packages supporting workers, the public and the firms. We may need to see something similar to encourage the economic recovery after the current stage of containment," he said.
"Our economy depends heavily on tourism, tea and textile exports, but demand in these sectors is expected to decline"

Prof. Liyanage praised the US Government steps to provide stimulus to the economy. "President Trump has moved away from his right-wing economists and introduced a $ 2 trillion injection into the economy. Similar to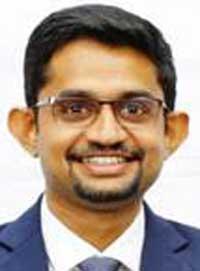 Shiran Fernando
2008, I think this injection of big money by the Federal Reserve system and European governments could help in an early recovery," he said. The UK Chancellor of Exchequer Rishi Sunak too announced a stimulus plan that included billions of pounds in support of lost wages, welfare, 12-month interest free loans for businesses and a deferment of VAT.
The Sri Lankan Government has placed a moratorium on loan and lease repayment, and delayed debt and tax collection. But this does not protect workers in the informal sector who don't usually operate within the formal bank and financial system. Many people are at the mercy of predatory loan sharks who charge exorbitant interest rates and offer no moratoriums.
International support
The IMF is making available $ 1 trillion to help weather the pandemic's worst impacts. IMF Director Kristalina Georgieva warned that developing countries would be "very, very hard hit." The body has received 80 requests for emergency assistance globally. Ms. Georgieva described this as "never having happened in the past." The World Bank (WB) has also pledged financial assistance. Mr. Jafferjee felt Sri Lanka should accept financial assistance. "Our budget will be constrained for the next few years, so capital expenditure will be hardest hit. The Millennium Challenge Corporation has agreed to give us $ 480 million to improve critical transportation and land infrastructure. We need this money to improve our country's productivity and quality of life," he said.
Road to recovery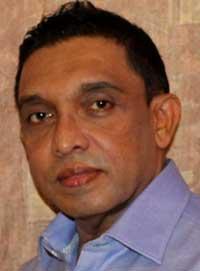 Prof. Sirimal Abeyratne
There was also optimism for Sri Lanka's future prospects. "If the crisis is over, and if the government takes necessary steps, we could catch up by the end of the third or fourth quarter of 2020," Prof. Liyanage said. Both Prof. Liyanage and Prof. Abeyratne believe the local economy could adapt to make the best of the situation. "In the current 'contagion economy,' the government should invest in medical industries like ventilator production over the next six months," Prof. Liyanage said. "After six months, when the contagion is over, you can build the economy partly based on these principals. That's the solution Sri Lanka can have in the next few years," he said.
However, such ventures are expensive. For instance, General Motors (GM) and Ventec Life Systems converted a GM plant to produce ventilators and this cost American taxpayers $ 1 billion. Sri Lanka lacks factories of that scale and the process would have to be completed from the ground-up, at a higher cost.
Meanwhile, Prof. Abeyratne said, in future, telecommunication providers would have to meet the demand for faster networks due to large numbers of people 'tele-working' and that "in the future, some industries will benefit."
Mr. de Mel opined that once the crisis had passed, the government must dedicate itself to reducing the budget deficit and improving its national fiscal position. "Once the threat to lives and livelihoods has eventually been quelled, the government must take steps to improve the fiscal position, bringing the budget deficit to below 5% of GDP in the medium term, so that Sri Lanka creates some fiscal space to address future crises," he said.