---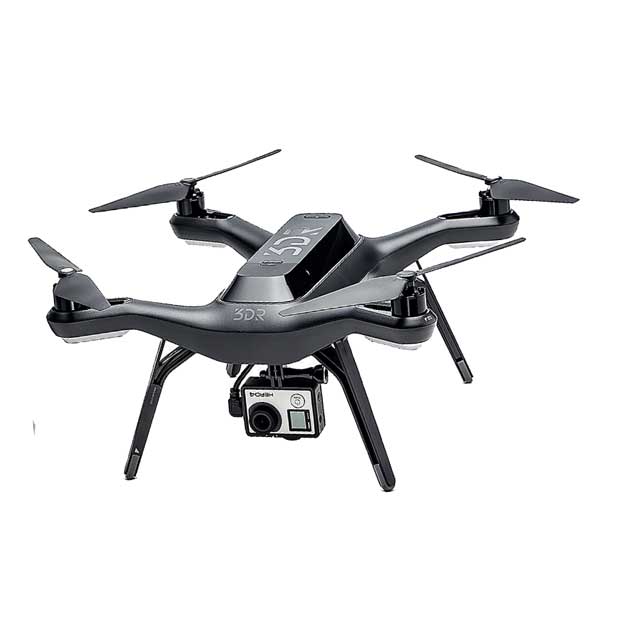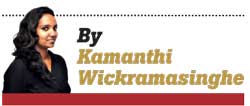 Technological advancements are widely appreciated as they allow people to exert less manual effort and get things done in fractions of seconds. While such novelties are needed in this century that boasts quite a lot about 'taking things to the next level,' their long-term consequences too are largely felt. The usage of drones has set a trend from capturing images to recording or gathering information, thus increasing the sale of drones around the world and right here in Sri Lanka as well. Drones hovering around significant events that took place at state level made headlines during the recent past thereby prompting the government to impose more stringent regulations on their usage. In an attempt to shed light on this matter, the Daily Mirror spoke to a few individuals of varied expertise.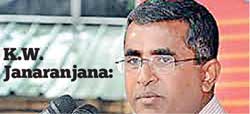 It is vital that drone users be aware of all regulations before using them
Commenting on this subject, K.W. Janaranjana, editor of Ravaya newspaper, said when looking at it in a positive manner, it definitely was a technological advancement introduced to media.

"Whatever you cannot see at the eye-level is captured from an aerial view through this device. But when using it, there have to be certain regulations that the users need to adhere to. There is a limit for everything. Even expressing an idea has its own limits. Therefore, drone users should be well aware of these regulations before using them. Through these devices, the users can interfere in to another person's privacy and this should be stopped through the media itself. One incident where the use of drones was heavily criticised was during the exhumation of Lasantha Wickrematunge's body parts. This drone was sent against the request of the family."

Speaking further, Mr. Janaranjana said even the RTI Bill had limits.

"There is a certain limit to which people should know information. In fact, certain information needs to remain confidential. Hence, it is vital to consider media ethics before using any device which would otherwise interfere in the safety and privacy of the people."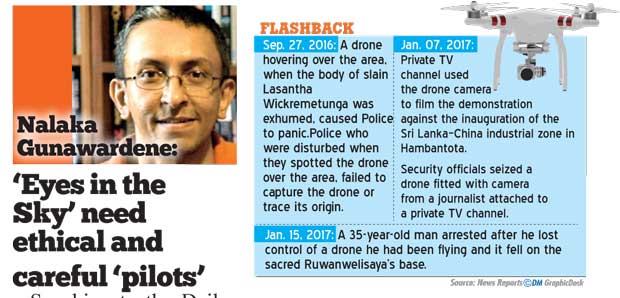 'Eyes in the Sky' need ethical and careful 'pilots'
Speaking to the Daily Mirror, science writer, broadcaster and development communicator Nalaka Gunawardene said for some, drones conjure images of death and destruction – military applications have been their most widely-reported application.

"But unmanned aerial vehicles or UAVs are being used increasingly for many peaceful purposes. That poses a host of ethical and legal challenges we must confront to get the best of this new technology while minimising potential harm. In the past few years, the cost of drones came down (an entry level unit sells for around LKR 35,000 in Colombo), as their versatility increased. This spurred many users from news-gathering and post-disaster assessments to goods delivery and smart farming."

"In Sri Lanka, surveyors, photographers, TV journalists and political parties were among the early civilian users of drones. They all grasped the value of the 'bigger picture' perspective such as aerial photos or videos they can provide. Until recently, accessing that vantage point was possible only through helicopters or fixed wing aircraft – a facility only few could afford. Having the bird's eye view helps journalists and their audiences to make sense of complex situations like climate change impacts, conflicts over resources or political agitation. We certainly need more field-based and investigative reporting that goes beyond press releases and press conferences. Drones are fast joining the journalists' toolkit -- but what matters is their imaginative and responsible use."

"Here, we have both good news and bad news. On the positive side, over two dozen journalists and photojournalists have been trained in drone-assisted journalism during 2016 by drone journalism enthusiast (and drone pilot) Sanjana Hattotuwa and journalist Amantha Perera. Some trainees have since done good stories with drone-gathered images. Examples include probing the drought's impacts in the dry zone, rising garbage crisis in Kattankudy on the east coast and taking a closer look at land use patterns in Hambantota. The downside is that some news organisations are deploying drones without due regard for public safety or existing codes of media ethics. A drone hovered over the Colombo general cemetery as slain editor Lasantha Wickrematunge's body was exhumed in September 2016. That disregarded a family request for privacy."

In his concluding remarks, Mr. Gunawardene said the end never justified the means in good journalism.

"If some media groups continue to operate drones in such a reckless manner, they risk discrediting the new technology and attracting excessive regulations. Drones or any other new technology need to be anchored in the basic ethics of journalism. Each new tool would also bring along its own layer of ethics. Where drone use is concerned, respecting privacy and considering the safety of others are far more important than using a handheld camera. In February 2016, the Civil Aviation Authority of Sri Lanka (CAASL) published regulations for drone operation which apply to all users including journalists. The Information Department, in a recent release, says it is working with CAASL to simplify these rules and to streamline approval processes. That is a welcome move."

For now, Lankan journalists can follow the Code of Ethics for Drone Journalists already formulated by practitioners and researchers in the United States. It is available at:
http://www.dronejournalism.org/code-of-ethics/.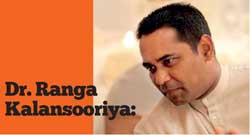 Drone regulations in other countries are much tougher
In his comments to the Daily Mirror, Dr. Ranga Kalansooriya, the Director General of Government Information said every drone user had to register with the Civil Aviation Authority and later get the approval from the area Police station.

"This is not a new imposition. The RTI act is about state information. If you look at the regulations in the UK, they are much tougher as they require a pilot licence for those operating an unmanned aircraft. In India, every take off should be approved by the Defence Ministry. Our regulations are not tough when compared with other countries. Also, the use of drones is about privacy and various ethical issues go in to consideration. We have to also think about the safety aspect. Therefore, the use of drones has got nothing to do with the RTI act."
---
Highlights of the Implementing Standards issued by the CAA
Earlier this month, the Director General of Civil Aviation issued the Implementing Standards that should be complied when operating pilotless aircraft under the provision of Section 80 of the Civil Aviation Act, Article 8 of its Schedule or the applicable International Standards and Recommended Practices specified in Appendix 4 of Annex 2 to the convention.

Some of its highlights are as follows:
· A pilotless aircraft of gross mass of more than 25 kg shall not be operated unless explicit approval from the Director General of Civil Aviation has been obtained.

• A pilotless aircraft with a gross mass of between 1 kg and 25 kg may be operated under the authority of the Director General of Civil Aviation, an approved person or approved organisation.
• A pilotless aircraft with a gross mass of less than 1 kg may be operated without approval from the Director General of Civil Aviation if it is operated for leisure or education purposes at private premises with the consent of the property owner or at public places which are clearly identified for the purpose, with due regard to safety of persons and property.

• An identification stamp on a pilotless aircraft shall indicate its identification number, owner's national identity card number and his/her contact details.
• Pilotless aircraft of any weight category shall not be operated for hire or reward, unless special approval is obtained from the Director General of Civil Aviation in writing after payment of the specified fee on case by case basis.

• A pilotless aircraft of any weight category shall not be operated unless its method of propulsion, source of power and means of controls are checked and verified for normal operations prior to flight, ensuring safe operations without endangering persons or property.
• A pilotless aircraft shall not be operated by any person if he or she;
1. Is not familiar with operations and manoeuvring of the aircraft safely.
2. Is not in good physical and mental health conditions.
3. Is under the influence of alcohol or a psychoactive substance.
4. Does not have a sound sense of social responsibility.
· A pilotless aircraft must not be operated;
1. Above any property unless explicit prior consent has been obtained from persons occupying that property or the property owner.
2. Causing safety or security hazards to a third person or property .
• Nothing shall be dropped nor shall any banner be displayed in a pilotless aircraft in flight without approval from the Director General of Civil Aviation.
• A person who operates a pilotless aircraft must, at all times; maintain visual line of sight with the aircraft; be able to see the surrounding airspace in which the aircraft is operating; and maintain the aircraft below the cloud base.
• Pilotless aircraft shall not be operated in a race or competition of any form, without special approval from the Director General of Civil Aviation.
• A pilotless aircraft shall not be operated from dusk to dawn (night)
---
Recap of incidents where drones made headlines

· During the exhumation of the remains of the late Lasantha Wickrematunge, a drone, which was said to be owned by a private media channel, hovered around the site to capture images of the exhumation. Following a request made by the family, the media was not allowed to enter the Borella cemetery while the exhumation was carried out.

· The drone camera of a private TV channel was seized during the recent clash at Hambantota during the inauguration of the Sri Lanka-China Industrial Zone. Here, the Police had not been notified about their usage of this remote control equipment into a space with diplomats, dignitaries and other foreign delegates.

· A man was detained after he lost control of a drone he had been operating and later fell on to the base of the sacred Ruwanwelisaya. At the time of the incident, the suspect had been taking footage of a Kapruka Pooja which was being held at the archaeological site.
---