---
Yesterday marked the 130th commemoration of late Dr. T. B. Jayah whose renowned name has found an honoured place in the annals of this country. He was an educationist, a politician, statesman, diplomat and a national hero who did so much for the Muslim community and to our country as well.

Born at Galagedera in 1890 to humble parents, he chose teaching as a professional career, first at Dharmarajah College, Kandy when a youth of 20 years, and later joined the staff of Prince of Wales College Moratuwa as Classics Master. While being a teacher, he pursued higher studies to arm himself with a degree in English, Latin and Greek from the University of London. He went over to Ananda College, and in 1917 enrolled as a student at the Law College to pursue his legal studies.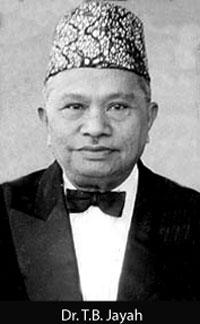 He firmly believed that an English education was imperative for all Muslim children. His thinking was that the only means in which the community could move forward in society was to impart English education to all Muslim children. At every available opportunity, Dr. T. B. Jayah made it to point. Realising the shortcomings and predicament of the Muslim as a community, he thought the remedy was to educate their children. He believed in an education based on Islamic percepts.

Playing the role of a crusader, a torch bearer and as a missionary in youthful prime, the budding teacher started to devote his time, effort and knowledge to realise his life's aspirations. Appointed as a Principal of Zahira College, Colombo in 1921, Dr. T.B.Jayah, by sheer dint of hard work, steered the school to enviable heights, so much so that names Jayah and Zahira became synonymous. During his stewardship of nearly 27 years, the name of Zahira became a firmament of education in this country.

As a political figure, Dr. T.B.Jayah entered the first Parliament and became the Minister of Labour and Social Services in the cabinet of late D.S. Senanayake, independent Sri Lanka's first Prime Minister. As a Minister, he excelled in his portfolio and introduced new reforms in the fields of social and labour to benefit the common masses and the working people.

When one thinks of Dr. Jayah, one automatically thinks of the work he had accomplished in the field of education and of the role he had played in the political life of the country, struggling for independence from British rule. He was in the thick of politics as a member of Legislative Council, in the State Council and then House of Representatives.

His foreign sojourn as a diplomat came when the then Prime Minister chose him as the first Muslim High Commissioner to Pakistan and justified D.S.Senanayake's confidence by building cordial and harmonious relationship with Pakistan. Dr. Jayah's contribution was greatly appreciated by the Pakistani Government and the people. He served there for more than 5 years. In appreciation of his great services, a prestigious institution, the Punjab University conferred on him a Doctorate in Literature.

The late Dr.T.B.Jayah adorned the public and political life of this country for nearly four decades with his dedicated services to his countrymen. The highlight of his career was that he put the cause of his community and the country above all other personal considerations. He has been admired by the people off all communities in Sri Lanka.

As the Honorary General Secretary of Dr. T.B. Jayah Foundation, I would like to narrate an incident which my late father, M.Y.M. Faleel, JP related to me. My father was on the tutorial staff when Dr. T. B. Jayah was the Principal of Zahira College. It was April 5th, 1942 (a Sunday) when the Japanese started to bomb Colombo. It was on this day that my father's wedding took place. Dr.T.B.Jayah attended two weddings on this day. One was the late A.M. Marikar Bawa's daughters at 11.00 am and my father's at Maligawatte at 04.20 pm, this fact carries on page 140 of the book titled "T.B.JAYAH A NATIONAL HERO" by Dr. M. S. Jaldeen. This incident reflects the simplicity, cordiality and humaneness of this human being who took time off to attend these functions amidst turmoil in the city of Colombo.

Dr. Tuan Buranudeen Jayah was a human and a humane gentleman with sterling and noble qualities. God fearing and religiously inclined, Dr. T.B. Jayah breathed his last on May 31st, 1960 in the Holy city of Al Madina Al Munawwarah when he was on a pilgrimage there, Inna Lillahi Wa Inna Ilaihi Rajioon. He was buried within two hours of his death at Jennathul Baqi, the resting place of the Ashabies and members of the Holy Prophet's (Sal's) family, with his demise. Sri Lanka lost a noble son, the community lost a great leader.

"May he enter Jennathul Firdouse" Aameen
Deshamanya M. Faisal Faleel, JP(WI)
Hony. Gen. Secretary
Dr.T.B.Jayah Foundation.