---
When my mother asked me to write a few words to commemorate my father's first year death anniversary, a realisation came upon me that writing such a piece would make my heart heavy.
I have thoughts of him carrying me (his little girl) to kindergarten while I clung tightly to him in the morning. I thought of him when I saw the other day a father opening the car door for his beloved daughter, umbrella in hand to protect her while he stood half drenched in the pouring rain. I also remembered him when a father disciplined his little at one of the tables next to me while I was out having a meal. These fathers like my very own teach their children to be better persons. What made writing this article somewhat easy for me was knowing that my late father was a remarkable human being.

My father was the late Dr. S.Y.L.S. Wickramasinghe, fondly referred to by his friends and colleagues as Leslie or Sherington. He was born in 1943. His father was Pudius Wickramasinghe, a station master, whose wife was Nancy. He was the eighth child in a long list of ten children. One could say that he was born to a family determined to succeed against all odds.
Tough times in life influenced my father to become a doctor. It was certainly the experiences he encountered as a child that made him understand the pain suffered by human beings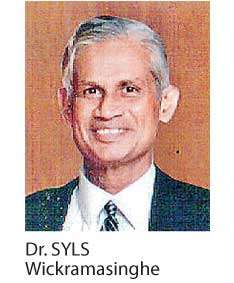 Tough times in life influenced my father to become a doctor. It was certainly the experiences he encountered as a child that made him understand the pain suffered by human beings. In pursuing his dream, my father obtained his MBBS in Sri Lanka and his double FRCS in England and Edinburgh. During the early 1970s on wards, Sri Lanka experienced an influx of brain drain, when many young professionals emigrated. My father was one of the few who returned after his studies. Reflecting on the choice he made, I am not surprised because that was the kind of man he was. He was the kind of person who would run into a burning building to help out when everyone else ran out.

Like all Government doctors father was posted in outstation areas like Anuradhapura, Polonnaruwa and Kurunegala. But father seemed to like this simplistic life and took pleasure in serving the underprivileged. He took his work on the stride.

He was a history buff and read and reread all he could on Sri Lankan history pertaining to these places. He was patriotic to the core and took his duties and responsibilities as a doctor very seriously. I remember my father coming home to see us for the weekend, once every two weeks, and we kids sadly waving goodbye to him while he boarded a packed train back to his place of work.

We even shared an inside joke about one of us asking him "Thaththa how was your day?" as we had lunch, to which he would replied "not bad, I only had to tell off one person so far".

Being the sole breadwinner, my father planned ahead and took great pride in supporting his family while our mother stayed at home to take care of us. We never went without a party for all our birthdays. Once when I refused to face an examination, father encouraged me to do so in his tough–love approach. I remember returning home sulkily after facing the exam to find a cake of my favourite colour on the dining table. Father was the human directory at home since he remembered the telephone numbers of everyone we crossed paths with.

During tough times I miss his sharp wit and sense of humour more than ever. When he was around happiness was only a phone call away.

If I had to mention a flaw in my father that would be that he had a naïve assumption that people would reciprocate the loyalty and gratitude that he showed them. The last time he was to be hospitalised I called him to find out how he was doing. This was when he was being taken there by ambulance. His reply was, 'I'm okay darling don't worry.' Those were the last words my father said to me.

As a Buddhist my only wish is that you be my father in my next birth in this journey of Samsara, till you attain the bliss of 'Nirvana'.