---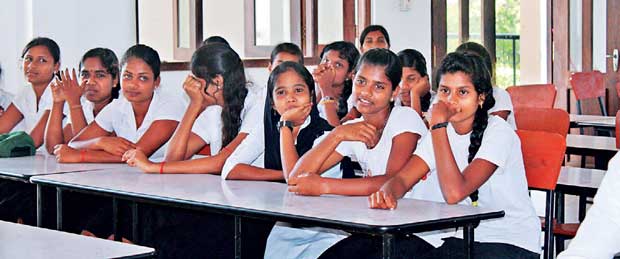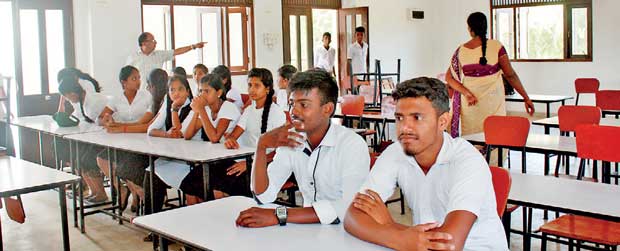 A trip to the North through a path dotted with a palmyrah trees and parched terrains reminds us of a bygone era. Its unique cultural identity highlighted through colours, cuisine and chimes emerging from kovils is slowly returning to its former glory. Among the many opportunities the people in the North have lost, education takes centre-stage. Although the North was known for producing many intellects to this country, years of bloodshed have resulted in a major brain drain. Today we see and hear of students struggling to remember simple theories in maths, science and other subjects as a result of the trauma they have experienced. Among a school system separating girls from boys, many vocational training centres have found potential in the Northern terrains. These training centres are usually frequented by students of both genders, who aspire to find jobs at a nearby garment factory or a welding shop.

During a recent visit to Kilinochchi, the Daily Mirror visited the Don Bosco Vocational Training Centre (DBVTC) in Pallawarayankattu and spoke to its students and teachers. Although many of them were shy to speak at first, they didn't hesitate to tell us who they want to be in future and how their 'College' has helped them in their life's journey.

A ray of hope

DBVTC commenced operations back in 2005 and has provided vocational training to many under-privileged children in the area. While the majority of them come from war-torn areas, they are deprived of an economic and social status. "Almost all students get jobs. There are garment factories in Mannar, Vavuniya, Kilinochchi, Jaffna and other places," said Fr. Vincent Sebastian, Director of the Centre. Fr. Vincent is of Indian origin and resumed work in June 2016, dedicating his time and efforts for the future of the students at this Centre. Having worked as a professor in three universities, a parish priest and a secretary in a mixed-school in India, Fr. Vincent is aware of how important it is for one to be educated. "I saw pictures and news of the war and how people were affected by it in Sri Lanka. Then I wanted to come and help the children to continue their education,"he said.

Courses at DBVTC include tailoring, computing, baking, welding and carpentry among others. Other facilities include a hostel, youth centre, farming and animal husbandry, counselling services, English Academy, rehabilitation of ex-combatants among others. Students have to follow a six-month course and at the end they receive a National Vocational Qualification (NVQ) certificate. According to Fr. Vincent although the German Government has been funding to upgrade its facilities, since March 2017 the Centre functions with its own funds. "What we collect from the students is used to pay teachers. It's about Rs. 25,000 with EPF and ETF. In order to raise funds we have installed a solar panel system which contributes to the National Grid; it is one of the main sources of income. Some of the students pay Rs. 500 or Rs. 600 because we can't expect everybody to pay Rs. 1000," he added.

Mental trauma and dropout rates

Although around 90 students initially registered for the course many of them seem to dropout during the course. According to the teachings of psychology, a disturbed childhood would affect the overall well-being of a child. There are vital stages in the development cycle which requires proper nurturing and care. A traumatic childhood disrupts this cycle to the point that children would no longer retain what they learn and will lose their fear to do certain activities. Statistics show that those with a traumatic childhood often get involved in substance abuse and even become criminals at a later stage.

"Absenteeism is very common here," said Fr. Vincent expressing his concerns about the future of these students. "They are shy to express their ideas even in the class. We can't force them because they have already gone through a forceful childhood. We can't inculcate discipline in this system. The moment we become strict, students stop attending the course. As a result there are only around 62 students remaining from the initially enrolled number. Their self-confidence needs to developed and this takes time. They want to be free and sometimes they don't remember certain things we have taught them. This could be seen during the spoken English sessions I do," Fr. Vincent further said.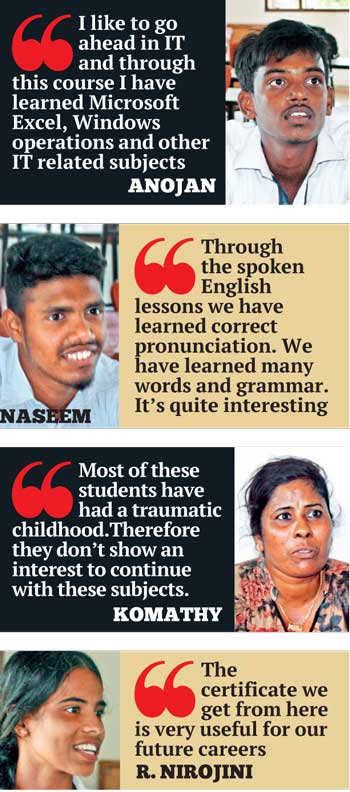 Thoughts of students and teachers

We spoke to a few students and they shared their thoughts with us :

"The certificate we get from here is very useful for our future careers." said R. Nirojini

"I would like to start my own tailoring shop because I have learned it in college," said Diluxshy

"I like to go ahead in IT and through this course I have learned Microsoft Excel, Windows operations and other IT related subjects" said Thanojan

"Through the spoken English lessons we have learned correct pronunciations. We have learned many words and grammar. It's quite interesting." said Naseem
"We learned about tenses and various other grammatical terms in English. It's new, but interesting as well." said Lakshi
Two teachers also shared their experiences with us had this to say.

"They don't show an interest to continue with these subjects"- Komathy

K. Komathy joined the Don Bosco Technical College in October 2010 and teaches ICT to the students. "I have taught ICT in a non-formal educational setup in a school in Pallimunai, Mannar. Most of these students have had a traumatic childhood. They come from war-torn areas and have economically experienced hardships. Therefore they don't show an interest to continue with these subjects. As a result there's a high dropout rate. They don't get enough jobs in computer-related fields and the only solution is to go to the South or abroad. We have a computer lab and students get both practical and theory lessons,"said Komathy.

"Girls show an interest in tailoring"- Sashiraji

"Students learn with a lot of interest," said R. Sashiraji who joined the institute in 2011 and now teaches tailoring. "I have been a teacher for 16 years. We were trained by the German Government before we started working here. Students at Don Bosco have to participate in a six-month course. Unlike in other subjects girls show an interest in it. This may be because there are many garment factories in the area and they are sure of getting a job there. We want to teach the children and check their progress,"said Sashiraji.


What's in store for the future?

The DBVTC has provided many opportunities to children in the area and those from afar. The Don Bosco Trust has a number of establishments around the country and will be starting many more schools in English medium up to the A/L standard. "I too joined after seeing an advertisement in the papers. Except for tailoring and welding these areas don't create any other jobs. We have invested in a lot of equipment for carpentry, but there are no students. Before the war there were many students interested in carpentry, but it's not so now."said one of the officials.

Upon observing their performances Fr. Vincent said that they are picking up English slowly. "But they have the interest. Most of these children speak colloquial Tamil when compared to those in the rest of the country. Now they want to learn English and Sinhala as well. Through education we could remove many barriers. Through communication we could speak to them and listen to their problems. I always tell the students that Sri Lanka is one country. They always think it is divided and feel they are like refugees. They feel that they are being discriminated against, that their rights have been deprived of and because of the military presence they also feel threatened," said a concerned Fr. Vincent.

With his experience in India, Fr. Vincent believes that the authorities must introduce values to the education system. "Without values the entire education system will be disrupted. Here, they can also introduce more extra-curricular activities, team work, field visits, practical activities and group work." he said.

In his concluding remarks, Fr. Vincent said that he likes to remain in Sri Lanka and promote education among children. "Now the negative effects of the war are slowly vanishing. The education system will create change and upgrade the standard of life. I want people to forget the past and integrate into the society. After all they have a duty towards establishing unity in the country,"said Fr.Vincent.

Pics by Kalani Kumarasinghe