---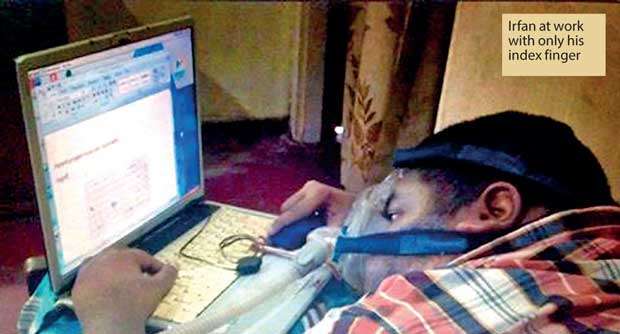 When Irfan was born as the third member of a family of eight, his parents never expected him to fall a victim of "Duchene Muscular Dystrophy" or the crippling of the muscular system when he completed 04 years of age.

At the age of eighteen his entire body lost mobility and was confined to bed and on a life supporter. He could move only his index finger, but his spirit was unfailing. His determination to live saved him from despair and any mental frustration.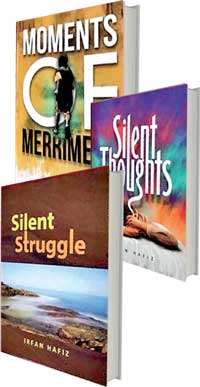 Irfan Hafeez of Beruwala, at the beginning studied at Zahira College in Dharga Town. His father had been the Principal of a school. Irfan could only complete his education up to grade five, when early signs of his rare sickness was witnessed by his parents. The doctors who were consulted by the family revealed to them that the child was suffering from this rare disease and his muscular system is crippling daily. His father who made inquiries about this sickness through medical bulletins and research articles had realized that this was an incurable disease and the complete life span of a patient suffering from it is limited to eighteen years.
Having witnessed his disabled son fallen from the bed while his mother had attempted to put him on it, and she lying with him on the floor being unable to lift him back, Irfan's father took a bold step to prematurely retire from service in order to care for his son.

Irfan though weak with all his limbs being non functional did not lose his inborn skills in penmanship. He did not want to idle like many disabled individuals. Time was precious, at a time when many were using social media through Face Book etc and polluting the society, young Irfan had a different idea. He started using a laptop and in the year 2011 he joined the Face Book not with the idea of engaging in anti social activities like most followers of Face Book presently. His talents and skills were not to be used in that manner but in the composition of simple poems and verses, which had a very favourable response and the comments made by a large number of followers encouraged him and brought new life to him. With the number of followers increasing daily, the very appreciative comments infused more life within Irfan. Though frail in health he became strong in his mental alertness which led to the launch of a compilation of verses by him titled "Silent Struggle" in 2012. Not stopping at that he ventured into writing short stories. His "Moments of Merriment" which was a collection of short stories with a word count of 40,000 took nearly a year for him to complete.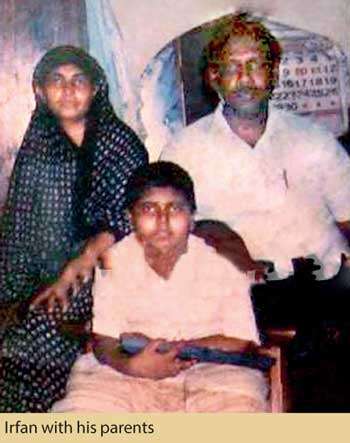 In 2016 he completed his "Silent Thoughts". All his creative works earned international fame with repeated publications.

Knowing very well that his life span is short lived, he never lost a moment to share his writing skills among a major section of the society. He earned the name of 'Silent Fighter". His life was well spent in giving to the world in verse form the adversity faced by him and the continued perseverance to portray that he had nothing to lose but much to gain and be an example to those who lose hope in situations like the ones faced by him.
Courtesy: Sunday Lankadeepa