---
DS Senanayake knew that Sri Lanka's prosperity was inextricably bound up with agriculture…Yet, we have a lot to learn from Senanayakism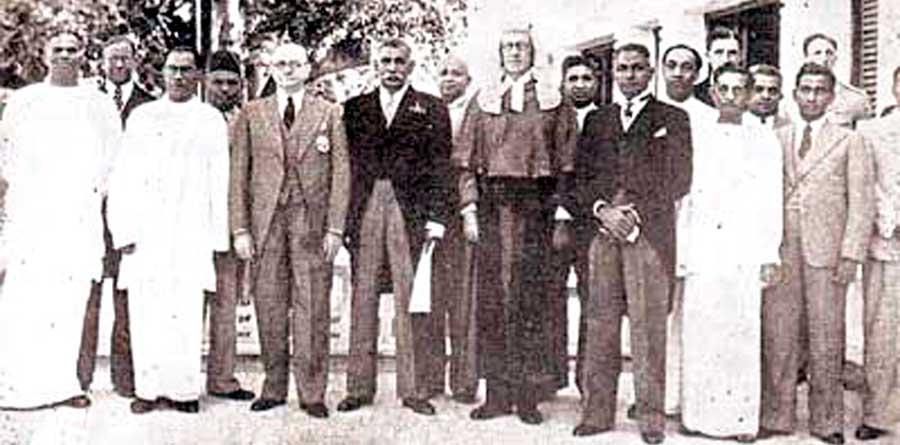 Sri Lanka's first cabinet
Don Spater Senanayake, father of Don Stephen was the son of little known Don Bartholomeus, a native of

Mahiyangana. Senanayake family roots date back to the Anuradhapura era in AD 253-266. Folklore says the King sent a delegation from Mahiyangana with a Bo Sapling to be planted at Attanagalle. The delegation on their way placed the sapling at a selected spot and retired for the night. The next morning, they found that the sapling had taken root, hence the name Bodhi-tale, the place where the Bo sapling took root, which became Bothale. Since then Senanayakes made Bothale their home.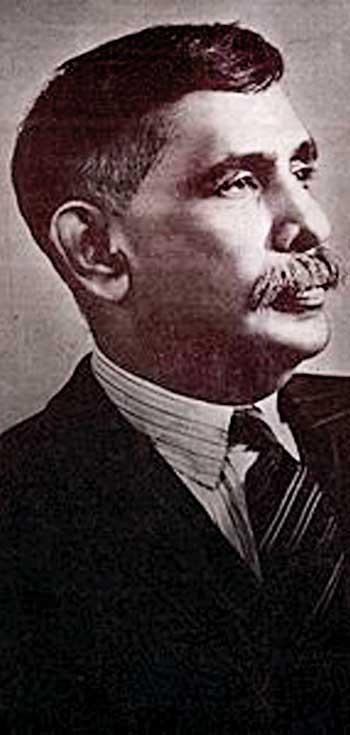 Fredrick Richard Senanayake [FR, older brother of DS] was back on the island, after obtaining a BA and LLB degrees at Downing College, Cambridge, and thereafter becoming a Barrister from the Lincoln's Inn in 1905. He was a scholar who excelled at the top of his class at Downing College. FR had a keen eye for a political career. However, later he was happy to tolerantly play his part as an influence, launching his brother, the more dynamic DS into politics and back him in every possible way.

DS Senanayake was involved in the political and administrative matters from colonial days that included the early stages of The Legislative Council of Ceylon and with the first form of representative government in the island established in 1833, on the recommendations of the Colebrook-Cameron Commission
Independence from British
Former Vice-Chancellor of Peradeniya University, Sir Ivor Jennings writing on DS's steering of the nation towards independence from British colonial rule in 1948 says, that most of the agitation for independence by others from 1932 to 1942 have been on the wrong lines.

Jennings wrote, "A colony can obtain Independence by force or persuasion. But effective non-cooperation leads necessarily to force, as Mahatma Gandhi discovered. We gained Independence without shedding a drop of blood," He continued,
"…there was the possibility that we might be deprived of the opportunity to carry out our terms of reference. That such a step was not taken was largely due to the strength and wisdom of DS, and. if he had not lived, the history of Ceylon would have been very different. We did not always agree, and yet looking backwards I think that when we differed he was much more often right than wrong." -Lord Soulbury, Governor-General of Ceylon, 1949-54, in his "Senanayake the Man"-p 63
"Senanayake realised that the decline in food production was due to the fact that this form of agriculture was not loved by the educated and the well-to-do in society"
The wisdom of D S Senanayake's agricultural policy requires concerted attention at a time we are facing a rice crisis. Concentration on administrative efficiency was one of his primary concerns with regard to Economic and Political wisdom, which helped a lot in carrying out the plans. Another measurement of his Pragmatism is Realism.
Writing in his book 'Agriculture and Patriotism', DS says, "It is a remarkable fact that we in Ceylon while repeating in season and out, that ours is an agricultural country and that her prosperity is inextricably bound up with her agricultural progress, should yet be apparently content to pay a bill in a year of depression (1933) of nearly 87 million rupees for the imports of our food and drink."
He further wrote
"The greater attraction of the commercial crops, the dignity that seemed to attach to them, the comparative ease with which large returns for outlay came in, blinded the wealthier Ceylonese to the dangers lying hidden beneath their glamour and drew them away from the essentially safer and sounder, though less splendid, cultivation of products to provide a direct means of sustenance to the home population.
DS Senanayake was a visionary, a practical man of high calibre— he was glad to share his thoughts and opinions with anyone who had something useful to offer— his priorities are valid even today as they were in the 1930s and 1940s. Senanayake realised that the decline in food production was due to the fact that this form of agriculture was not loved by the educated and the well-to-do in society.

He acknowledged the importance of nutrition in a food production policy. His book contains chapters on irrigation, land policy colonization, rural indebtedness and agricultural labour.
"His self-sufficiency promotion thrust in relation to agriculture was guided by three interrelated considerations: first, as a technology-based on science, second, as an industry based on tradition and thirdly, a business to be founded on economics and not merely a way of life"- R L Brohier: 'Ancient Irrigation Works in Ceylon'-Page 70
Never bowed down to Powerful West
In early 1949 Commonwealth's economy was in dire straits when they tried to enforce authority over their former colony by making a deliberate effort to misuse our Dollar Reserves by making us a signatory to the 'Sterling Assets Agreement'. Prime Minister Senanayake, in this serious issue, abundantly demonstrated his patriotism. The conflict demanded a delegation visiting the UK. J R Jayewardene, Finance Minister with his American adviser John Exter, [later the first Central Bank Governor it was his wisdom that he got Exter because he never trusted British Administrators], attended the Commonwealth Finance Minister's Conference summoned by Briton. DS sought to maintain our foreign assets as it was and advised the delegation,
"We are an independent nation. Our dollar earnings are our own...., if we are not allowed to act independently then obviously we must leave the 'Sterling Area...', the UK government cannot oppose this. So go ahead and tell them you will leave unless you are permitted to keep your country's earnings" - JRJ speeches- Pres. Arch. File 195-a.
"He acknowledged the importance of nutrition in a food production policy. His book contains chapters on irrigation, land policy colonization, rural indebtedness and agricultural labour"
Don Stephen Senanayake entered politics when he was elected to the Legislative Council at the age of 40. In an article to a national daily after the death of Prime Minister, the famous English author John Seymour ['Hard way to India' fame], wrote,
"The Prime Minister very amusingly told me, how he had made a train trip to Batticaloa, many years ago as Minister of Agriculture (under Donoughmore constitution, in the 1930s) and how the train had stopped at a siding in the jungles of Minneriya. He had got down wandered off into the jungle and came across by accident the Minneriya tank, abandoned for centuries. The farmer in him had been struck immediately. He had returned to Colombo, determined to push the government to commence restoration of the tank and resettlement of dry zone." –
Ceylon Observer: March 24, 1952-Courtesy-Nat. Arch.

In the famous Japanese Peace Treaty speech by J R Jayewardene in 1951 in San Francisco, the full credit goes to the man for his eloquent oratory though, 'freedom for Japan' was initiated by DS. The PM's instructions to the delegation were, "We should not ask for reparations, and we should insist that Japan should recover her freedom." That was all he told JR. Jayewardene confirmed this addressing the supporters on his return, he said, "I return home after a job well done; I have done it on behalf of the Prime Minister whose instructions I carried out"—De Silva/Wriggins-1988: pp236,243

The wealthy Attygalle sisters of Kolomune, Madapatha were married to FR, D S Senanayake's brother, John Kotalawale[snr] Sir John's father & TG, J R Jayewardene's uncle [late 19th and early 29th Century] whose fortunes were closely interwoven when they subsequently entered the political arena. Their mutual admiration of themselves or through kinsfolk and children, they dominated politics of the country successfully endeavouring for over eight decades and will continue to do so.

The Senanayakes have left many indelible insignias in the annals of Sri Lanka that its citizenry will forever cherish and preserve. The Senanayakes touched our lives in many ways during the past decades of pre and post-independence Island nation. In their interactions with the people, they have added value to the thoughts and perceptions of them.
Yet, we have a lot to learn from Senanayakism