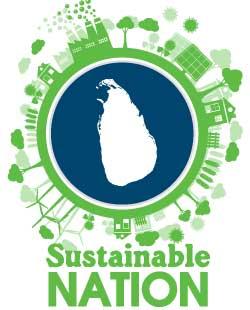 At the Daily Mirror, we believe that climate change is one of the greatest threats that we, as Sri Lankans, will face in the future. Therefore, we intend to provide our readers with local and international content with the objective to educate and inspire. We would also like to learn from our valued readers about any ongoing initiatives in making Sri Lanka a more sustainable nation.
We aim to explore sustainable ways of living that have the most positive impact on not just our natural environment, but also for humans and animals.
While topics such as global warming, pollution, and inequality are confronting, we believe it's time the media stopped shying away from these issues and became an active participant in finding solutions - and we hope you will join us.
---
The organisers of 'Green through Cricket' opined cricket could play a pivotal role in raising awareness on climate change. With that in mind for the first time, the game of cricket was linked to nature and environment during Cricket World Cup 2019. Global warming, considered as the disaster of a lifetime, has come to stay. Experts have warned of the consequences if precautionary measures aren't taken on time – we may be already late. It is not a public secret that cricketing material such as bats, bails and wickets come from trees that belong to nature. We as cricket fanatics have a moral duty to re-plant trees to counter global warming.

Since the birth of Cricket World Cup Tournament in 1975, interest in cricket world cup grew. The tournament has become more popular than the England-Australia Test series. Participating countries prepare well in advance, perhaps for years, to be champions of the most prestigious cricket tournament. Centuries scored are highlighted, bowling performances recorded and world cup heroes admired for years after the event. Sri Lanka won the tournament in 1996 and since then, the Sri Lankan cricketing landscape has changed. Winning team members are considered heroes even after 23 years – that is the power of the Cricket World Cup Tournament.
'Green through Cricket' added value to this year's World Cup when the organisers decided to plant trees in Sri Lanka according to performances of the tournament and to raise awareness on climate change. The environmental and plant science departments of national universities have already agreed to join the programme with local schools.
The programme was planned in advance and organisers have projected a little more than one million trees to be planted with the expectation of high-scoring matches due to the warm climate of England's summer. Yet, when unexpected weather during the tournament washed away several matches, most of the encounters were low-scoring. The final tally of the number of trees was 723,510. Over the next four years – before the next Cricket World Cup Tournament in 2023 – these trees will be planted islandwide, especially in schools, temples and State land. In addition to national universities and local schools, the organisers expect the support of the tri-forces, Sri Lanka Police, Forest Department and Environment Ministry to achieve the goals.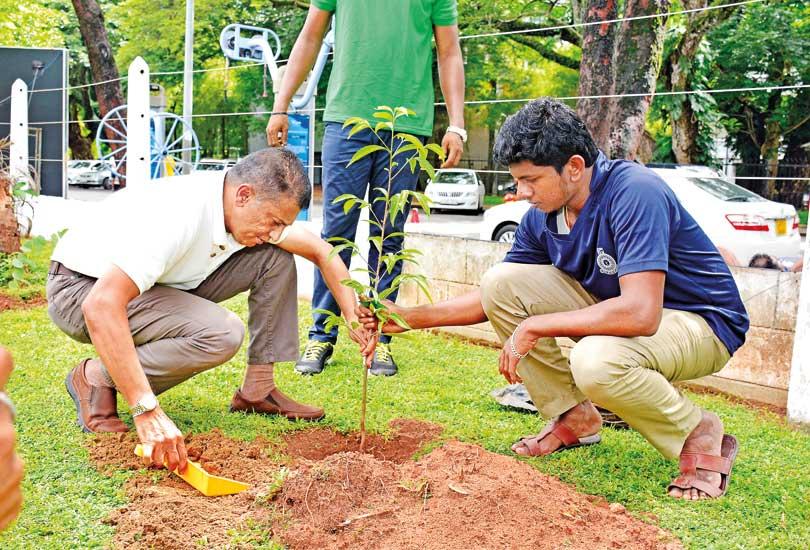 Roshan Mahanama seen planting a tree sapling
The soft launch of the tree planting programme was held during the World Cup Tournament on June 15, 2019, at the Sri Lanka Foundation Institute where its Chairman Sarath Kongahage PC played a key role while Roshan Mahanama represented the cricketing community. Some of the academic staff and students of the environmental and plant science faculties planted the bulk of trees. The print media and television covered the event giving much publicity. The organisers will travel from district to district to conduct programmes at national universities with local schools. Academic staff of universities will educate student leaders, members of nature clubs, scouts, girl guides and prefects, and through them, will send the message to the rest of the schoolchildren. Each school will be given 50–100 trees to plant and sustain for two years after which they will sustain on their own. There are 125 schools in the country working with UNESCO-Sri Lanka under its Associate School Programme (ASP). Its Deputy Secretary-General Ashwini Madanayake will coordinate tree-planting.
Professors Yapa, Deepthi and Ranawala, Dr. Sampath and Dr. Jinendra from Colombo University have already extended their support for 'Green through Cricket.' They will impart their knowledge and technical know-how to the participants, especially schoolchildren. The academic staff belonging to other national universities will follow suit. The programme is open to all sectors to join hands with Green through Cricket. Apart from national universities, UNESCO-Sri Lanka, Mahaweli Development and Environment Ministry, Forest Department, ECO 360 (an environment-friendly private company) and the tri-forces have shown their keenness to join the programme.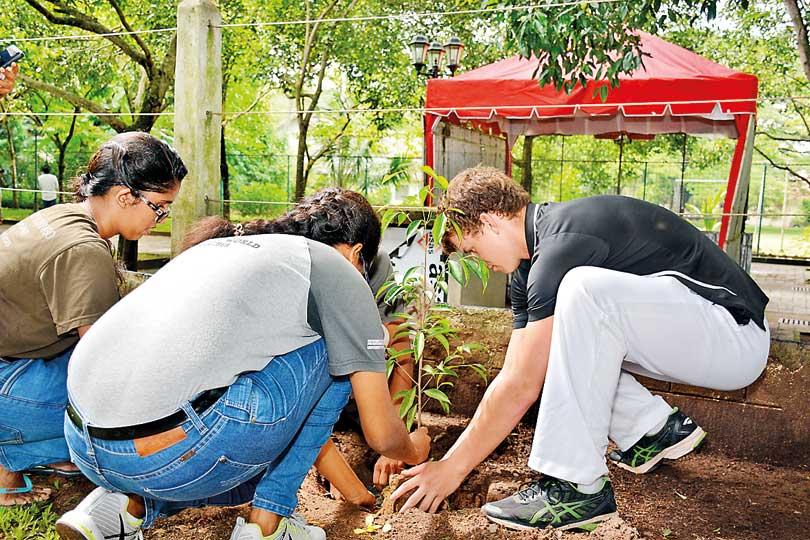 New Zealand school cricketer Joe Bradley taking part in the event