---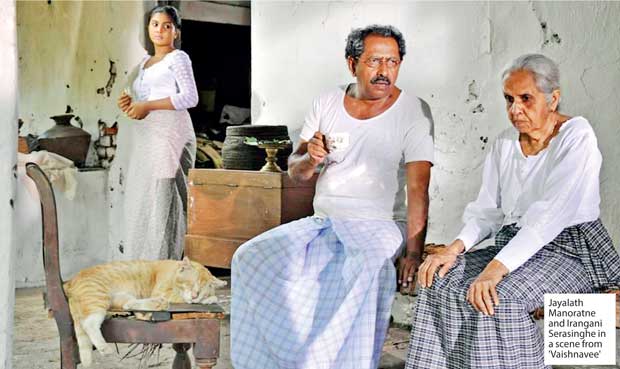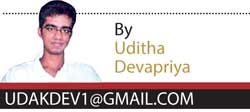 I've been spending the last two or three weeks asking everyone I know to go and watch 'Vaishnavee,' Sumitra Peries' latest film, slated for a premiere on April 5 (coinciding with the 99th birthday of her husband) at the Regal in Colombo, and a subsequent release in all CEL circuit theatres throughout the country. Most of those I've talked with – especially the young, those still in school and who would probably profit more than any other demographic from watching the movie – are excited, but they are also numbed and confused. They don't know how to react to a film of this sort anymore: its biggest strength and weakness. It stands on its own without any footnotes needed for us to make sense of its meaning, and that because it doesn't contain any inner meaning. Its sense of apparentness, along with its contrapuntal mixture of the ordinary and the extraordinary, is a tribute to Sumitra's visionary power and editing prowess. But will we take it all in?

The beauty of a film like Vaishnavee is that it evokes different kinds of responses from different kinds of audiences. Most movies unite their spectators by the fact that they like them, or dislike them, or are stumped by them. Vaishnavee in that sense is different, since it's so apparent and out-there that there's nothing to dig, nothing which you can hold in unison with other audiences. The young will, I predict, react to it in a different way from married women, and married women will react to it in a different way from bachelors and spinsters and widows. And I think that's one of the movie's key strengths: what you see in it is not what your wife, or girlfriend, or even ex-girlfriend will. It unites everyone by what some see in it that others don't. And I think that has a lot to do with the director's oeuvre.

Sumitra Peries' body of work demonstrates, more than anything else, a deeply felt, sincere commitment to a task at hand, in terms of camerawork, editing, even the script. When you see Yahalu Yeheli today, you will not believe that it was not shot from a finalised script, that the script was written and rewritten as the production went on. When you see Sagara Jalaya, similarly, you will not believe that the cast and crew had to wait for one whole year for the rains to stop in the Wanni area for them to resume shooting. Even in her most banally conceived films, and scenes and sequences, you never fail to infer an almost otherworldly, breathtaking sense of mysticism, as though some higher hand were at work.

But then this tends to worry me. How will the young take to Vaishnavee? Think of some of the movies that we've seen and been through from the last two years – Aloko Udapadi, Ho Gana Pokuna, Adaraneeya Kathawak, and of course Pravegaya – and think of the way we reacted to them. The young have always responded to the cinema, Sinhala or Tamil or Hindi or English, in a very unique way: free of the obfuscations and obscurities that we adults tend to entertain when we attempt to "read" into a work of art. The rift in Aloko Udapadi, for instance, is between its first and second halves: the first delves into an interesting dilemma (how can you protect the Sasanaya without breaching some of the precepts laid down by the Buddha?) while the second unfortunately degenerates into an almost cosmic, and fatuous and unrealistic, series of combat scenes between the hero and the villain. I personally liked the first half; it made sense, it parsed. Imagine my shock, therefore, when a teenager I talked with recently told me point-blank that while it made sense, it was nothing compared to the action-packed, testosterone-laden scenes he gleefully encountered in the second half.

The young (the most important demographic for any newly released film, lest you forget) typically respond to a work of art on the basis of two things: a story that flows along smoothly, and a set of elements that transcend the banality of their everyday lives. If Deveni Inima is far more popular among this specific demographic than Koombiyo, it's not because Koombiyo lacks those elements, but because Deveni Inima, with its perpetually cricket-playing protagonist and bespectacled comrade-in-arms and crooning girlfriend, has more of them. Those elements are not to be found in great detail in Koombiyo, and they are to be found in a movie like Aloko Udapadi in just one half of the work.

They need a story, and these movies have them, but they also want something more: to know that beneath the novelty of what they are seeing are the predictable elements – the romances, the chivalries, the hero-meets-villain clichés – which they savour.

Vaishnavee, I predict (and make this prediction with some reservations), will divide young audiences, because here is a movie which, like Aloko Udapadi, contains within itself a rift, and a fatal one at that, between its first and second halves. (I have written on this in my review of the movie, and anyway, I don't want to delve into the plot before its release.) It's an unusual story – and an unusual theme popping out of that story – and I am more than sure, as a critic and a fan of Peries' work so far, that it's also a NEW kind of OLD film.

Young audiences will, first and foremost, react rather favourably to the star of the plot, Osanda, the puppet maker from Matara, because he's played by the star of Koombiyo, Thumindu Dodantanne. They will also react, more ambivalently (given that she's one of the reasons why the second half of the movie flounders a little, favourably towards his puppet-turned-lover-and-tormenter, played by the inimitable Yashoda Wimaladharma. Here's a movie that has the best of both worlds – youth and innocence on one hand and age and cynicism on the other – with its cast (Irangani Serasinghe and Jayalath Manorathne and, in cameo-like performances, Mahendra Perera and Veena Jayakody and Rohana Baddage) and crew (especially Donald Karunaratne). It's a wonderful mixture, promising in a way, but worrying in another: What will we really say after we see this all?

I think the saving grace of Vaishnavee, in this respect and with regard to young audiences, is the theme that Sumitra and her scriptwriter, Tony Ranasinghe, have gone for. Vaishnavee doesn't really level on love the way you'd expect its story to. For one thing, the second half is confusing in the way it leads us to believe that Osanda sees something in the woman he loved (and who eloped with another man), which he carved into the puppet who comes alive. For another thing, the entirety of the second half turns the tables on Osanda, and hence succeeds in turning him into a blameworthy character, because (as Yashodha points out in one sequence) you cannot love another person to compensate for the pain of another unrequited love. (It's funny in one sense: if audiences understand this point, you may even hear the giggles and the cackles of laughter and cynicism in their minds while they're watching the movie.) Sumitra's film doesn't really have a NEW STORY: it's old in a different, NEW kind of way.

When you see a film by an old master or madame, you tend to ask "Why watch it at all?", because you know for a fact that it will be no more, and no less, than a reworked, rehashed version of everything that master or madame has done before. When a director like Sumitra Peries makes a film like this more than 40 years after her debut, that question takes on an ambivalent meaning, because you aren't watching a recycled product, you are seeing an artist from a particular period making a film that has, in aesthetic and formal terms, much in common with that period. Sumitra's films, most of them that is, tend to be indulgent a little: that is their most discernible lacuna, if you can call it that. There's nothing in Vaishnavee that doesn't make us remember this (ranging from the use of special effects to the intrusions of Yashodha's puppet on almost every scene), but that, I think, is more a blessing than a curse for those who were involved in the movie, because it takes us back to the past, not by inserting arbitrary symbols and metaphors which seem outdated today, but by making us want to go back to the what the past thrived on: simplicity and innocence, naiveté and peaceful.

Vaishnavee will please everyone from the demographic that includes people like me: those from their mid-twenties and thirties, who have seen and appreciated a director like Sumitra Peries despite the onslaught of cheap, commercialist fare they're made to see and be entertained by in our theatres. For Sumitra's latest to work out completely, however, I wish that it works out with the young: those in their pre-twenties. Will it work out though? Here's my two cents on the matter: those who are still attending school, or even University, are in for a treat, not because Vaishnavee will deliver everything they want from a movie, but because it's so simple and out-there that it belongs to a place and a time which will fascinate them. Unlike those epic religious tracts that literally transport us back in time, Vaishnavee doesn't resort to facile means; it instead overwhelms you with its innocence and makes you forget the banality of the present. And for the love of the movies, if I were a schoolboy who lives in the theatres, I'd disregard what critics will write of its flaws, and tell my girlfriend to go see it. With me.