---

"I can't make movies for any purpose other than entertainment." (Chandran Rutnam)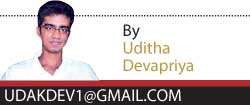 In 'Janelaya', which has just about the finest performances that a cast including Tony Ranasinghe and Swineetha Weerasinghe on one hand and Ravindra Randeniya and Anoja Weerasinghe on the other could have had, the director, Chandran Rutnam, doesn't try to hide his inspirations; he practically shows them off for us, making us contemplate its workings from a bullet's eye perspective. When the boy, played by Razi Anwer, witnesses the murder from the apartment, the only other witnesses to it are the killers, and us. It's rather obvious, and Rutnam does a good job of erasing away any inessential details and getting right to the encounter between the boy and the assassin (Randeniya, predating his mute performance in Niriella's Siri Medura by two years). The few sequences that elongate the film – as when the boy, thinking that the murderer is on to him, cowers behind his bed, only to have the father open the door, or when he uncovers, incongruously, the skull of the victim at a beach – drag down this sense of pulpy immediacy. But despite that, Janelaya, I think, is Chandran's best work, simply because its mood is dominated by that immediate tone.
Sri Lankan cinema has historically tended to oscillate between two broad streams; the cinema of France (Renoir, Carné, and Cocteau) on the one hand and, on the other, the cinema of East Europe
Sri Lankan cinema has historically tended to oscillate between two broad streams; the cinema of France (Renoir, Carné, and Cocteau) on the one hand and, on the other, the cinema of East Europe. Somewhere in the sixties and seventies, the former was effectively if not authoritatively superseded by the latter, to such an extent that every artiste who took to the industry had to declare his or her loyalty (in a manner of speaking) to the auteurs of continental cinema. But while the French and the continental directors have exerted and continue to exert their influence on us, I look in vain for a similar set of influences from the Americans. It's only now, with the emergence of a set of movies that can't be classified as either commercial or arty – think of Premaya Nam, with its dazzling, virtuoso editing, or even Aloko Udapadi, with its un-expedient, minimalistic use of digital effects – that we are seeing a resurgence of the Americans among our directors. We continue to make money for the Americans by watching their movies and TV series, but we still refuse, resolutely, to give into their way of making them.
Entertainment and art
Part of the reason for this, of course, is that we obsess over how we READ INTO movies. Culture, in this country and in many other countries, has effectively bifurcated between entertainment and art. If it's difficult to conceive of a fusion between the two, it's not because audiences don't look for it, but because directors feel compelled to do away with such a thing. What is forgotten there, of course, is that the West, barring continental Europe (where film industries are financed and subsidised by the State in ways that our country can't match), doesn't care much for whether entertainment and art can be separated; for them, art can only truly be achieved through entertainment, and advertising, far from hindering the progress of art (as some of its critics are wont to say), has actually benefited the industry; we've officially given way to the dazzling, music video- and MTV-inspired sort of making films today. Directors like Guy Ritchie (Snatch, The Man From U.N.C.L.E.) and Tom Ford (A Single Man) and Spike Jonze (Adaptation, Her) have proved that it's possible for a director to 'put out' his vision in simple terms while making the rounds at the box office. In this country, on the other hand, 'vision' is seen as something to hide behind, at the cost of making sense to popular audiences. Art has more or less become minoritarian.
Rutnam entered our industry at a time when our mainstream directors still opted to follow the Indian way of making movies; directors like Robin Tampoe were facing their final years in the profession, the industry was being liberalised, and movies, once thought to be the only art form which could bring communities together, were being handed over in a slipshod, careless way to every other person who had the money (regardless of whether they were able to direct, or script). The years he spent in the United States, at the University of Southern California and the San Francisco Valley College of Law, and later at various studios, from Warner Brothers on wards, were spent eschewing promotion opportunities in favour of learning everything and anything about the mystery, and business, of filmmaking.
The strategist
Despite his forays into directing movies – and he has made eight of them so far, some good, some not so good, and some expendable – I feel his greatest strength has been as a strategist, with an acute business sense that has helped him, and us, win foreign filmmakers over to Sri Lanka. Ever since he persuaded Bo Derek's husband, John, to shoot Tarzan the Apeman in Sri Lanka, and Steven Spielberg to shoot Indiana Jones and the Temple of Doom (which was the only Indiana Jones flick that the critic Pauline Kael liked) in Kandy, the company he built up, Asian Film Location Services, has been pivotal in bringing entertainment and investments to the country. But this side to his career has been written about so often that no one has paid attention to what he thinks about the movies.
"I never subscribed to the East Europeans," he told me the first time we met, and I think that can be traced to the fact that none of his films, not even 'Road from Elephant Pass', is overtly political. Even a film like 'Adara Kathawak', his first, with obvious references to Erich Segal and Ryan O'Neal and Ali MacGraw and 'Love Story', refuses to enter the political, regardless of the chauvinist rants and raves of the brother to Menik Kurukulasooriya. What enraptures one even in his most careless constructed sequences – and there are many of them, just as there are many of them in the movies of those temperamentally opposed to his style – are his exuberance and the fact that in them, he is revelling in his inspirations and influences. Prime among those influences has been Hitchcock (whom he met), but a stronger influence was Sergio Leone, "who crops up in nearly all my films." The atonality of those works, moreover, don't help us distinguish one from another, because what he works on now is different to what he's worked on before. I think of Spielberg, Lucas, Coppola – the purveyors of the American popular cinema of the seventies and eighties – when I think of this aspect to Rutnam's career. He is, I fervently believe, the most atonal director we have.
Rutnam entered our industry at a time when our mainstream directors still opted to follow the Indian way of making movies; directors like Robin Tampoe were facing their final years in the profession
Because we don't have many good critics, we haven't been able to assess Rutnam's movies properly. Now here's what I feel about them; they are sincerely felt, but mechanistically made. That mechanistic-ness comes from the years he spent working at various Hollywood studios. I have seen, or rather witnessed, Rutnam shooting a film (Me Wage Adarayak) once; I know the intensity of the discipline that he puts into his job. "Directors like to show off. Even in this era, of digital movie-making, they insist on being seen with their viewfinder, because they can project themselves explicitly as the 'boss.' I don't resort to such crude methods because I am confident enough to tell my cast and crew that I am heading them. What you've got to understand about my way of doing things is that for me, the tea boy is as important as the editor. If you can't keep your people happy and well fed, you're really worthless as a director," said Rutnam.
In the end, this style, alien to many in Sri Lanka (who are used to seeing the director as either a recalcitrant dictator or an easygoing auteur), efficient and to the point at one level, results in movies of which their greatest strength is their sincerity. When I say that they seem to be mechanistic, I don't mean to suggest that they don't entertain; far from inducing boredom, they have (here I am thinking of 'Janelaya', 'Road from Elephant Pass', 'Me Wage Adarayak' and the parts of According to Matthew I have seen) truly sustained my interest. 'Me Wage Adarayak', which is the most recent Rutnam movie I saw, some years ago at the Regal, is in this sense more enjoyable than 'Adara Kathawak' (both of them take their basic plot from Love Story), because it exudes a kind of youthfulness that Menik Kurukulasooriya et al could not, and also because it flows so well that, for an instant at least, it loses that sense of being mechanistically planned out.
Brian De Palma faced criticism throughout his career – as Richard Brody put it in the New Yorker, when considering his body of work as a whole, he is a director "more fascinating than great" – and what critics said and wrote of De Palma in his time, we can say and write of Rutnam today. But that's hardly fair if we do so while ignoring the efforts he has made – at one point, he was the only man making such efforts – in getting us to watch, and enjoy, the American method of making movies. When Satyajit Ray went to Hollywood, he was taken aback by the politics and the picketing, despite which American directors from his time, like Billy Wilder, were able to project their vision seamlessly. Perhaps we've been so complacent when it comes to the art of making movies that we've chosen to be blind and deaf to the commerce of making them. What Rutnam has done is make us aware of both sides of that coin. For that, and for the many investments he's helped to bring here, we should, I think, be grateful, though being grateful, of course, doesn't mean that we shouldn't be constructive when judging him. He himself put it best: "I despise the sneer and the gibe and welcome criticism when it is sincerely articulated." I truly believe that that's what we should give him.