---
FEMALE ELEPHANT 'TIKIRI'
They sent her back to Kegalle on the final day of the Randoli perahera. Elephants walk for 30-40km and old elephants too walk for 10-15 km

There are over 105 captive elephants in the country, both with individual owners as well as in temples according to Elephant Owners Association Secretary Damsiri Bandara Karunaratne

He had instructed officials at the DWC to revive work done by a Committee of Experts in 2015-2016

She was tamed and taken into captivity at the age of five and for the past 65 years she has lived among humans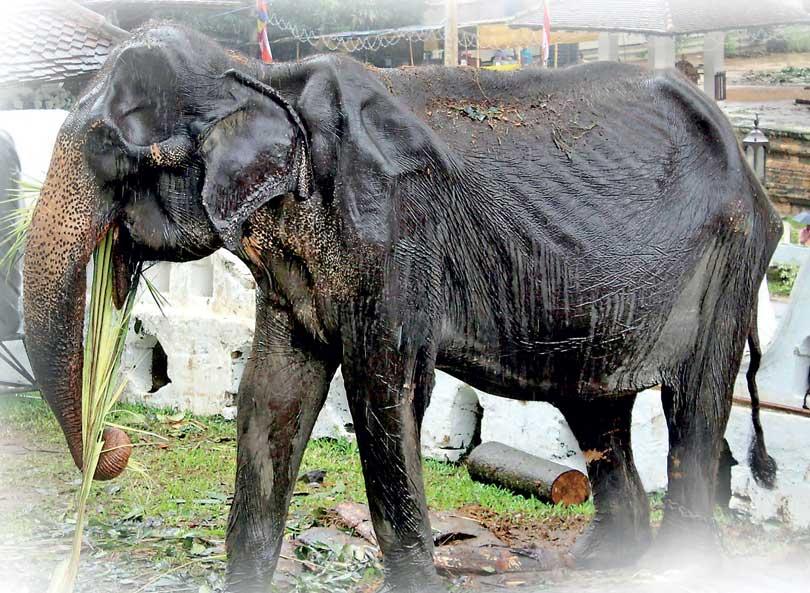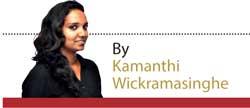 Her worn-down, skeletal frame flooded social media posts in a matter of seconds. Online petitions were signed, others called for justice, some called to boycott peraheras while the international wildlife community criticised us once again. All this was for Tikiri – a 70-year-old female elephant who was seen parading a pageant organised by the Sri Maha Vishnu Devalaya, one of the main devalayas at Sri Dalada Maligawa, subsequent to the Esala Maha Perahera (Pageant). A once magnificent elephant is now suffering from an eating disorder where she cannot chew or digest food. Veterinary surgeons claim that as a result her condition is deteriorating, but the owners are doing their best to keep her stable. This was why the owner claims that he sent Tikiri to fulfil a vow that he had placed in her name to invoke blessings for her health. Tikiri's photos went viral at a time when the debate for captive elephants was going strong. Although many requests have fallen on deaf ears, activists request the Government and authorities to advocate for a chain free environment for captive elephants.

With that in mind the Daily Mirror spoke to several individuals to find out what had happened to Tikiri, the status of captive elephants in Sri Lanka and the way forward.
---

I am waiting for the report Amaratunga
---
At the onset of the incident, Tourism Development, Wildlife and Christian Affairs Minister John Amaratunga issued a statement requesting the Veterinary surgeons at the Department of Wildlife Conservation (DWC) to inspect the elephant's condition. The statement further read "considering what has transpired I have ordered Ministry officials to inquire into this matter to ascertain how and why an elephant in such poor health was used in the pageant and to take necessary action against those responsible for this."
It further stated that he had instructed officials at the DWC to revive work done by a Committee of Experts in 2015-2016 on preparing guidelines for owners of captive elephants, so that the health of elephants held in captivity could be ensured. It also mentioned that he had appointed a team of veterinary surgeons from the DWC and the Zoological Department to inspect the health of all elephants in captivity and submit a report on their status of health.
When contacted by the Daily Mirror, the Minister said that he was awaiting the report to find out the background of Tikiri and all other captive elephants.
---

Animal rights activists don't protest when animals are killed for meat Ratwatte
---
"Using elephants for vows is quite normal," Vishnu Maha Devalaya Basnayake Nilame Mahindra Ratwatte said. "Tikiri has been working for quite a long time and since she was sick, the owner had made a special vow at the Vishnu Devalaya. We sent her back to Kegalle on the final day of the Randoli perahera. Elephants walk for 30-40km and old elephants too walk for 10-15 km. So walking isn't an issue for an elephant. Nor is it harmful. Certain parties talk about animal rights. But the same parties don't voice out when it comes to killing hens, cows for meat or when horse races take place in the hill country." he argued.

He further said that veterinary surgeons keep a close watch on all elephants daily. "Before they are sent to the procession, doctors check if they are fit to walk in the pageant. We have veterinary surgeons working in the four devalayas as well as at the Maligawa," Ratwatte added.
---

If Tikiri lived in the wild she would have been dead by now Karunaratne
---
Although it was repeatedly said that Tikiri was sent to fulfil a vow and not for any commercial purpose, the plight of other captive elephants are unheard of. According to Elephant Owners Association of Sri Lanka Secretary Damsiri Bandara Karunaratne, both him and the Basnayaka Nilame had visited Tikiri's owner to inquire into her health prior to the pageant. "Then the owner requested us to have her walk in one pageant as he had to fulfil a vow placed in her name. We can't simply disregard an ageing, feeble elephant. So we took the necessary steps to bring her to Kandy. Once she was brought to Kandy the Basnayake Nilame decided to treat her before sending her back.
She was tamed and taken into captivity at the age of five and for the past 65 years she has lived among humans. She is being given a special diet and tender leaves as she cannot chew properly. If she lived in the wild she would have been dead by now," said Karunaratne.
Karunaratne, who is also in charge of the elephants at the Sri Maha Vishnu Devalaya, questioned why animal rights activists stage their protests regarding captive elephants every year when the perahera is due?
According to Karunaratne there are over 105 captive elephants in the country, both with individual owners as well as in temples. "The Pinnawala Elephant Orphanage has released 16 elephants according to a new system. Here the Department of National Zoological Gardens is given ownership of these elephants, who have been sent to a few temples that have volunteered to be caretakers. We go there every two to three months and check their status. We check their living conditions and if there are any shortcomings we take them back to the zoo. Previously elephants were gifted to temples and if those elephants aren't cared for, we take them back as well. As a result, Kalana of Devundara Devalaya and Saman of a Tissa Devalaya are now at the zoo and those two venues have been blacklisted. We also have elephants given through permits, auctions and so on." he said.
Karunaratne also said that there's a disconnect between the owners, the Department of National Zoological Gardens and the DWC. "Because of that, they don't look into the elephant welfare aspect. The DWC issues permits and registers elephants and we are called in only for the renewal of permits. The monitoring doesn't happen as required.
On the other hand, the Department of National Zoological Gardens doesn't know about domestic elephants. If both these departments can get together and call owners and handlers and educate us on these guidelines and other formalities we can work around it because we are ready to work with them. They can invite foreign elephant experts to conduct workshops, but we don't see such investments happening either. We know of traditional ways to handle elephants and traditional medicine given to them which are slowly dying out. There's no way that we could disseminate that kind of information. On the other hand there's an ongoing debate about mahouts who work 365 days. Now there's a dialogue that one of the qualifications for a mahout is to have a degree," said Karunaratne.
Karunaratne, who is also in charge of the elephants at the Sri Maha Vishnu Devalaya, questioned why animal rights activists stage their protests regarding captive elephants every year when the perahera is due? "They don't talk about horse races that happen in Nuwara Eliya. We like to ask why? Unlike other animals, we don't tame elephants to kill them and consume their meat. We take them into captivity to be used in pageants and we will not allow them to destroy the culture through these protests," he affirmed.
Several attempts made to contact Director General of DWC Chandana Sooriyabandara and Deputy Director – Elephant Conservation U.L Taufeek proved futile.
---

A chain-free environment for captive elephants is an achievable goal
Dr. Pilapitiya
---
"I have never ever seen an elephant in such poor body condition in the 30+ years I have observed elephants," said Dr. Sumith Pilapitiya, leading environmental specialist and former Director General of the DWC.

"The photographs show that her body condition is absolutely abysmal. Tikiri should never have been used for the pageant in this condition. There are social media reports which say that Tikiri had collapsed. The media also reported that a representative of the Elephant Owners Association of Sri Lanka had said that a Veterinary doctor had given the "green light" for Tikiri to join the pageant. If this is true, the veterinary doctor and the owner should be held accountable for the fate of Tikiri and be charged for animal cruelty." said Dr.Pilapitiya.

"While I am personally unaware whether there have been other elephants that have faced the same fate as Tikiri, this case is more than adequate for the Government to bring in more stringent regulations on elephant welfare," he continued. Sound elephant welfare guidelines have been prepared by a Committee appointed by a previous Minister of the Department of Wildlife and Conservation.

As is usual in Sri Lanka, when there is a problem, we appoint a committee to look into it and no further action is taken. I call upon the Minister of the Department of Wildlife and Conservation to gazette the elephant welfare regulations that have been prepared immediately.

If implemented, this would make a substantial improvement in the welfare of captive elephants and go a long way in preventing a recurrence of what happened in this instance," he added.
When inquired into the situations elephants have to face before and during a pageant, Dr. Pilapitiya said that he was not aware of any scientific research done to determine the stress levels of elephants when they are used in pageants.

"But the pageant environment is a significant change from the environment that the captive elephant generally lives in. The pageant environment is busier, noisier, more crowded with unknown crowds of people within close proximity to the elephants, they walk on asphalt surfaces and have fire all around them.

All this could lead to stress in elephants. I recommend that we operate on the precautionary principle—if we don't know the impact of an action on an animal, we should not take that action!" he opined. He further opined that elephants control their body temperature largely through blood flowing through their ears. "That is why they have large ears and when in need of cooling, they wave their ears a lot. Covering their ears during the pageant impedes their ability to control body temperature.

This obviously could lead to stress. I have seen photographs of elephants used in temple processions in India and Bhutan where their ears are not covered. That is a small step that can be easily taken in Sri Lanka to reduce stress on the elephants," he explained.

Responding to a question raised on the matter of adequate guidelines for captive elephants, he said that there are some guidelines, but these need to be significantly strengthened. "As stated earlier, there are new guidelines that can be enacted and MUST be done immediately. However, the more important thing is how the Government monitors the implementation of these guidelines. Unless there is good monitoring, there is no point in having stringent guidelines.

The Government should have independent observers working with them in monitoring the implementation of guidelines—this may improve the chances of stringent monitoring."
When asked why Sri Lanka should move away from keeping elephants in captivity, Dr. Pilapitiya said that there's a lot the elephant owners could do immediately. "I fully agree that Sri Lanka should move away from having elephants in captivity, there is a lot the elephant owners can do immediately. As I mentioned earlier, a ban on captive elephants is not something that would happen in the near future, so let's look at ways of improving the welfare of captive elephants. I have seen some captive elephants in Nepal and Thailand who are kept chain-free, even during use for tourism purposes.

Why can't we in Sri Lanka move towards a chains free environment for captive elephants. There can be no argument on religious or cultural grounds for anybody to be against having captive elephants in a chain-free environment.

So why don't we advocate for this? I am a strong supporter in changes for the better – albeit incrementally. Let us all try to pressurise the captive elephant owners to move towards a chain-free environment for elephants in captivity in Sri Lanka. This is an achievable goal," he said.

In conclusion, he stated that although elephants are used in religious processions, he is yet to find anything in the Buddhist or Hindu scriptures that promote the use of elephants for religious processions. "But in the present religious and cultural environment in Sri Lanka, advocating for a "ban" on using elephants in temple processions is futile.

I would rather advocate for better elephant welfare, so that captive elephants are treated more humanely. Secondly, the Government should identify which pageants must have elephants and limit the use of elephants only to those pageants. We are currently in a situation where elephants are used even in a small event like a "Katina pinkama". So I would propose that we first ensure better welfare of captive elephants and limit their participation to key pageants . However, we should not hide behind religion to justify the use of elephants in temple processions. All religions promote compassion for humans and animals alike. So let us actually try to practice compassion by stopping animal cruelty in the name of religion," he said.
Come old age, what you really need is love and care. This applies to all living beings. Whether it's Tikiri, Wasana or Nadungamuwa Raja, there comes a time when they need to retire and that's when they require our love and support the most.