---
Untimely deaths of the 'big cats' serve as wakeup calls to create awareness and safeguard these protected species

These villagers understand little about the leopard being a protected species as one of them clicks a selfie moments after the animal died after being rescued. Pic courtesy : Social media

Sri Lanka recently made it to CNN's 20 Best Destinations to visit in 2020. This wouldn't have been possible if it was a bare island with no heritage and no wildlife. But the fact that we are blessed with a rich biodiversity needs to be taken on a more serious note. Yet, the aggravating Human-Elephant conflict and the recently reported leopard deaths near Udawalawa National Park and Yatiyanthota are wake-up calls for relevant authorities to get their acts together. Not only is it important to include strict regulations in statute books, but implementing them too is a task vested upon relevant authorities.
Hence the Daily Mirror sheds light on why protecting leopards and all other flora and fauna is important at this hour.
---
Leopard is a keystone species and flag bearer of Sri Lanka's wildlife tourism
Species-based conservation is one of the best approaches towards sustainability
unfortunately snare traps transcend the temporal separation of leopards and humans
---
'Fines are strict enough' : Sooriyabandara
At the onset of the incident reported from the Udawalawa National Park, four people from Nelumwewa area were arrested by the Hambegamuwa Police. They were produced in the Embilipitiya Magistrate Court and further investigations are being conducted. The following day another incident was reported from Yatiyanthota where another leopard was caught in a snare trap. However, several photos circulated on social media showed people not only holding the leopard upright, but clicking selfies as well. "Those photos were clicked by the people who came to rescue the animal," said M.G.C Sooriyabandara, Department of Wildlife Conservation (DWC) Director General.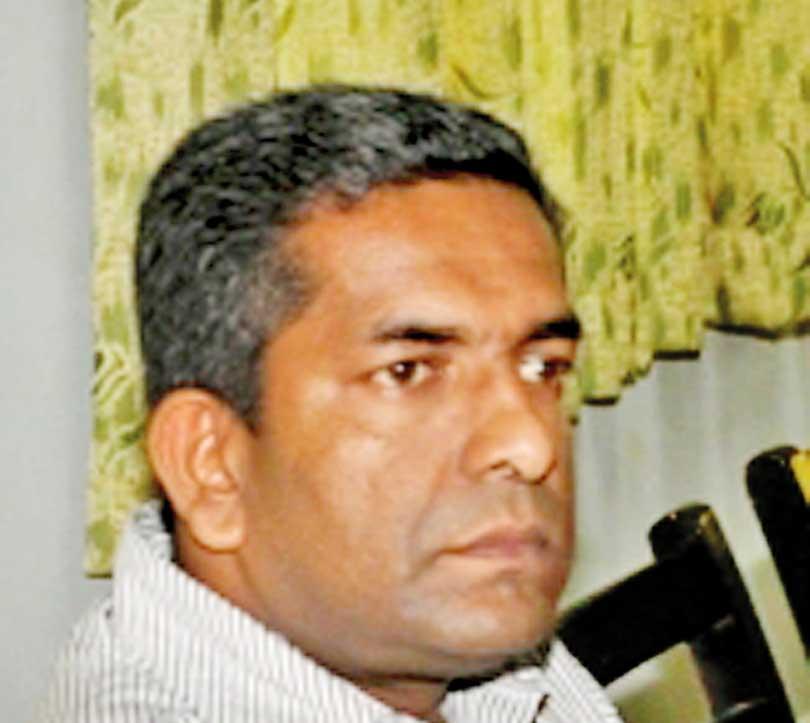 When asked about strengthening the FFPO, Sooriyabandara opined that there is no problem with the Ordinance. "The fines are strict enough. It's just that we cannot do this task single-handedly. We need the support of the Police, villagers and other officials living in these areas. A collective effort could make things more efficient," added Sooriyabandara.
'Fine for each offense could go up to Rs. 100,000': Gunawardena
In his comments, attorney-at-law and environmentalist Jagath Gunawardena said that the fines are imperative of the judge. "As per the legal protection, the leopard is a species protected under Section 30 sub-section 2 of the Flora and Fauna Protection Ordinance. Therefore killing, injuring the animal, keeping a body part of the animal in one's possession and using a weapon to injure/ kill the animal are offenses. The fine for each offense could go up to Rs. 100,000. If it was killed in a protected area then it's another offense under Sections 5 and 6 of the FFPO, but it's carcass was found outside the protected area," said Gunawardena.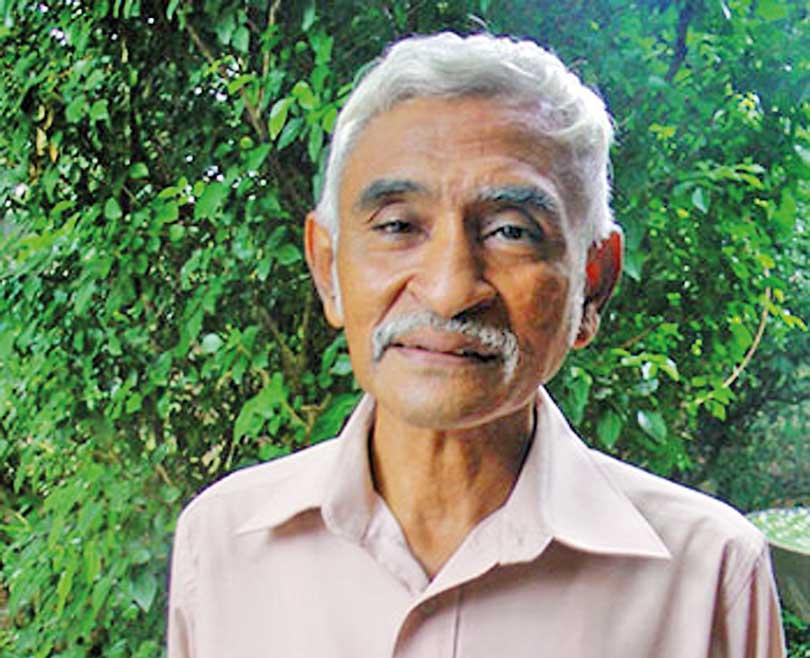 He further said that there's no issue with regard to the legal situation, but it's the system that needs to be changed. "The DWC is severely understaffed to conduct a comprehensive investigation and those officials need more training. In most instances these perpetrators are bailed out on sympathetic reasons when they claim they are poor etc," he said.
'Judges must be made aware of the enormity of the crime of killing a leopard' : Jayewardena
"The legal provisions for killing a leopard are stipulated as a fine or jail term or fine and jail term as stipulated in the Fauna and Flora Protection Ordinance, on conviction," said Rukshan Jayewardena, Committee member for Wildlife and Nature Protection Society. "Regardless of whether the leopard is killed within a National Park or outside the leopard is protected and killing one is an offense. However additional charges may be framed for carrying and discharging firearms, unauthorised entry and for killing an animal (any animal) within a National Park," said Jayewardena.
He further said that action has to be taken against ubiquitous use of wire cables that are used as deadly snares. "They kill indiscriminately and cause excruciatingly painful, lingering deaths. The number of prosecutions and successful convictions must increase. Judges must be made aware of the enormity of the crime of killing a leopard, a keystone species and a flag bearer for Sri Lanka's wildlife tourism as well as a foreign exchange earner that is a part of every Sri Lankan's natural heritage. People have to be educated not to unnecessarily fear leopards as well as some basic knowledge on how to live with leopards in the neighborhood without turning an ancient co-existence into a modern conflict through ignorant and avoidable actions. Journalists too can help by avoiding sensational reporting and perpetuating unhelpful myths about leopards," explained Jayewardena.
Revision of the FFPO is another task vested upon the DWC, Ministry of Wildlife and other wildlife related stakeholders. Jayewardena further opined that the FFPO's fines and jail terms must be revised upwards. "Both the Forest Department and the Wildlife Department must take their policing and enforcement role within Protected Areas seriously.
Their training, legal divisions and deployment have to be oriented towards minimising the illegal killing of wildlife within these PA's. (It is time to revise the Forest Act to give equal protection to the fauna within forest reserves as given to the flora.) When well trained and equipped men patrol and enforce the Forest Act and FFPO, the deterrent power cannot be underestimated," said Jayewardena.
'Forest cover loss across our landscapes is a larger issue' : Watson
Having extensively researched on leopards in the country, Anjali Watson, Co-founder and Managing Trustee of Wilderness and Wildlife Conservation Trust (WWCT) said that snare traps seem to be one of the largest incidental threats to leopards in the hill country, but it looks like it is happening in other areas too. "Unfortunately these traps transcend the temporal separation of leopards and humans which usually works to prevent each encountering the other. Our work is showing that mostly these snares are set in areas where wildlife and leopards use/ move through so it is not as if leopards are roaming into human spaces and getting killed, but instead humans are targeting the spaces used by wildlife and leopards are the unfortunate 'by-catch'" said Watson.
She further said that large scale awareness together with snare removal and authority measures from both estate management and the relevant authorities to deal with this must happen in the attempts to reduce this snaring problem. "It is the early months of the year that we see fires being set by people to encourage fresh growth of the grasses and under plants and snaring incidents occurring more frequently at this time of year as well it appears. Therefore, a consorted and continuous effort by multiple groups is needed," she said.
Watson further opined that it is also important to note that though these incidents get highlighted by social media and mainstream media and are reported as urgent incidents and definitely needs to be addressed, the loss of forest cover across our landscapes is a larger issue that needs more attention in order to ensure our leopard population continues to survive," added Watson.
It is the early months of the year that we see fires being set by people to encourage fresh growth of the grasses and under plants and snaring incidents occurring more frequently at this time of year as well it appears
'Protecting the Big Five will protect smaller species as well' : Wijesingha
"Sri Lanka has been recognised as a biodiversity hotspot not only because it has a rich biodiversity, but because many of its species are facing threats of extinction," opined Jayantha Wijesinghe, Convener at Rainforest Protectors of Sri Lanka. "We have achieved the biodiversity hotspot status for a long time and tourists visit the island for its beaches, location and wildlife. In terms of fauna, they come to see the Big Five including elephants, leopards, bears (who are rarely seen now), whales and dolphins. Therefore these species need to be protected at all costs. Although we are smaller in scale to other countries that have a rich biodiversity, we are still being called a biodiversity hotspot and it is indeed an achievement," said Wijesinghe.
He further said that Sri Lanka has received much recognition in terms of environmental tourism. "Even after the terrorist attacks we still received a ranking and therefore it is the responsibility of all citizens, corporate citizens, public officials and the Government to protect our flora and fauna. But nobody seems to be taking any interest towards it. If we go to the villages those people are constantly battling the HEC and to keep away from elephants they are using hakka patas, electric fences and have also gone to the extent of poisoning these animals. It's appalling to see that the DWC is doing absolutely nothing apart from open damage control and giving lame excuses. Politicians are also hosting big conferences and drafting reports and we see that important recommendations are on paper, but are never being implemented. If our own citizens are not taking the responsibility of protecting our majestic fauna, who else will be interested?" he questioned. Speaking on the recent leopard deaths, Wijesingha said that the leopard death in Mau Aru was crueler. "Not only were its paws cut, but teeth were taken off as well. If it has happened inside a National Park the toughest enforcement should happen. So how can poaching be justified? But these activities have been happening for a long time and DWC officials have been turning a blind eye to it. It has been proven on several occasions that certain wildlife officials are helping jeep operators, poachers, hunters and villagers to engage in illegal activities in these areas. This is in fact a problem across all national parks," said Wijesingha.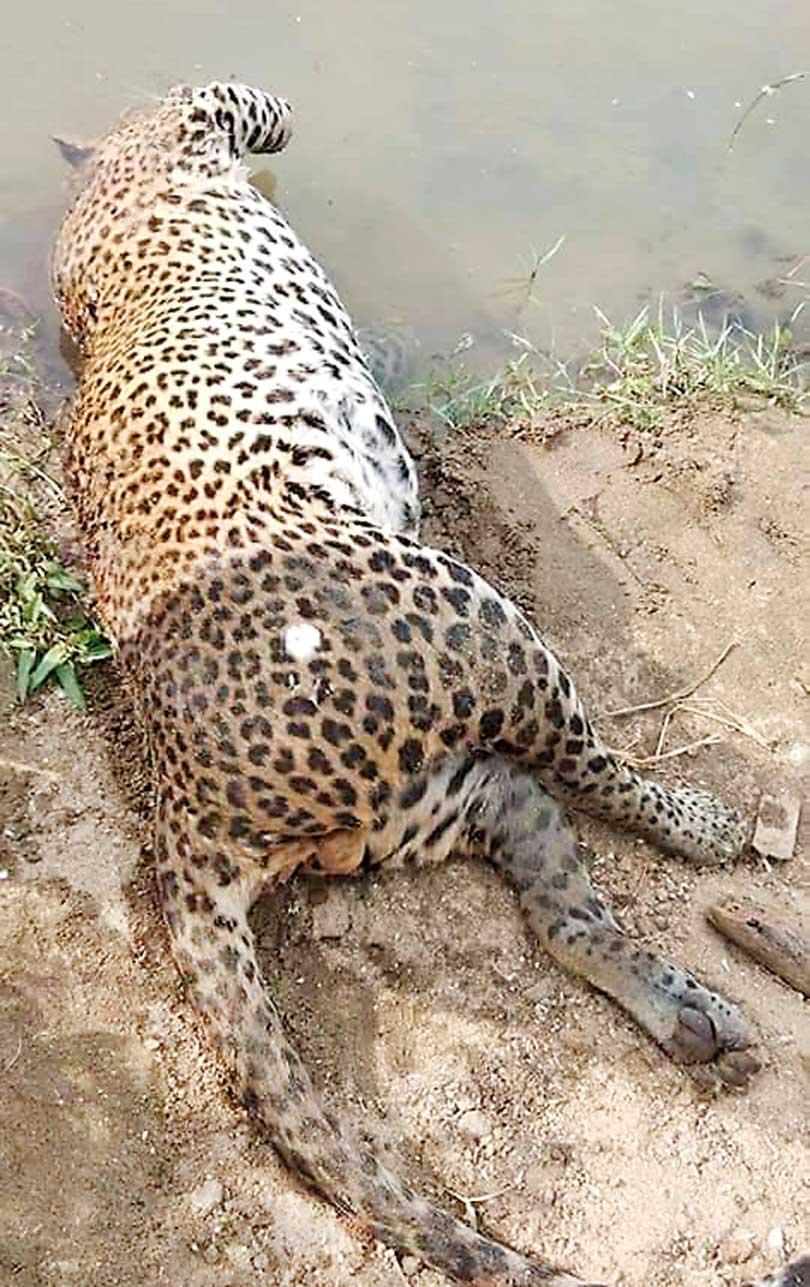 The body of the leopard found near the Mau Aru tank near Udawalawa National Park
Commenting on the leopard death in Yatiyanthota, he said that these areas had been destroyed at the time of the British. "They planted tea and coffee and cleared most of the forest cover and habitats that elephants and leopards dwelled in. Therefore leopards in Central Highlands have been limited to a smaller area. Leopards' habitats could be found from Neluwa all the way up to Sinharaja, Sri Pada, Knuckles, Horton Plains and then to the dry zone including Kilinochchi and Jaffna. There's a high density of leopards in Yatiyanthota, Thalawakele and Ginigathhena areas mainly because they don't roam around much. This is because their habitats have been destroyed due to illegal hunting in small forest patches, clearing land for cultivation purposes and there are line housing projects underway in these leopard habitats. After this particular leopard was trapped in the snare it had lived for two days. The photos circulating on social media were taken at the time the leopard was rescued by the villagers. But even in those photos the leopards tongue is out and it probably would have been dead. It's a moment to regret, but the fact that people were more interested in taking photos and selfies show that people need to be educated on how to respond during such instances. We also have to keep in mind that it is us humans who have encroached in to their habitats and now find them as a threat,"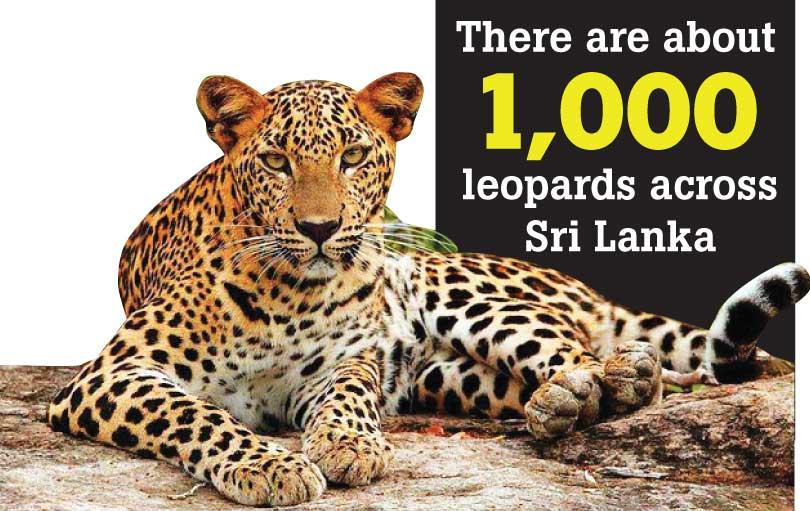 Stressing on the concept of Species-based Conservation, Wijesingha said that it is one of the best approaches towards a sustainable nation. "If the Big Five are protected, it will eventually protect the smaller species. If the Big Species go extinct, smaller species cannot survive. Leopards would decide on deer and wild boar populations because if those numbers increase there would be a threat to critical plants and these plant populations would decline."
Several attempts to contact Minister of Wildlife, Environment, Lands and Land Development S. M Chandrasena and State Minister of Wildlife Wimalaweera Dissanayake proved futile.