---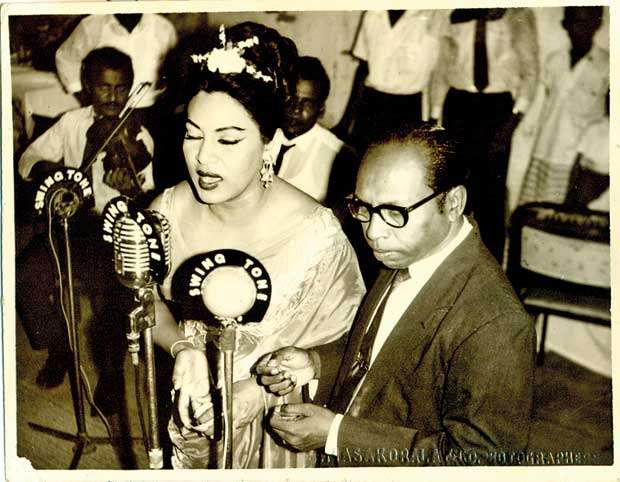 C.T. Fernando and Rukmani Devi
---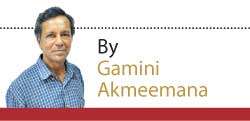 C. T. Fernando, pioneer pop singer and one of the most original artistes this country has ever produced, remains evergreen, with his songs in great demand 41 years after his death. He would be proud to know that his musical talent now runs into three generations, with grandson Tisara Fernando too, making his presence felt as a singer.
Tisara's father, Priyantha Fernando, was born in 1952, just when C. T. was making a name as a singer. After C. T.'s premature death in 1977 (at age 56), Priyantha began singing his father's songs; but his repertoire includes several original songs too, including Werale Muhudu Relle and Niranjala Katada Adare Den. CT died a month before Tisara was born.
Talking to C.T.'s grandson was akin to time travel. He was accompanied by Priyantha Fernando's wife Piyaseeli; she too, can sing but chose to be a beautician. Together with them was Chulaka Paranayapa, a guitarist of that 60s-70s generation which made Sinhala pop music mainstream and not a disdained distant cousin of the Sarali Gi stream which dominated our state-owned radio broadcasting at the time.
Chulaka is a Kandyan, but was a teenage friend of Clarence Wijewardena, spending time with him in Ratnapura, studying music together and dreaming of pop stardom. Clarence was born in Haputale, and schooled in Matale because that was his mother's hometown, and the family lived in Ratnapura in the 60s. Their teacher was Kingsley Perera, a pioneer guitarist who died last year, and both became very young members of Kingsley Perera's Ratnapura band.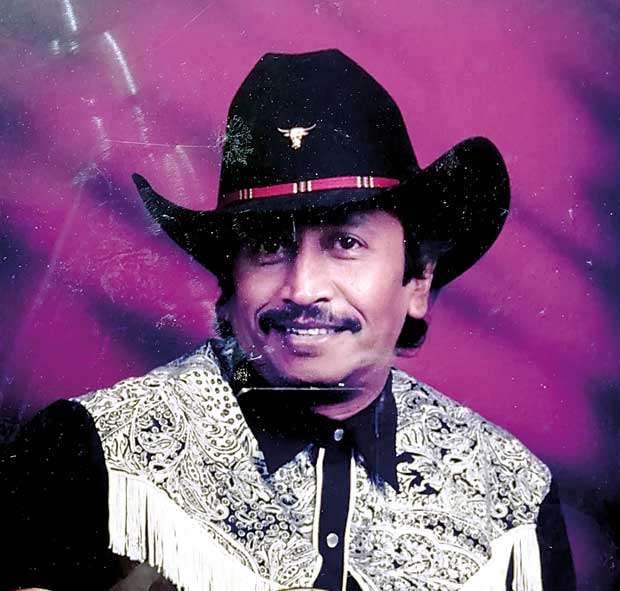 Priyantha Fernando
---
But step back to the early 50s when there was no Lankan pop music as such except for the bands in Colombo, dominated by the Burgher community playing jazz, blues and rock n' roll at night clubs and events. C.T.'s was a startlingly original new sound in Sinhala music because of the way he fused Western pop idiom with the exhuberance of jazz and the mellow tone of the Sinhala song. His voice was happier in the higher register, but you can always sense him restraining it.
The Sinhala Sarala Gi started with Sunil Shantha, and he certainly wasn't shy of pitching high. But the pitches got lower and lower after that, till the low-to medium pitch vocal flow of all those famous post-60s singers – Victor Ratnayake, Sanath Nandasiri, Haroon Lanthra, Dayaratna Ranatunge et al – came to characterise the Sinhala Sarali Gi. All of them, classically trained, could pitch high.
Among the female singers, Neela Wickremasinghe, Nirosha Virajini and Uresha Ravihari excelled at pitching high within the Sarala Gi tradition.
New kind of song
C. T. saw things differently. He was interested in neither baila nor sarala gi as his medium of expression. He took elements of both, mixed it with Western pop beats, melodies and cadences, nuanced with jazz elements, and fashioned a new kind of song for us, all of it backed by Western instruments. This was at a time when Western instruments were disparaged by the broadcasting elite. No one had heard anything like it before, and no wonder C.T.'s songs became such hits. He was recording as early as 1951. Chulaka recalls Kingsley Perera playing guitar for a CT recording. By the 60s, he was too big for the broadcasting puritans to ignore.
Rukmani Devi's voice was the perfect match for C.T.'s. She had no worries at all about pitching high, and her high strung soprano blended beautifully with C.T.s voice, closer to baritone than tenor. Both of them look classy standing in front of those 'Sure' mikes which were the industry standard back then. If the conditions had been right, Rukmani could have been a very good opera singer. Or she could have been the Lankan Julie Andrews. But conditions for such talents have never been right in this country, and that was the tragedy of Rukmani Devi, both in films and in singing. Fortunately for her, and us, she had that flowering with C. T. Fernando when both of them were artistically at their peak, and she had a brief 'second wind' later with the late Neville Fernando. The best song to come out of that partnership was a re-working of the legendary C.T.-Rukmani duet 'Malbara Himidiriye.'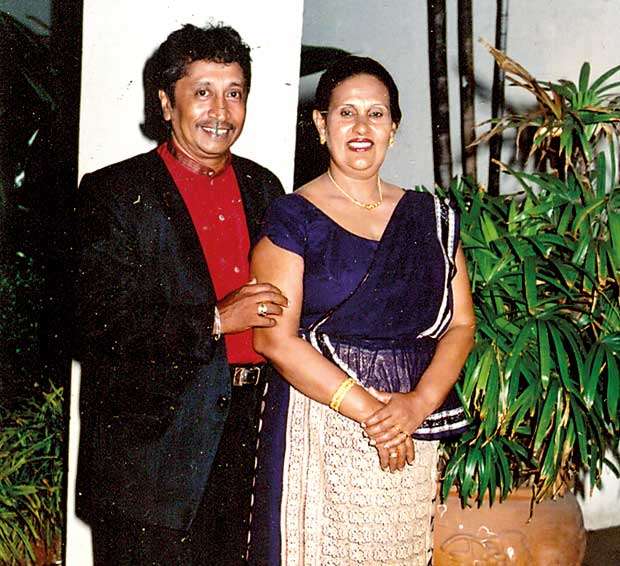 Priyantha with wife
---
C.T. Fernando was a very good showman. Despite the Western sophistication of his approach, many of his hits are rustic at heart, with imagery that a villager would recognise and respond to – bees feasting on flowers, or evoking the lullabies of childhood. It was his successor M. S. Fernando who expanded the imagery to the urban, with an eye towards the cosmopolitan – taxi karaya, rikshaw karaya, Hello girl, Galkisse Muhudu Verale. Though branded a baila singer, M. S. too (again close to baritone), just like C.T., created songs which really are exuberant extensions of the Sinhala Sarala Gi blended with pop.
C.T.'s was a startlingly original new sound in Sinhala music because of the way he fused Western pop idiom with the exhuberance of jazz and the mellow tone of the Sinhala song.
Back to C.T. and those Ratnapura days. C.T. visited Ratnapura to sing with Rukmani Devi when the very young Clarence Wijewardhane was cutting his musical teeth, meeting his girlfriend on the sly and falling in love with electric guitars. Clarence knew intuitively that the future of Sinhala pop lay with the electric guitar, when leading pop groups tried to look Latin and swore by acoustic. Chulaka's family owned a sprawling big upstair house in Ratnapura, and it became a regular haven for singers and musicians. C.T., Nihal Nelson and Ivor Denis were frequent visitors, while Clarence with Chulaka and other friends would visit his girlfriend on the sly surrounded by pastoral beauty.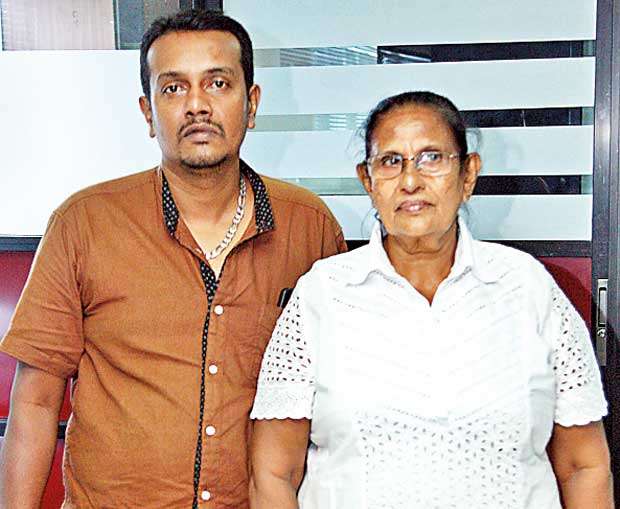 Thisara with Priyantha's wife Piyaseeli Fernando
---
That clandestine love episode inspired some of our best loved pop, as Annesley Malawana too, got into the act with Clarence – 'Mango Nanda', 'Maame Ape Kalu Maame' and 'Kageda Gong Wassa' all came out of that. Ask Chulaka and he'll reminisce all day about 'Oh, those were the days.' Clarence, along with Charles Seneviratne and another friend, studied music under Kingsley Perera and joined his band after hearing the latter performing Christmas carols at a Ratnapura playground. Chulaka had an Akai magnetic tape recorder at home and some of Clarence's earliest attempts were recorded on this machine.
No wonder many of Clarence's songs have that pastoral feeling – 'Gamen liyumak Ewilla' or 'Malata Bambareku Se.' The latter rings a bell whenever I listen to C.T.'s 'Piyumehi Peni Bothi Wana Bambaru.' C. T. was born in Moratuwa (a denizen of Moratuwa recently referred to the town as 'mage gama' – my village – so there really isn't any difference. It's all in the mind). C.T.'s parents lived in Nawalapitiya for a while and he started school there, even winning an award for his work in a choir, but he later attended St. Sebastian's College, Moratuwa.
Grandson Tisara
Self taught in music, C. T. played the guitar, but his passion was for singing. He composed his own melodies, but the music was superbly arranged by the capable Patrick Denipitiya and his orchestra. With all that fame, C.T. still had to work at the Land Registry for a living. C.T. met his wife-to-be, Dhanawathie Gunasekara, the daughter of a prominent politician, in Diyatalawa. She was a radio fan of his and wrote letters to him. Her father and Chulaka's were friends who worked for the Survey Department. Son Priyantha worked for the Building Materials Corporation. He was the first to start the father-to-son singing trend in this country.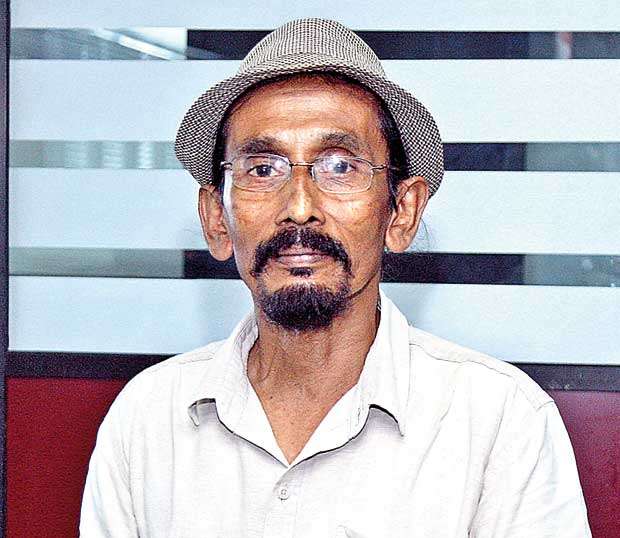 Chulaka Paranayapa. pix Damith Wickramasinghe
---
Grandson Tisara too, is determined to make his mark as a singer. He has trained under Victor Ratnayake and Swarnalatha Kaveeshvara. It's hard to think of any other family of singers running into three generations, and we should wish him luck. Today, as it always happens, there are people who come out of nowhere to capitalize on the musical heritage of these musical giants. But the talent in this family lives on.