---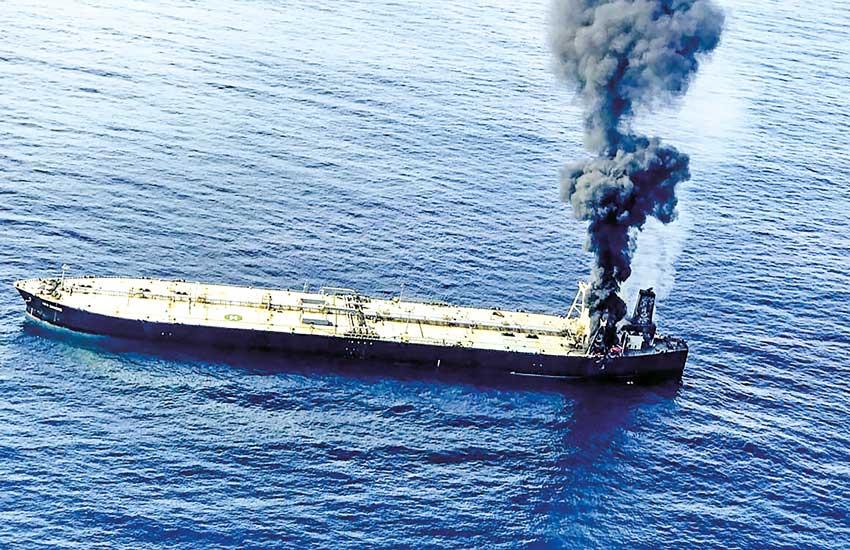 The Sri Lankan authorities are now trying to move the vessel out of Sri Lankan waters (AFP)
Attempts being made to move the ship out of Sri Lankan waters
Possible risk of an explosion and oil spill if fire spreads
An oil spill will reach all the way up to Yala National Park
FOC vessels avoid Western ports with strict ITF and dockers' unions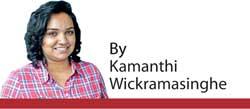 Weeks after MV Wakashio, a Japanese-owned bulk carrier, ran aground a coral reef in Mauritius, a crude oil carrier MT New Diamond caught fire around 38 nautical miles East of Sangamankanda Point in the East Coast of Sri Lanka on September 3. Carrying 270,000 metric tones of cargo the tanker had departed Mina Al Ahmadi in Kuwait and was expected to arrive at Paradip Port, India on September 5. The vessel is over 20 years old and is currently sailing under the Panamanian Flag. Operations are currently underway to cool the atmosphere and control the fire and prevent a possible explosion or oil spill. However marine experts fear that an oil spill would be detrimental to the already threatened marine ecosystems and will pose a threat to local fishermen, mangroves, critically endangered marine species such as dugongs and would cause an irreversible damage.
Efforts to control fire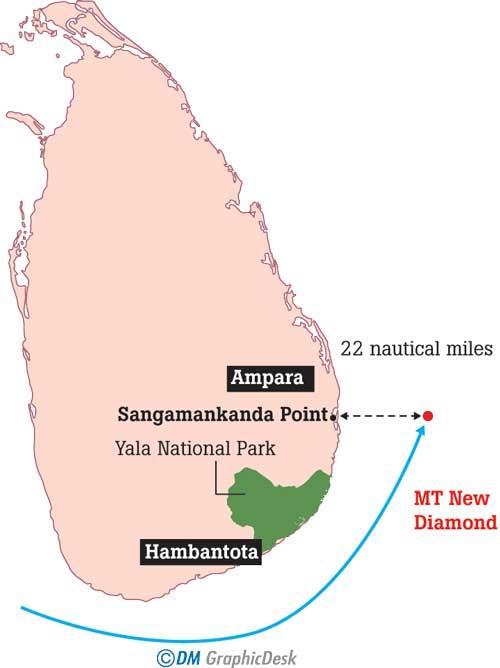 As per the latest update by Sri Lanka Navy, SLN ships Sayura, Sindurala and Ranarisi with two Fast Attack Crafts have been deployed in this disaster management operation. The mission was also augmented by two tugs 'Rawana' and 'Wasamba' after leaving the Hambantota Port yesterday morning. ALP 'Winger' another tug made ready by the foreign company that owns the ship had also joined the mission. Apart from that, the Indian Navy Ship (INS) 'Sahyadri' joined the disaster management operation yesterday around 2.00am along with Indian Coast Guard Ships that are scheduled to join in. "The two Russian ships left as they had limited capacity," said Navy Spokesman Captain Indika De Silva. "But around nine tugs are engaged in this mission. So far only a white smoke is visible but more vessels have been deployed for assistance. What we are now trying to do is tow the vessel into the deep sea but the fire has to be doused first. Righ now our main aim is to control the fire." said Captain De Silva.
The vessel is currently being towed away from Sri Lankan waters and the mission is being supported by an M 17 Helicopter and the Beach Craft belonging to the Sri Lanka Air Force (SLAF).
Operations are currently underway to cool the atmosphere and control the fire (AFP)
Will demand compensation
"There's no sign of an oil spill as yet except for the fire that is spreading," said Marine Environmental Protection Authority's (MEPA) General Manager Dr. Terney Pradeep Kumara. "The Indian Coast Guard, Sri Lanka Coast Guard and Sri Lanka Navy have been deployed to the location. If the fire continues there's a possibility of an oil spill. If an oil spill happens the spread depends on the wind and ocean currents. Right now the currents are towards the country. But we have put all our troops on alert. They are trying to douse the fire, but the ocean currents change during the night. We are planning everything on the information we are receiving." said Dr. Kumara.
The Mauritius Government demanded $34 million as compensation from the Japanese Government and also urged them to extend support to local fishermen. Speaking about the compensation process in Sri Lanka, Dr. Kumara further said that there's no solid mechanism to calculate the environmental and social economic costs. "But we will demand compensation for all costs incurred by us. Already there is a cost for transport, equipment and logistics. It is a tedious process to calculate the environmental costs, but we are in the process of developing it." added Dr. Kumara.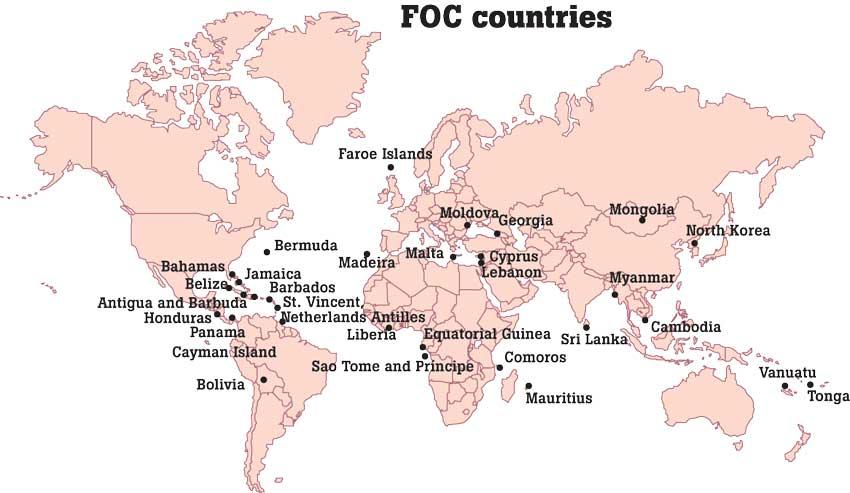 Shallow reefs, millions of marine animals in danger
Sri Lanka is home to many shipwrecks that date back to the colonial era. Apart from that the Sri Lankan waters are home to the blue whale, dolphin and many other marine species. But in the case of an oil spill there would be an irreversible impact on the already threatened marine ecosystems. "If the spill makes it to the shore the shallow reefs would be in danger," said Dharshana Jayawardena, a leading underwater explorer. "If the currents bring the oil slick towards the shore then even Yala National Park and other parks in the area would be affected. Since the oil will float it may not have a big impact directly underwater on reefs and wrecks, but the water pollution is sure to kill millions of marine animals." said Jayawardena.
According to a publication on Marine Protected Areas in South East Asian region published by the International Union for Conservation of Nature (IUCN) the coastal area around Yala East National Park includes a chain of shallow brackish/saline lagoons and extensive sandy beaches. The Kumana Villu Lagoon has extensive mangroves and is a protected bird sanctuary. Towards the Ruhuna end, the Park's coastal area includes a complex of brackish lagoons, several estuaries and 64 kilometres of shore, mangroves and abundant wildlife.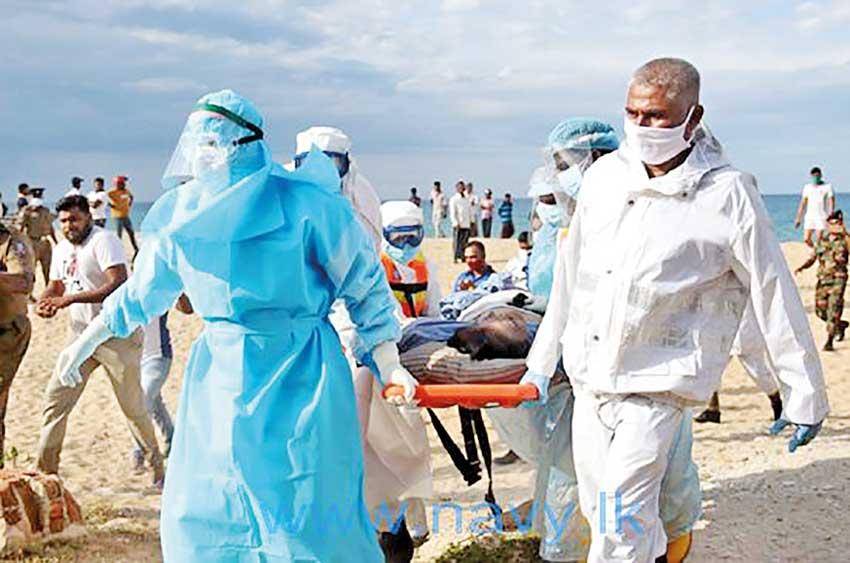 Rescue missions to evacuate the crew. (Pic : SLAF)
Panamanian Flag : A Flag of Convenience
MT New Diamond is a Flag of Convenience (FOC) ship. According to maritime vocabulary, a FOC ship is one that flies the flag of a country other than the country of ownership. Sri Lanka too is one of the FOC countries. These countries often have flexible maritime laws and restrictions. For workers on board this could mean low wages, poor on-board conditions, inadequate food and clean drinking water and long hours of work with no rest leading to stress and fatigue. By putting up a FOC, ship owners can take advantage of minimal regulation, cheap registration fees, low or no taxes and freedom to employ cheap labour from the global labour market.
"The reason to carry an FOC is to evade labour and maritime laws of the country of ownership," said National Union of Seafarers President Palitha Athukorala. "Therefore a large number of vessels carry the Panama flag for this reason. But the real owners of the ship could be German, British, American or Japanese. These vessels avoid Western ports where ITF and dockers' unions are strong. If an FOC vessel enters a port such as Rotterdam or Hamburg the ITF inspectors in those countries will inspect the vessel. In case of any shortage the vessel would be detained. Thereafter a Temporary Collective Agreement has to be signed with the ITF union in that particular country. Until then the vessel won't be released. An ITF-approved collective agreement set the wages and working conditions for all crew on FOC vessels, irrespective of nationality. All vessels covered by an ITF-approved agreement receive certificates, which signify the agreed wages and working conditions on board." said Athukorala.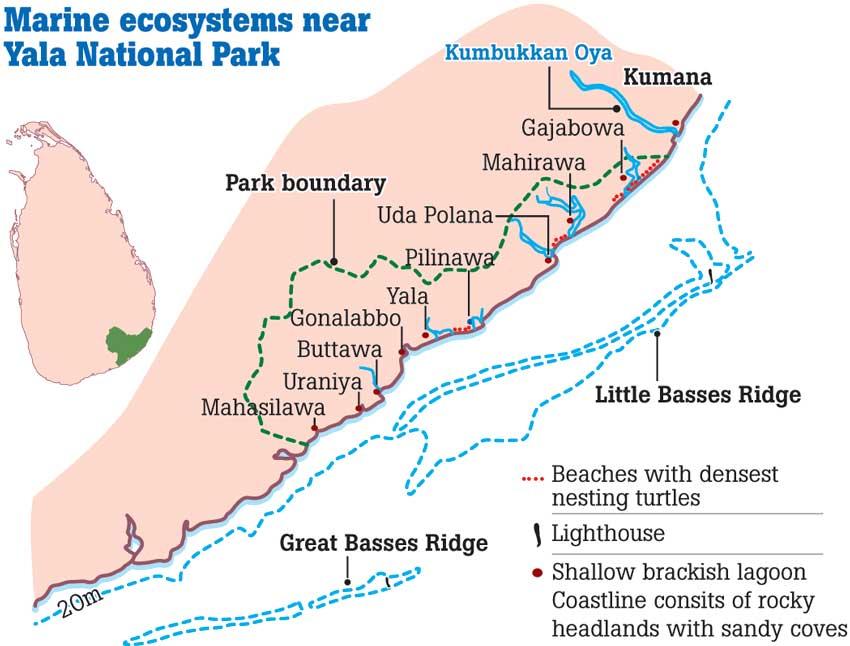 Potential threats to SL waters
According to the National Oil Spill Contingency Plan (NOSCP) introduced by MEPA a potential threat of oil spills already exists in Sri Lankan waters. And the most probable causes for this are as follows :
A total of approximately. 525 million tones of oil are transported in tankers for a year within the Exclusive Economic Zone and close to outside of this zone.
The density of marine traffic in Sri Lanka's coastal waters. Sri Lanka borders the main East/West shipping route used by ships trading to and from the industrial centers of the Far East and West.
The offshore single point buoys mooring off the Port of Colombo. Crude oil imported to Sri Lanka is pumped to the Ceylon Petroleum Corporation's land based storage tanks via an under-sea pipeline from this offshore terminal. The terminal is operated throughout the year, even during the monsoon period and approximately two tankers carrying 120,000 tonne parcels of crude oil are transferred to the tanks ashore every month.
Operations at Trincomalee Oil Tank Farm
Expansion and development of ports and new constructions of ports
Existing marine services industry, including offshore supply of bunkers and shop repairing industry
Exploration of oil within the EEZ of Sri Lanka