---
Arumuga Navalar is loosely the Tamil equivalent of Anagarika Dharmapala. It is natural for people to build up their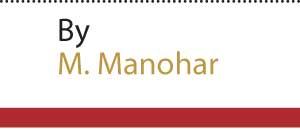 heroes. Thus, we see the purported anti-colonialist, Dharmapala, stressing the importance of good behaviour for the Sinhalese, including the correct manner of using cutlery and toilet paper.
This side of his character is well hidden from the public and is brought out only occasionally by iconoclasts like Gananath Obeyesekere, whose classic 1997 paper 'The vicissitudes of Sinhala-Buddhist Identity through Time and Change' is a rare reference bringing out this contradiction.
Similarly, the true narrative of Navalar is rarely acknowledged. In his book, Hoole brings out the numerous inconsistencies in the Navalar narrative.

Hoole begins by investigating what he terms Heritage History – that is, history re-written to show one's greatness. He demolishes the false start-dates of St John's College, Jaffna Central College, and Jaffna College – dates that are built on heritage histories to show that each is older than the others. This lack of Christian morality would make the founders turn in their graves. Then Hoole turns to Navalar.
Navalar is foisted as a Tamil national hero and as the next among the Nayanmar, one of the four Saivite Saints.
Revered almost as a saint, in his lessons for children Navalar teaches that a cooking vessel seen by a pig or a depressed caste member, must be broken and replaced.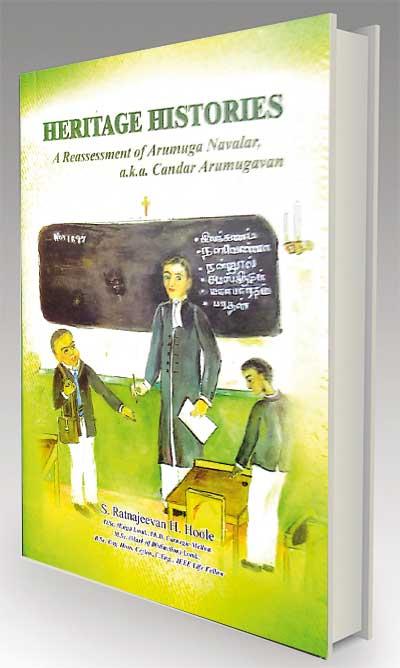 Hoole then brings out the well-hidden 1847 episode where Navalar, as a student, objects to a Nalava Caste (toddy-tapping) boy attending the Wesleyan Mission (Now Jaffna Central College).
Principal Peter Percival rejects Navalar's request to seat the boy at the back. Navalar thereupon walks out with 50 other students and is sacked, as attested by Czech Indologist Kamil Zvelebil and Colonial Secretary Emerson Tennent.
This episode is depicted on the cover as drawn by the author's wife, Prof. Dushyanthi Hoole, with the subtle message that Navalar learnt Sanskrit and other Tamil texts, like the Nannool, at the Mission, while it is the popular myth that Navalar learnt Sanskrit on his own – at least for the script he needed help, surely.

Hoole draws from a variety of reliable sources to point out several holes in the popular but formal narrative, like where Navalar was a teacher of English (although never graduating from being a student), founded an English styled college (Although he had already died by the date of its founding), or that he co-authored the Winslow Dictionary (Although Winslow had left Jaffna for India in 1833 when Navalar was 11 years old), or that Navalar persuaded Percival to give up his Christian faith whereas he is shown to baptise his grandchildren in his last days in India.

The most important thesis of the book is that Navalar did not translate the Bible from English into Tamil, despite arguments by A.J. Wilson and C. Rudra, with good reasons as to how this is impossible.
Hoole produces the Bible's frontispiece which says it is translated from the original tongues, Greek and Hebrew, that Navalar did not know. He gives photos of previous copies of the Tamil Bible to show there already was a translation and what was translated by Peter Percival was an unaccepted revision and ceased to be used in a short period because the Tamil was too high flown for Indian Christians.
The author excoriates the Churches for their dishonesty, communalism, and corruption, the Methodist Church for disowning Peter Percival - its greatest missionary, and the Vellalas for their claims of being an elite caste when they are Sudras.

He gives interesting and humorous excerpts from Lord Manu's Dharmasastras to suggest that the Sudra Navalar did not marry because according to Manu "For him who drinks the moisture of a Sudra's lips, who is tainted by her breath and who begets a son on her, no expiation is prescribed."
A chapter is dedicated to Elijah Hoole, the founder of the author's family. He brings out his ancestor's role in Bible translation – especially accompanying Percival to Madras and living there for a year and a half defending the translation before the Bible Society.
With the translation project over, he joined St. John's as Pandit in 1852 when the school began with Robert Pargiter as the first principal.

Previously unseen archives from the Church Missionary Society and the Minutes of the Jaffna Auxiliary of the Bible Society (from Harvard) are brought out.
The latter shows that Percival was engaged in two translation projects. Heritage Histories is a major piece of research, showing the importance of reading beyond Tamil only, where without a wider readership, anything passes and is swallowed up hook, line and sinker by the next generation.
Hoole has overcome this by comparing Tamil biographies with each other and with English writings, to show the glaring errors.

As Hoole shows, little of what is written about Navalar is to be believed. He poses the question when libraries are full of erroneous history books and his book shows that they are mostly wrong, will the libraries throw out the wrong histories or will they continue to occupy shelves to mislead generations of students and researchers?
Enough. This introduction is to encourage others to read this riveting book, and not to reproduce the book. Enjoy it.