---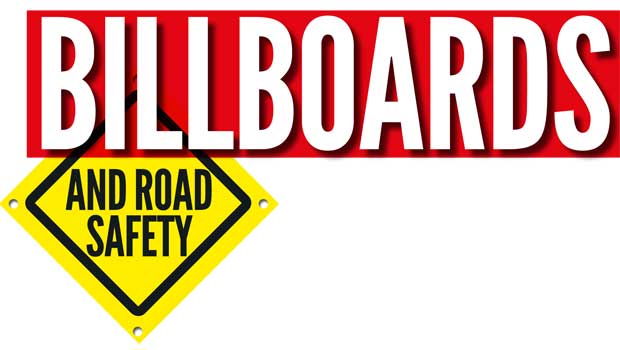 Billboards are the most effective advertising mediums used by advertisers worldwide. Due to various advantages, many advertisers use billboards, hoardings, banners and digital screens to attract the attention of potential customers. Most of the time, millions are spent to advertise in open public spaces. One can find these advertisements situated at the busiest, crowded junctions and along main roads in major cities determined to attract the attention of passers-by and deliver their messages within seconds. But the use of such billboards along busy roads and junctions is

prohibited in many developed countries. With background research we made on roadside advertising and road safety in the Town Hall and Arcade area of Colombo by means of random interviews with the public, we found that many people seemed to find most billboards and digital screens entertaining.
Several government institutions have authority when it comes to granting permission for outdoor advertising - the Colombo Municipal Council (CMC), the Road Development Authority (RDA) and the Urban Development Authority (UDA). The Central Environment Authority (CEA) has the power to make rules and regulations to control roadside advertising and the Sri Lanka traffic police has the power to remove advertising screens and boards considered a threat to road safety. As a result of discussions, digital billboards and roadside advertising are expected to be regulated by the Central Environment Authority together with the RDA and experts.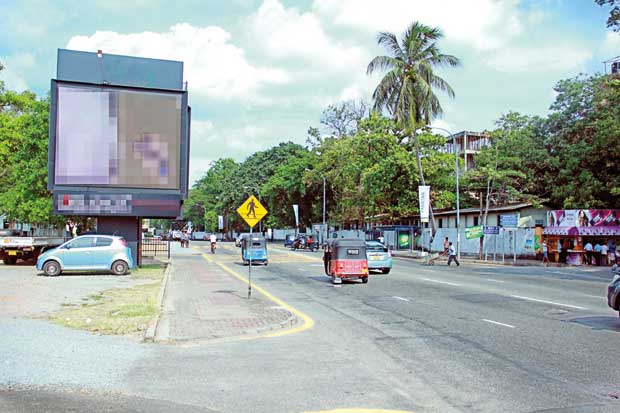 "No ads without permission from RDA"
Bharatha Perera
- Former Director of Property Management and Revenue Division - RDA
His comments on roadside advertising and digital billboards:
"We are having discussions on whether to allow digital billboards in road reservations, the area under our authorisation. Advertising companies have asked for our permission to put up digital billboards, yet we have not permitted them. We can permit only a limited space for ads, in the small line called road reserve that includes road signs, the pavement and drainage area. Without permission from the RDA, nobody can display advertisements in this area. Permission and allocation take effect after an official visit of confirmation. We allow advertising on traffic islands, to show the brand name for sponsorship. We do not permit billboards at famous archaeological sites, religious places or the coastline. We do not permit digital billboards, 3D ads, trio-vision or light blinking boards.
Further opining on the confusion road signs cause, Bharatha Perera said hoardings and billboards were sometimes responsible for misinterpretation. Sign misinterpretation could be a leading factor in road accidents.
We inquired whether there was a connection between roads with large amounts of roadside advertising and accidents from the Sri Lanka traffic police.
"We can remove boards risking road safety"
Palitha Fernando
- The Deputy Inspector General of Traffic Police - Western Province

"No evidence has been found to prove billboards or outdoor advertising cause road accidents. If anyone notices any problems caused by billboards or digital screens or any kind of roadside advertising which are a threat to road safety, the public can inform the traffic police on this number - 0112439534 and we will be able to send notices to remove the particular billboard or hoarding to the relevant institutions such as the CMC or RDA. We are authorised to inform those institutions to remove the boards that are risking road safety."
"No rules to regulate roadside advertising yet"
K.H Muthukudaarachchi
- Director General - CEA
"Outdoor advertising should be regulated in Sri Lanka and we are obviously against the current situation. Roadside advertising boards and hoardings could be a prominent cause for roadside accidents as they distract drivers. There are no rules established to regulate roadside advertising at present on the national level. The Thoroughfare Ordinance enforced in the past has some rules that the country has never followed. At present, we are conducting discussions about regulating outdoor advertising with our Attorney General's Department and the Legal Draftsman's Department in coordination with the RDA and an appointed panel of experts."
"Most boards are unauthorised"
Jayantha A. Guruge - Former Director
of Engineering Works - CMC
"Billboards have been permitted in Sri Lanka by us, to be established in areas belonging to the CMC with certain rules and guidelines. The bottom part of hoisted boards should be at least 30 feet high and the lights should be dimmed after sunset. The boards should be parallel to the roads. Digital boards are prohibited from being exhibited near junctions and flyovers. There are already some unauthorized digital billboards in the Town hall area and one in front of BreadTalk, displaying videos. We have sent a few warnings to get it removed. The only course of action we can take is to warn the owner to remove the board and after several warnings, give permission for another board to be placed in front of the unauthorised board. Very few boards have been put up according to rules and regulations and most are unauthorised. The Environment police was asked to remove these in the recent past.
"Boards steal attention away from driving"
Roland Abeypala,
- Senior professor of the Department of Educational Psychology
- University of Colombo,
"Advertisements are attractive by nature and once a driver sees one, his attention scatters and he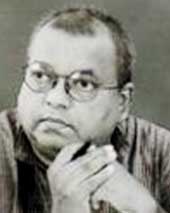 tends to think about the content in visual terms. A driver needs to concentrate to engage in the demanding task of driving. Some people just ignore the visual clutter of brightly lit roadside advertisements. The boards always steal attention away from the road and driving. Even red is used for roadside advertising in Sri Lanka near the busiest junctions on digital screens, specially in Colombo - areas such as Town Hall, near Arcade and Kollupitiya Junction. Erotic pictures are being used to attract passers-by, especially males. Compared with advertisements displayed in rural areas, busy towns and highly congested junctions have large and attractive boards which are dangerous to public safety. Roadside advertising is prohibited in developed countries such as Japan, Russia and Australia. India is similar to our country in roadside advertising, as films and political advertisements are among the largest of roadside banners and hoardings. Displaying huge boards and hoardings along roads is a sign of underdevelopment."
"Annual permits will be required"
Manuja Wimalasena
- Director of Legal Department - CEA
"We are currently in the process of making rules and regulations according to National Environment Act. No 47 of 1980 - under section 32, as amended by 56 of 1988 and 56 of 2003, on roadside advertising, prominently for billboards, hoardings and other advertising methods. Now we are in the final stage of approving the draft. Once we have the necessary approval to further this draft, we expect to present it to the Parliament and immediately take action. We have received a case filed by an NGO asking for guidelines to be made for outdoor advertising including billboards and hoardings. The CEA took this a step further, adding that outdoor advertising should be regulated as well. Once these new regulations are in force, it is expected that roadside advertising boards and screens will need annual renewing permits. Those who put up unauthorised boards will be warned and then the boards will be removed, the legal director said, commenting on the future of outdoor advertising in Sri Lanka. According to the new regulations, the law will give the CEA the power to remove billboards and hoardings for the purpose of safety, security and other statutory requirements.
"Hoardings spoil beautiful landscapes"

Irvin Weerackody
- the Chairman of Pheonix Ogilvy advertising company

"Outdoor advertising is no doubt quite effective as a medium. In some instances, billboards and hoardings distract motorists (drivers). With the beautification of the Colombo city, a large number of hoardings have been removed, which is indeed a good thing. In rural areas, some hoardings and billboards spoil the beautiful landscapes. In my view, local authorities must be mindful of this."
We asked about the issue of the reduction of brightness from an employee of digital billboard maintenance service
"We can control all digital billboards under company maintenance through the head office. Usually all digital boards are controlled through software. Now there are many complaints about unadjusted brightness levels of digital billboards at night. If a responsible officer is in the head office at the time of a complaint, the brightness levels can be reduced to a comfortable level. We could dim the boards at night with the software we had by 2008."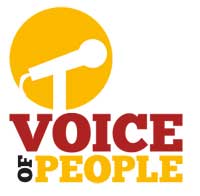 Sarath Ranaweera

from Weligama "It's challenging to drive at night with the bright lights of these advertising boards and screens. We have to avoid looking at them. Billboards have to be informative, not distracting."
Chanaka Solangaarachchi from Welisara

"Roadside advertising boards and LED screens are sometimes a distraction but most of the time I find them very helpful."
Devni Dharmasena from Kelaniya

"We don't watch TV and therefore these outdoor advertising boards are helpful to catch up with things. It is all good to look at. But when talking about driving, they are too eye-catching."
Indrani Wijewardena from Kandy

"It's true that roadside advertising boards are attention-grabbing. Yet removing them from the roadside is not practical. We should go forward with the world, not backwards. It's all right to situate them in places where they are not a distraction to drivers."
Ria from India

"Digital boards are not to be seen much here in Sri Lanka though. Sri Lanka has a long way to go in digital advertising."
Dhanushka Medawela from Colombo

"Advertising boards and digital billboards do not distract much during the day but they are too bright at night because the brightness levels are not controlled to suit natural light. Distractions caused by roadside advertisements could be fatal to riders. Therefore outdoor advertising screens and boards are a possible cause of accidents."
Naren Bellala from London

"Roadside advertising is not the right way to advertise. Outdoor advertising like boards, posters and digital billboards should be limited to a certain period of time and most are situated in inappropriate places. The ads are not convincing to everybody. They should be allowed, yet the display should be for a limited period of time and then they should be removed."
Sumith Hettiarachchi from Galle

"Luminous boards at bends and junctions are a threat to driving as the colours are unbearable to the eyes, especially at night. It is like begging for accidents. Sometimes, the boards and screens are helpful in finding locations."
B.V Buddhika from Avissawella

"Some boards are irritating to the eyes due to the bright lights and they take away the focus from the road as well. There's a big advertising board at the bend of Aluth Ambalama in Awissawella, which disturbs drivers at night. Boards at bends are the most distracting. Vehicles risk hitting some of these boards and as we usually drive in the same direction daily, it is not a big issue for us but it could be for the novice drivers and strangers not used to cities."
Harshan Hameer from Kiribathgoda

"With these billboards, one can become distracted easily and the bright lights are disturbing at night. They are good for marketing but we are unable to focus on the road."