---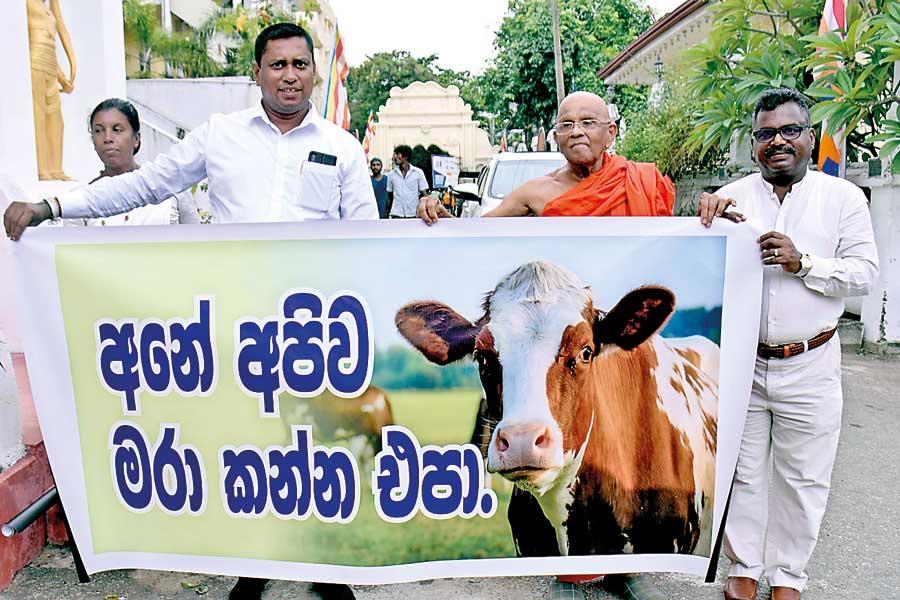 The 'Pavidihanda' Organisation headed by Ven. Muruththettuwe Ananda Thera launched a march towards the statue of Srimath Anagarika Dharmapala on September 18. The march was organised in support of the government 's decision to ban cattle slaughter. Cattle were paraded in a bid to convince people on the gravity of slaughtering cattle. 
Pic by Nimalsiri Edirisinghe 
The contribution of the cattle resource to develop the livelihood of rural people of SL is immense 
Nobody dies sans beef. Therefore, it is pertinent that the govt. also bans the import of beef.
Government should stop importing milk powder and instead provide facilities to upgrade the local dairy industry
It is by selling cattle that these non-Muslims earn an income
What are they going to do with the male animals
Are there sufficient grasslands in Sri Lanka?
Government should explain on what grounds they were hoping to impose the ban
The much-mooted move to ban cattle slaughter has been in the spotlight ever since Prime Minister Mahinda Rajapaksa proposed it. Cabinet later approved the PM's proposal despite announcing on September 10 the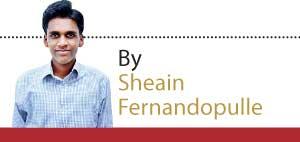 decision would be put off by another month. However, beef importation has not been banned.   
Many parties seem positive about the ban while some are showing signs of agitation. The issue has been a controversial one, and in 2013 a Buddhist monk set himself on fire against cattle slaughter outside the Temple of the Sacred Tooth Relic in Kandy. In this backdrop, it is fitting to see how the ban impacts those concerned.   
Cabinet nod 
On 29 September, Cabinet approved PM Rajapaksa's proposal to ban cattle slaughter in the country. Accordingly,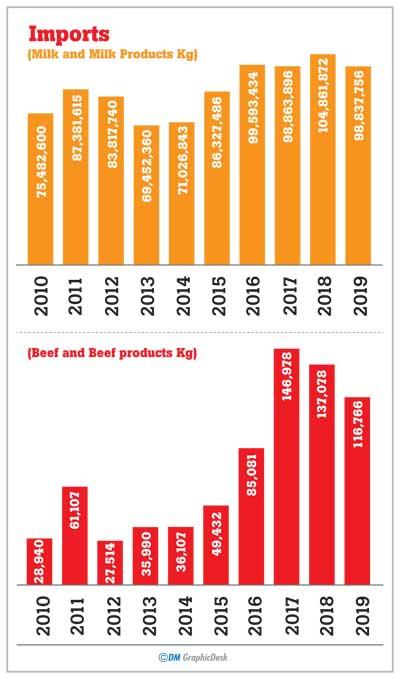 the government is to pay special attention to the following aspects:   
Taking immediate necessary action to amend the Animal Act No. 29 of 1958, the cattle slaughter Ordinance No. 09 of 1893 and other related laws and regulations passed by the local authorities regarding cattle slaughter which are currently in force in the country.  

Taking immediate necessary action to import the required meat and provide it at a concessionary price for people who consume beef.  

Implementing a suitable programme for ageing cattle which cannot be used effectively for agricultural purposes.  

Banning of cattle slaughter in the country with immediate effect subject to taking such measures.  
"As a country with an economy based on agriculture, the contribution of the cattle resource to develop the livelihood of the rural people of Sri Lanka is immense," the government said in a statement. "Various parties have pointed out that the livestock resource that is required for traditional farming purposes is insufficient due to the increase of cattle slaughter and the insufficiency of the livestock resource is an obstacle to uplift the local dairy industry which enables development of the livelihood of the rural people while reducing the substantial amount of foreign exchange which gravitates towards foreign countries on imported milk powder."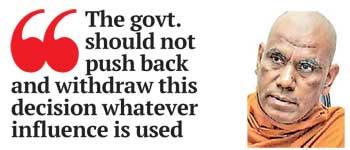 Beef imports should also be banned: Omalpe Sobitha Thera
While commending the move, Ven. Omalpe Sobitha Thera said there was no need to import beef either because, even if cattle are slaughtered elsewhere in the world, it is a sin. "Nobody dies sans beef. Therefore, it is pertinent that the government also bans the import of beef. This will also reduce expenditure, by eliminating the large sum which would be spent on beef imports," Sobitha Thera told Daily Mirror.
The thera said historically, in Sri Lanka, people who killed cattle were sentenced to death and those who consumed beef were marginalised. "In that perspective, the government's decision to ban cattle slaughter is highly commendable and relevant," he said. "The government should not further push back and withdraw this decision despite whatever influence is used, but make sure the move is properly enforced," the Thera stressed.  
Sobitha Thera also emphasised the importance of promoting cow milk from local cows to discourage the importation of milk powder, which causes cancer. He insisted the government should stop importing milk powder and instead provide much-needed facilities to upgrade the local dairy industry. The thera said the ban would produce results from both an economic and health perspective, and therefore it was important that the government implement the move despite any obstacles to it.  
No harm to Muslim community: Moulavi Amhar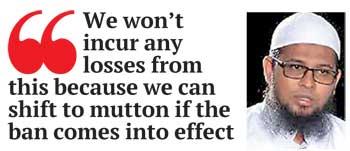 Other communities would be affected more than the Muslim community by the cattle slaughter ban, Director of Academic Affairs of ZamZam Foundation Moulavi Amhar Hakam Deen told Daily Mirror. 
"We don't consider this an alarming threat and injustice to the Muslim community as it is non-Muslims who are involved in the farming industry, while Muslims have been aimed as beef consumers. We won't incur any losses from this because we can shift to mutton if the ban comes into effect," Moulavi Amhar said. "Cattle can be found abundantly in Tissamaharama, Ampara, Tanamalwila and Anuradhapura. These are not areas with large Muslim populations. It is by selling cattle that these non-Muslims earn an income. Hence, they will be badly affected if the ban comes into play."  
On the other hand, he questioned whether there was an attempt to please one community while inconveniencing another. Hence, the government should explain on what grounds they were hoping to impose the ban.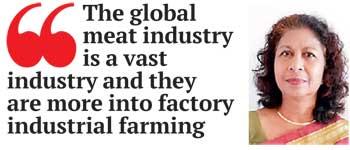 Global meat industry standards unhealthy: Dr Damayanthi
Commenting on the quality of imported meat, Nutrition, Dietetics and Lifestyle specialist Dr. Damayanthi Perera said, industrial farming in other countries was neither good nor healthy. She said the quality of meat depends on how you farm. "There is a general perception that anything 'imported' is good. But that is not the case. Food safety has two key aspects. First there's bacteriological safety and secondly, there's health issues related to factory farming or industrial animal farming," she said.  
The global meat industry is a vast industry and they are more into factory/industrial farming. "Factory farmed meat is not healthy for many reasons. Firstly, the animals are stall fed on various artificial rations, and are raised in a very unnatural manner. The animals cannot graze naturally and they are not exposed to sunlight and the nutrition quality of the meat is inferior to that of naturally-raised or free-range animals."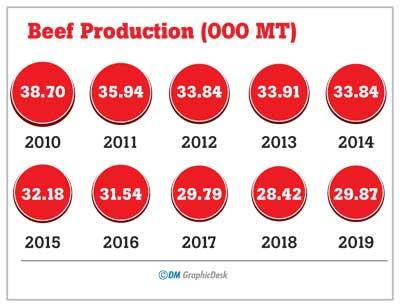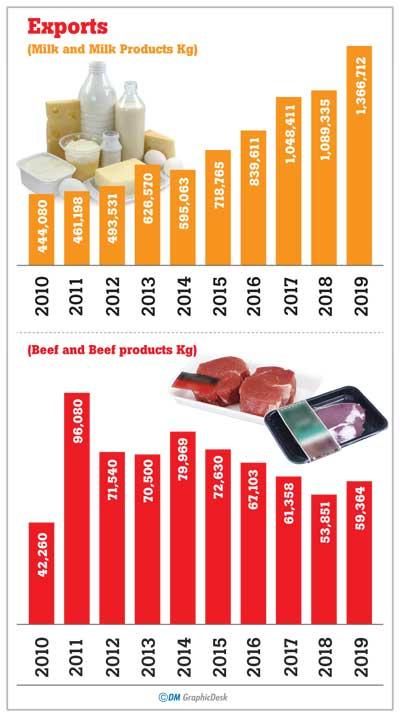 Besides, some countries use drugs to produce a lean beef effect. One drug, Ractopamine, was banned in 160 countries including the European Union, China and Russia in 2014. However, it is allowed in Japan, the United States, South Korea and New Zealand.  

"Consumers should remember the Mad Cow Disease to demonstrate the many concerns about industrial farming. It is also important that meat consumption in the West is declining. Many Westerners are turning vegetarian or vegan for health and ethical reasons," Dr. Perera said, adding that beef, whether imported or not, was not healthy as it is associated with cancer. "That's why we have been asking people not to eat red meat," she stressed.  
Massive job loss: Kularaja Perera 
Instead of banning cattle slaughter the government should construct slaughterhouses where cattle are humanely slaughtered, the All Ceylon Animal Transport and Animal Production Farmers' Association said.  
Its president K.S.K Kularaja Perera said it was the government's responsibility to end inhumane cattle slaughter. Kularaja said many herdsmen and dairy farmers would face problems due to the ban on cattle slaughter. "There is a risk of losing hundreds of thousands of direct and indirect jobs generated from herding. Male breeding in any herd is more than 50%. So the government should explain what they are going to do with the male animals. Cows must breed to produce milk. At the same time what will happen to the dairy cattle? How will these animals be protected without being slaughtered for meat? Are there sufficient grasslands in Sri Lanka? Can those cattle be released into government jungles? There are many other issues that need to be considered before the banning of cattle slaughter," he said.   
Thus, the Association urged the government to reconsider its decision in this regard.
Prevailing law 
The current Animal Act of Sri Lanka bans the slaughter of cows and calves below the age of 12. It says: "No person shall slaughter, or cause or permit to be slaughtered, any cow (other than a cow imported for slaughter), unless that cow is certified by the appropriate authority to be not less than twelve years of age, or incapable of breeding, or unfit to be used for any agricultural purpose, and except in accordance with such regulations as may be in force under this Act relating to the slaughter of cows." In this section, "appropriate authority" means a Government Veterinary Surgeon, a Veterinary Surgeon employed by any local authority, or any other officer appointed by a local authority can issue certificates under this subsection. The law was passed in 1958 and amended in 1964.  
Voice of the people 
Augustine Silva, a resident of Wattala said it was a good move as long as the import of beef was done in a proper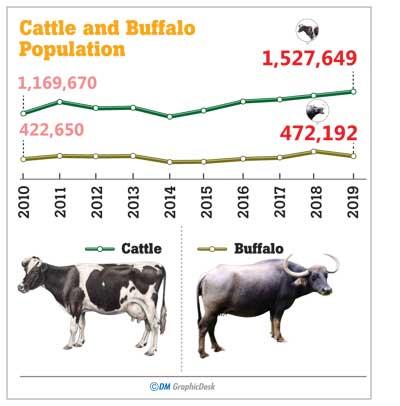 manner. "I am against cattle slaughter. Though I abstain from eating meat, it is risky to eat imported meat including beef because we never know what sorts of animals in what condition are slaughtered. Therefore, if the government is to ban cattle slaughter, they should pay special attention on the quality of imported beef," he said.  
Rathnasekara, a butcher from Negombo, said although many did not eat beef, it was a meat with a high nutritional value. "People may become unhealthier by eating beef from abroad. Therefore, I don't see this as an effective move," he opined.  
Mohamed Shiraz from Slave-Island said the motive behind the ban was unclear in a context where people were suffering from other burning issues. "There are more important issues that should be looked into before considering a ban on cattle slaughter," he said.   

Marcus Fernando, a butcher from Katana said it was not a long-lasting solution as cattle slaughter would take place by hook or by crook despite the ban. "Most people are used to eating beef from Sri Lanka. The authorities can't stop slaughtering cattle all of a sudden as many depend on this for a living. If it is banned, how would they earn their income," he asked.   
Rashmi Fatima from Wellawatte said as the purpose of the ban had not been specified by the government, it was hard to comment on the issue. "If the proposal has come due to influence of religious groups, then the actual purpose is hampered and would not produce good results," she said.