---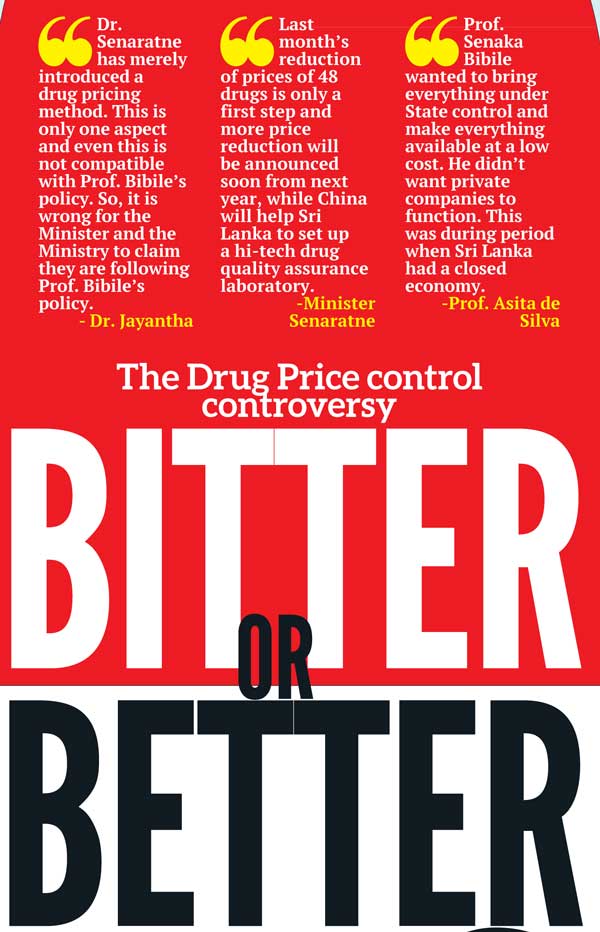 A gazette notification announcing price celling for 48 medicinal drugs was issued last month by the National Medicines Regulatory Authority (NMRA). Accordingly prices of drugs sold above the Gazetted maximum retail price should be reduced, while drugs sold below the maximum retail price could not be increased.
The maximum retail price is imposed on 48 medicines including medicines for diabetes, high blood pressure, cardio vascular diseases, asthma and arthritis. Health Minister Dr. Rajitha Senaratne took this initiative claiming he was following Prof. Senaka Bibile's essential drugs policy, which has been hailed worldwide. However, certain groups say Dr. Senaratne's claim was dubious as he had not followed the basics of Bibile's policy, which is to make quality drugs available at affordable prices
CIF not applicable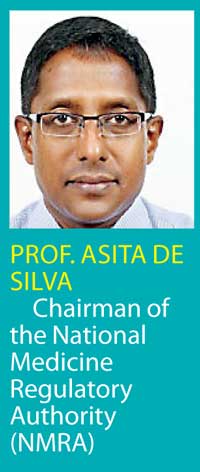 Responding to the concerns raised by doctors, Prof. Asita de Silva, the Chairman of the National Medicine Regulatory Authority (NMRA) said that anybody was entitled to his or her opinion. "Prof. Senaka Bibile wanted to bring everything under State control and make everything available at a low cost. He didn't want private companies to function. This was during period when Sri Lanka had a closed economy. There was no Cost Insurance Freight (CIF) mark up as far as I know." "The CIF price is given by the pharmaceutical importer. There is no way we can verify whether that is the actual CIF price because Sri Lanka Customs does not verify it. "For vehicles we could get a price verification, but this is not done for medicines. As a result we depend on the CIF price given by the importers. "A World Health Organisation (WHO) expert who came to Sri Lanka this year did an extensive study on the pharmaceutical pricing structure.
"This report shows that the CIF price is non-verifiable and as a result we should not go down that road. Another publication by the WHO in 2015--which is a guideline for countries to regulate pharmaceutical pricing- -also states that the CIF model will not work well in low and middle income countries. "We decided not to follow this model after careful thought, going through reports by global experts and also with the experiences we have with pharmaceutical importing," he said. He added that the Chamber of Pharmaceutical Industry and major colleges such as the Sri Lanka Medical Association (SLMA), College of Physicians, Pediatricians, Surgeons and Neurologists were consulted and that they had endorsed the move away from the CIF pricing.
"The NMRA Act was brought in last year. It looks at quality, efficacy, safety as well as the needs and cost. As for quality assurance we do have challenges. But there is a stringent process to follow. Whatever drug that is registered under the NMRA is quality assured." Adding that Sri Lanka was not the only country that uses generics he said that thirty percent of medicines in Britain and upto 40 percent in the United States are generics. "A majority of them are supplied by India. But they go through a stringent quality assurance process. Some people say that the NMRA is inefficient because it takes around eight months to register a product. But this is because we go through a stringent process to assure quality. We also have our national medical quality assurance laboratory. One of our priorities is to strengthen this laboratory and we have also asked for a new laboratory to be set up. Then we will be even more confident about quality assurance." He also said that the NMRA was implementing a procedure to restrict the number of brands of the same type of medicine being imported to the country. Stating that the NMRA was responsible for monitoring the pharmacies and pricing he said they had food and drug inspectors. "We have a hotline (828) in the Ministry of Health. The number of complaints has dropped dramatically in the last few days.
Only the first step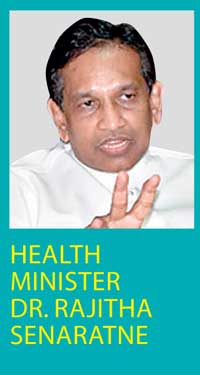 In media reports Health Minister Dr. Senaratne has repeatedly said that last month's maximum retail price system was only the first step towards implementing the Senaka Bibile Policy on providing quality healthcare to all people at affordable prices and restoring a health service, where the wellbeing of the patients is given priority. He says for decades after 1976, when the then Government was forced to scrap the Bibile's Policy little or nothing had been done to provide quality drugs at affordable prices. A comprehensive draft of the National Medicinal Drug Policy had been approved by the Cabinet as far back as October 2005 but it had been going here and there till the national government approved the legislation in March last year. Three months later the NMRA was appointed and it was able to begin work by about November last year.
But even by August this year the prices of drugs had not been reduced or the imports restricted. Therefore he had invited Prof. Asita de Silva to take control of the NMRA and introduce a price reduction urgently. He says last month's reduction of prices is only a first step and more price reduction will be announced soon, while China will help to set up a hi-tech quality assurance laboratory. Dr. Senaratne also says that from next year the Government hopes to sign agreements for about 25 publicprivate partnership companies so that 70 percent of the drugs now being imported could be produced locally with the prices being drastically reduced
Doctors differ on generics & brands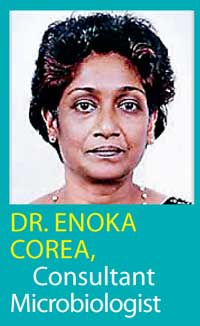 "While we appreciate the benefits of cheaper drugs to the health and welfare of our people, we have to be cautious about the implementation of price control. There may be a tendency to bring in the cheapest drug, irrespective of quality, and that drug could be less effective. This could be life threatening in the case of an infection," said Dr. Enoka Corea, a Consultant Microbiologist "Doctors differ in opinions about prescribing generic and branded drugs. While good generic drugs are equally effective and usually much cheaper, some doctors prefer to prescribe branded drugs because they feel that they are internationally recognized and are more effective and reliable," she added.
Efficacies differ
"The drugs that are under this policy are drugs from Western countries, which are drugs that are not affordable to the average person or a poor person as they would choose the Indian brands instead. Because of their expensive nature the profit margin from these drugs, prior to

the implementation of this policy, was very high. Now that pharmacies are forced to reduce the prices, the profit margin also has become narrow, resulting in the pharmacies to stop the supply of these drugs," said a doctor who did not want to be named.
"People who would buy these drugs will find it difficult to cope as they would have to switch to the less effective counterparts. Switching brands does not have any drastic consequences, the only

consequence would be that the patient would have to increase their dose. The drugs that are under the price control policy are mostly drugs for diabetes, cholesterol, high blood pressure etc. Therefore stepping up on the dose does not have any bad consequences as such. At the end of the day it's the same drug just with different levels of effectiveness," he added. "When patients come to me they usually ask me to recommend the cheapest brand and I prescribe a brand depending on their financial status," the doctor said.
Quality is important
The Government hospitals can get down drugs at a lower cost. But the Ministry of Health needs to maintain the quality and the standard of the drug. The type of brand a patient uses depends on the patient's financial status. If low quality drugs are brought in then, due to their low effectiveness patients will be coming in to the hospital more frequently resulting in overcrowding of the wards. "The aim of a Government hospital is to get patients out of the hospital faster. Therefore, good quality drugs are necessary," said a doctor who works at the General Hospital and did not want to be named.
Started on the wrong foot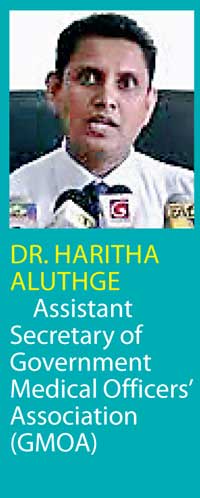 sking for an appointment because we see some serious errors in the new Gazette notice and even in the NMRA Act," said Dr. Haritha Aluthge, the Assistant Secretary of the GMOA. Dr. Aluthge raised concern about the sustainability of the maximum retail price system. "Through the recent Gazette notification they have imposed maximum prices for certain drugs. But will it be sustainable with the fluctuation of the dollar value and import taxes, which are important when a price is marked? The Ministry will have to revisit it every one or two years, and we don't know what may happen next," he said. "In the new Gazette notice authorized officers responsible to monitor these changes are not clearly defined. We see that the Ministry is attempting to give the power to monitor the price control to additional officers like Public Health Inspectors (PHIs) and Inquiring Officers. When it comes to Inquiring Officers they don't have the capacity to look into technical matters such as medicinal terms.
They are not trained in Pharmacy. Therefore we see that they are not suitable people to go into the field of authorization of pricing formulas. So, first of all the Ministry should define who the authorized officers are and issue a Gazette notification. The new drug Act clearly mentions that they should Gazette the authorized officers and give the Director General powers over them," he said. Referring to the lack of a reliable quality assurance laboratory he said that they had repeatedly asked the Ministry to establish one. "He has informed us that it would take around two years. They are currently discussing it with the Chinese government who will give aid to build a sophisticated lab. Quality laboratory assurance should be given priority because doctors depend on the quality of the product and not so much the price when prescribing drugs. If you have a drug which is cheaper but lacking in quality, ultimately patients suffer." When asked if the Health Minister was following Prof. Senaka Bible's policy he said they had doubts. "In Prof. Bibile's concept it is clearly stated that we should first have an essential drug list and update it annually. It's not necessary for a country to have 30 to 40 companies or brands importing hundreds of brands-a shortlist of five or ten brands essential to the country. "We hope to discuss with the Minister and try to help him succeed," he added.
Only a pricing policy, not drug policy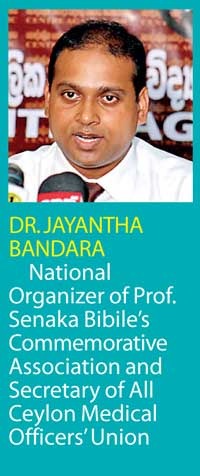 "There are nine aspects for a drug policy which include pricing, quality assurance, distribution, and storage. But Dr. Senaratne has merely introduced a drug pricing method. This is only one aspect and even this is not compatible with Prof. Bibile's policy. So, it is wrong for the Minister and the Ministry to claim they are following Prof. Bibile's policy. There is a battle of ideas here. Dr. Senaratne seems to be misleading the people," said Dr. Jayantha Bandara, National Organizer of the Prof. Senaka Bibile's Commemorative Association and Secretary of All Ceylon Medical Officers' Union. "Prof. Bibile introduced a pricing system based on the Cost Insurance Freight value (CIF value). CIF refers to the prices of drugs before taxed or before they come to ports. In other words, the import price. For instance, according to the Bibile's policy the maximum retail price would be Rs. 165 for drugs imported at Rs. 100. Rs.65 would be the profit distributed among the importer, dealer and retailers. "But Dr. Senaratne's policy is not based on the CIF value. In fact he is totally against the CIF value," added Dr. Bandara. He said that Prof. Bibile was opposed to brand names and wanted to reduce the number of brands.
"However, there are no restrictions to brands in Dr. Senaratne's policy. Some drugs are being imported under about 30 brand names. There are so many brands and the price range is wide. For example, the price of the SPC drug Acyclovir which is a generic drug for chicken pox is around Rs. 6.00. Zovirax which is a brand of the same drug sold at around Rs.140 for a 200 mg tablet," he added. Reiterating the grievance of many doctors Dr. Bandara said that there was no quality assurance for drugs both in the public and the private sector. "We inquired from the Health Minister about this issue and he informed us the State laboratories were inadequate to provide quality assurances for most drugs," said Dr. Bandara. "Prof. Bibile's policy also focused on the availability of drugs in the Public Sector. Drugs should be available at all times in correct doses and in adequate amounts. However, in Dr. S e n a r a t n e 's policy little is mentioned about the availability of a drug in the Public Sector. Drug availability in Sri Lanka is very poor at the moment," he added. "Our aim is to reduce drug prices. But we have not achieved that target through this pricing method. People still suffer," he said.