---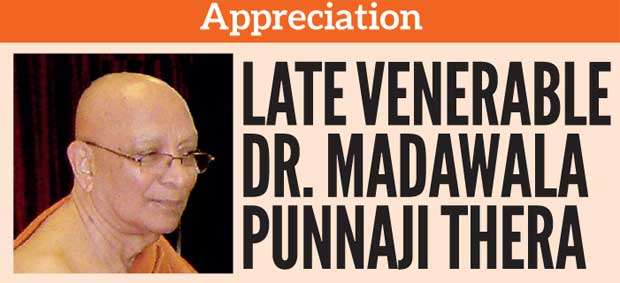 An outstanding monk who enriched the Vajirarama lineage
Ven Dr Punnaji of Madawala
Remembered for exceptional service rendered to Sasana
Ending his great Dhamma Mission has passed away.
Venerable Punnaji lives forever, revered in our grateful hearts.
Expecting no laurels, no popularity, nor fame
Using the practice of deep meditation
Striving incessantly to dispel the darkness of ignorance
A true son of Buddha was he..
Researching the timeless message of Buddha
With deep understanding selflessly shared
The knowledge and wisdom gathered over the years
With thirsty minds eager to learn the Dhamma..
Forsaking comforts, luxuries of a household life..
Inconvenience of his own health,
An inspiration to both young and old
Of how a virtuous monk should live.
Compassionate, joyful always a pleasure to behold and listen to,
Simple austere life of humility, though born to wealth and nobility,
The noble Eightfold Path, his watchword in life.
On this seventh day of Ven Dr Punnaji's passing away
These words are a tribute, an honour
To the illustrious name carved for himself
An erudite scholar, a disciple worthy emulate.
Thirikunamale Ananda Mahanayake Thera
Siri Vajiraramaya, Bambalapitiya